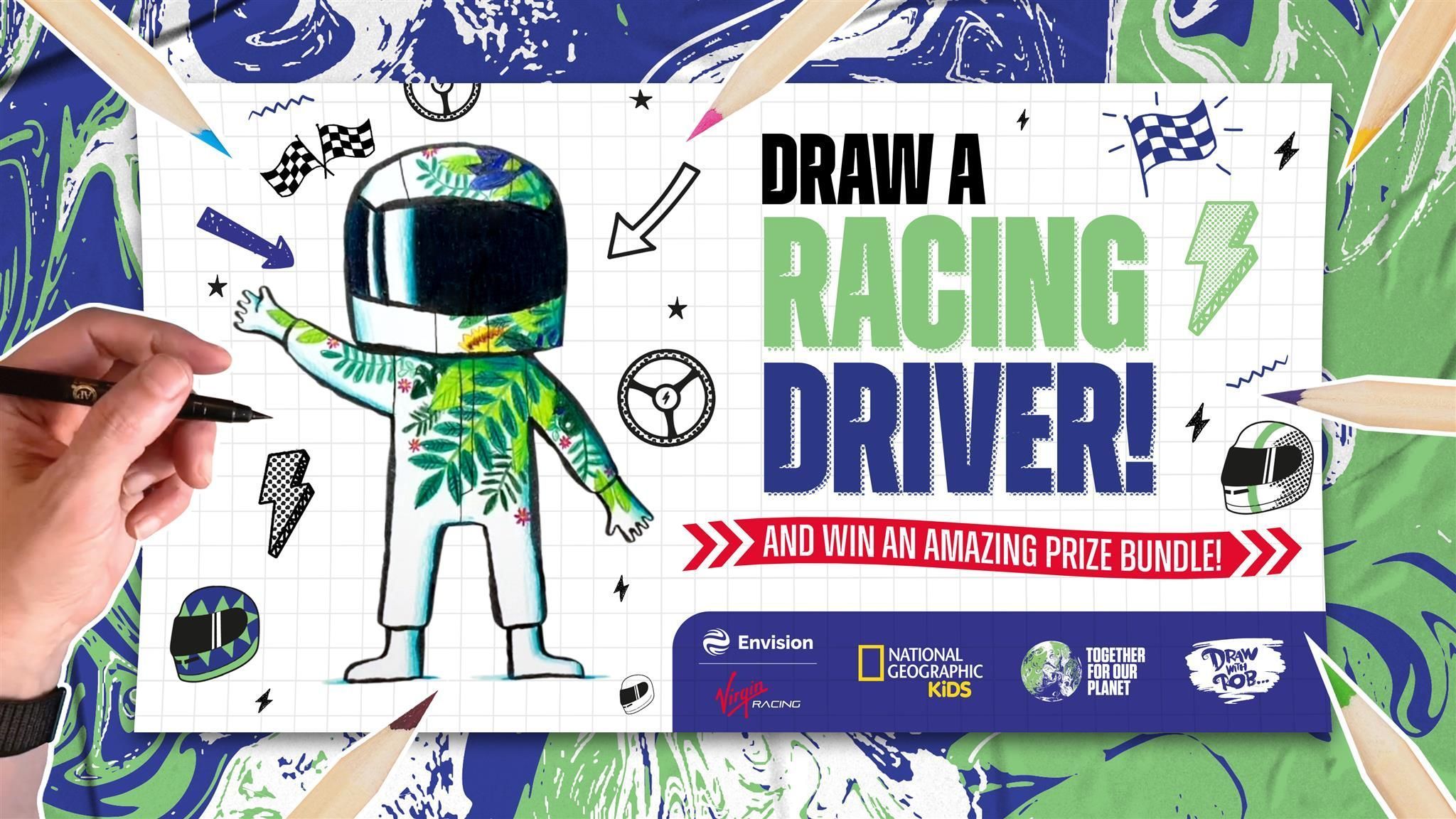 WIN! SEE YOUR DESIGN ON A REAL RACING DRIVER
Competition closes at 23:59 on
25 February 2021
Envision Virgin Racing and their Race Against Climate Change program are helping to encourage action against climate change.
The team compete in the thrilling, high-speed sport Formula E which is the world's first fully-electric racing championship. Not only do their race cars tear across the track at speeds of up to 240kmph, off the track they have joined forces with National Geographic Kids and COP26's Together for our Planet to help protect our wonderful world. Woop!
Click here to find out more about this thrilling, high-speed sport!
THE PRIZE 
We have partnered with the Formula E racing team Envision Virgin Racing and Draw With Rob for the UK Government's 'Together for our Planet' campaign to encourage action against climate change ahead of the COP 26 (the United Nations climate change conference) in 2021. 
We're asking people to design the racing suit which will be made and worn by real drivers in formula e races. How cool is that?!
The design needs to be inspired by something we love about our planet and the natural world. 
HOW TO ENTER
All you need to do is draw your own suit design, take a picture of it and and upload it to social media using the hashtags #DrawWithRob and #RaceAgainstClimateChange
Then simply visit this website where you will find instructions on how to upload your design:
Watch this special episode of Drawing With Rob below, where author and illustrator Rob Biddulph will show you how to draw the perfect racing suit!
All entries must be uploaded by 25 February. Good luck!
Head to envisionvirginracing.com/drawwithrob to find out more!
By entering our competitions you agree to the terms set out in our Privacy Policy and our competition terms and conditions.
SIGN IN TO TAKE PART
or Register here
Thanks for registering, you're now free to explore our site.