SPONSORED
Real-life rescue
Team up for epic rescues with LEGO® City Hero Academy!
ADVERTISING PROMOTION
When LEGO® City comes under attack, the fearless Sky Police and Fire Brigade must work together to foil the fiendish criminals and stop the city from burning to the ground. Let's find out some amazing facts about real-life rescue teams!
POLICING AROUND THE WORLD
 – In 2009, Japanese Police briefly introduced a paintball gun to fight crime. The idea was that the orange paint would mark fleeing criminals, making them easier to spot later.
 – When trying to catch a killer in the 1980s, Russian police forces managed to solve 1,000 unrelated crimes!
 – Some police forces in Canada give out 'positive tickets' – rewards like free burgers and cinema tickets for kids who they catch doing good deeds.
 – In 1990, two undercover police officers in Michigan, USA staged a fake wedding and invited all their criminal 'friends', just so they could arrest them all at the reception.
 – Sirens on police cars and fire trucks ring out at about 120 decibels. That's roughly as loud as a rock concert!
 – The fastest police cars in the world are owned by the Dubai Police Force. Their Bugatti Veyrons can reach a speedy 407 kmph.
 – From 1984 to 2007, the French police had a specialist parachute team to fight crime and terrorism.
_____
FIREFIGHTING THROUGH THE AGES


– In Ancient Rome, a band of firefighters would sometimes rush to burning buildings and offer to buy them for a cheap price. If the owners didn't sell up, they'd let the buildings burn down!   
 – The Great Fire of London swept through the city in 1666, destroying 70,000 homes. After that, many insurance companies started creating fire brigades to protect their buildings.
 – In the UK and the USA during the 1700s and 1800s, Dalmatian dogs would accompany the fire services' horse-drawn carriages to fires. The spotty dogs would stand guard over the expensive equipment and comfort the horses.
 – During the Edo period (1603 -1867), Japanese firefighters didn't wear flame-proof uniforms like today. They would drench themselves in water, so that they didn't catch fire.
 – Some real fire trucks can pump up to 8,000 litres of water per minute – you would need to shower every day for more than four months to use that much water!
 – It takes firefighters and average of 1 minute 15 seconds to get dressed into their uniforms. But the record is a speedy 27.08 seconds.
_____
COULD YOU BE A POLICE OFFICER OR FIREFIGHTER?
These heroes put their lives on the line every day to stop dangerous criminals and put out blazing fires. Think you've got what it takes to join the real emergency services? Here are the skills you'll need…
TEAMWORK
POLICE OFFICER – Teams from different departments have to work together to solve crimes  –  you could have uniformed police officers, specialist investigators and forensics teams all working the solve the same case.
FIREFIGHTER – Firefighters have to work closely with each other to put out fires and stop them from spreading. You'll even live together in the fire station, too – like one big family.
FLEXIBILITY
POLICE OFFICER – The role of a police officer is super varied. You'll need to interview suspects, patrol the streets, gather evidence, control big crowds, arrest criminals and much more.
FIREFIGHTER – It's not just putting out flames, you'll have to rescue people from car accidents, chemical spills and floods (and, of course, save the occasional cat from a tree!)
PHYSICAL FITNESS
POLICE OFFICER – Police officers have to pass fitness and strength tests. You'll also learn self-defence and will need to master methods to help you stop suspects, such as special holds.
FIREFIGHTER – New firefighters have to undergo up to 18 weeks of intense training, doing physical drills, leaning specialist techniques and practising extinguishing controlled fires.
WORKING TOGETHER
The police and fire services have to work closely together during all sorts of accidents and emergencies.
_____
WIN AWESOME LEGO SETS
We're giving away three brill Lego set bundles! Click here to find out how to enter.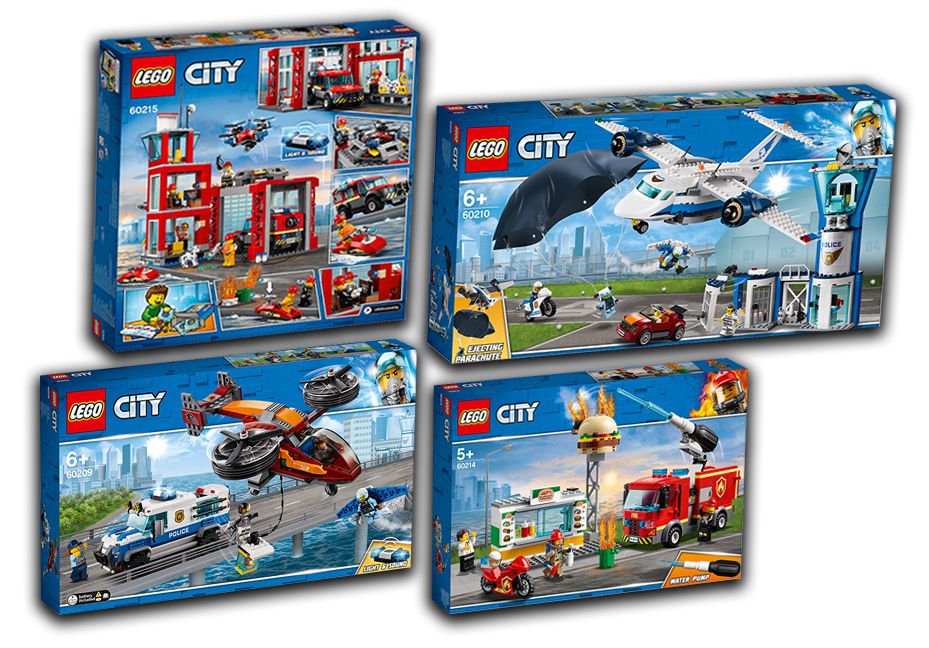 Have you got what it takes to be a hero? Start your LEGO City adventure at popfun.co.uk/legocity
More Like General Kids Club