SPONSORED
Robozuna: The ultimate bot-battling competition…
Heroes are not only born, they're built.
Robozuna is the one escape for the masses ‐ a fun and thrilling futuristic sport played by robots, where heroes are not only born, they are quite literally built!
When the Corvus Imperium destroys the nomadic colony Ariston and Mangle call home, the friends are forced to go in search of sanctuary, finding it with Team Veredus ‐ a Robozuna team with a secret agenda.
The team's coach, Lanista, sees Robozuna as a way of uniting the land's persecuted people into a fighting force who can march on Corvus and restore freedom to the nation.
Get ready for an epic, action packed adventure in… ROBOZUNA
Watch the trailer
Meet Team Veredus!
Ariston
Ariston wants payback after his colony was destroyed by The Corvus Imperium. But he won't be facing Corvus alone. He's joined Team Veredus and is ready to fight the good fight.
Mangle
Sleek, powerful and highly advanced… three things that don't describe Mangle! But this ramshackle robot will give his all for his creator Ariston. He carries out lots of tasks, but protecting Artiston is the most important
Lanista
Team Veredus leader Lanista has always been an enemy of Corvus. He's convinced that only by joining together do they stand a chance of defeating Corvus Imperium. Can Ariston and Mangle help him achieve his goal?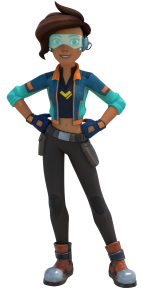 Livia
Livia has no time for boys and their clunker robots. As Lanista's teenage daughter and chief operator of Team Veredus, Livia has enough to think about – Improving her skills, winning, and making her dad proud.
Catch Robozuna on Saturday 20th October, 8:30am on CITV & ITV, and head to robozuna.com to find out more!
More Like General Entertainment