SPONSORED
The Angry Birds Movie 2
The birds and piggies team up to take down a new threat
ADVERTISING PROMOTION
There's nothing like a common foe to bring sworn enemies together, with the flightless angry birdsand the scheming green piggies taking their beef to the next level in THE ANGRY BIRDS MOVIE 2!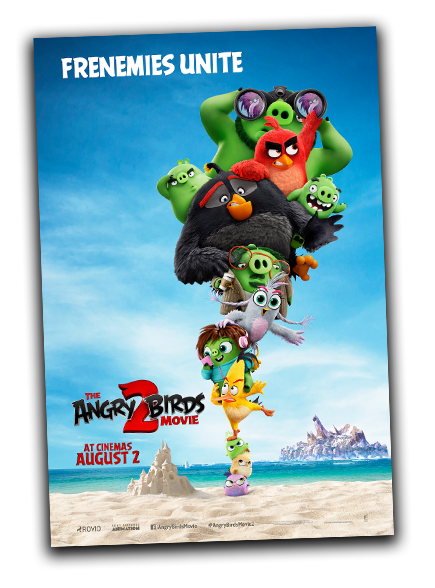 When a new threat emerges that puts both Bird and Pig Island in danger, Red (Jason Sudeikis), Chuck (Josh Gad), Bomb (Danny McBride), and Mighty Eagle (Peter Dinklage) recruit Chuck's sister Silver (Rachel Bloom) and team up with pigs Leonard (Bill Hader), his assistant Courtney (Awkwafina), and techpig Garry (Sterling K. Brown) to forge an unsteady truce and form an unlikely superteam to save their homes.
THE ANGRY BIRDS MOVIE 2 will open at cinemas across the UK and Ireland 2nd August 2019
Unlikely friendships in films
Like the teaming up of the birds and piggies to take down the new threat in THE ANGRY BIRDS MOVIE 2, there have been many unlikely friendships that have formed in film. From different toys to humans and dragons, we've taken a look at the best ones below…
Angry Birds and Green Piggies (The Angry Birds Movie 2)
As a new threat emerges that puts Bird and Pig island in danger, the angry birds and green piggies put their differences aside to team up and take down the threat. How will the infamous frenemies get on in their quest to stop their peaceful lives from being disrupted?
Woody and Buzz (Toy Story)
Sherriff Woody and space ranger Buzz, two very different toys, eventually formed a heart‐warming friendship despite not getting along with each other at first. Together, they've had a rollercoaster of a ride from nearly being separated from their owner Andy, to Woody getting lost from the group when they go on a road trip.
Shrek and Donkey (Shrek)
Who would have thought that an ogre and a donkey would team up and become best friends? Shrek and Donkey have gone through a lot together over the years, from taking down evil kings to overcoming scheming princes.
Hiccup and Toothless (How to Train your Dragon)
A human, Hiccup, and a dragon, Toothless form an unlikely friendship despite Hiccup's village believing stories about dangerous dragons. When put their differences aside, Hiccup and Toothless' friendship breaks the barrier between dragons and humans and they become close friends with an unbreakable bond.
Competition
Click here to find out how to win an Angry Birds the Movie 2 prize bundle
THE ANGRY BIRDS MOVIE 2 will open at cinemas across the UK and Ireland 2nd August 2019