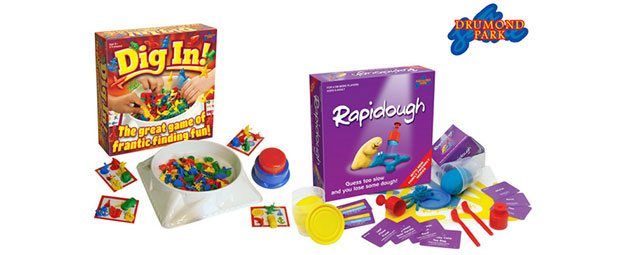 Win Dig In! and Rapidough games!
Competition closes midnight
3 May 2017
Ready to have some frantic family fun, gang? Then read on!
We're giving away two fantastic table top games from Drumond Park.
Seven lucky winners will win both games – guaranteed to be a hit with friends and family alike!
Dig In!
Meet Dig In!, the irresistible game of instant, frantic, finding fun!
This deceptively challenging game is an enthralling test of hand/eye co-ordination – against the clock!
The Dig In! bowl features a mix of 128 colourful model items – from teddies and trains, to rockets and toilets! – all jumbled together and ready for rummaging!
Try to find all six items on your Dig In! card in the allotted time – it's frantic!
RRP £19.99 | Age 8+
Rapidough
There's never a dull moment in this rapid game, as everyone gets stuck in and plays at once, in every round!
Take a card and attempt to sculpt the word or words shown into a shape, as your team mates begin their frenzied attempts to guess what's emerging from the coloured modelling dough.
The Modellers are only allowed to say "yes" or "no", and must ignore any guesses from members of the opposing teams.
There's a sting in the tail of course… at the end of each round, the losing team has one 'plug' of dough taken away from them. Lose too often, and you could end up trying to sculpt a snail, hand, helicopter or hedgehog – with a pea-sized piece of dough!
RRP £24.99 | AGE 8+
The prize
Seven lucky winners will each receive:
1 x Dig In!
1 x Rapidough
By entering our competitions you agree to the terms set out in our Privacy Policy and our competition terms and conditions.
SIGN IN TO TAKE PART
or Register here
Thanks for registering, you're now free to explore our site.