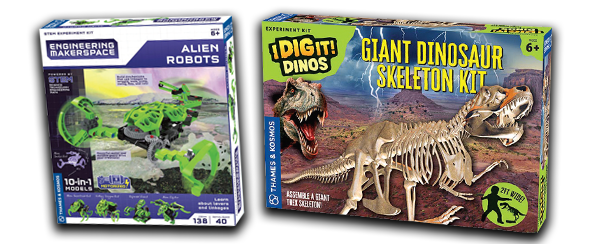 WIN THAMES & KOSMOS KITS
Competition closes at 23:59 on
25 June 2020
Get building with these brill kits from Thames & Kosmos! 
Engineering Makerspace Alien Robots lets you construct out-of-this-world machines whilst learning all about the physics of levers and linkages. Make ten exciting robots, from a creepy slithering alien snake-bot to an alien raptor model with wings. Wow! 
With the Giant Dinosaur Skeleton Kit, you can build a ferocious scale model of a T. rex skeleton. Learn about this ancient creature's anatomy, life in prehistoric times, and the formation of fossils. Cool! 
Nine winners will grab both cool kits. 
The prize
Discover more at thamesandkosmos.co.uk 
By entering our competitions you agree to the terms set out in our Privacy Policy and our competition terms and conditions.
SIGN IN TO TAKE PART
or Register here
Thanks for registering, you're now free to explore our site.