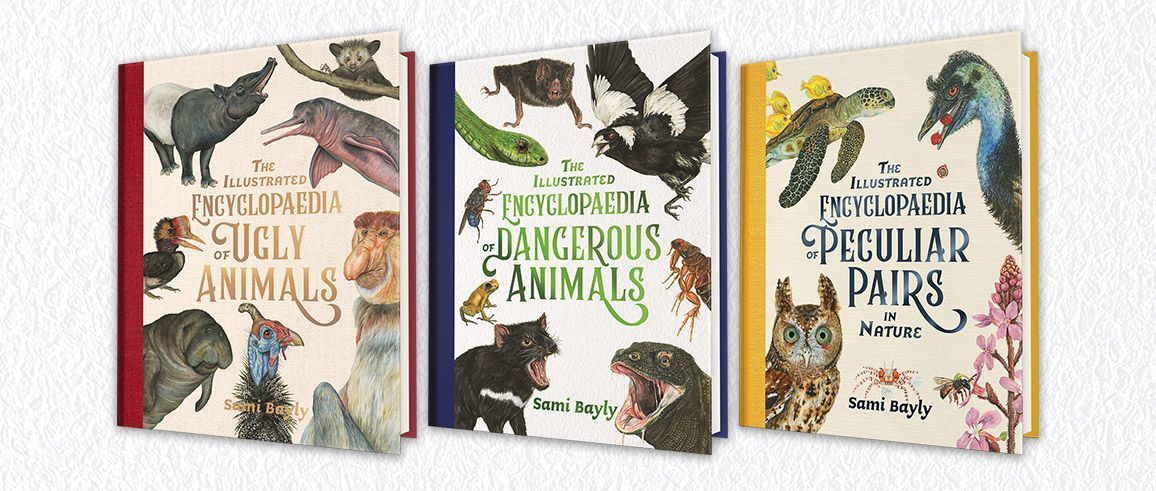 WIN Three Illustrated Encyclopaedias
Competition closes at 23:59 on
3 November 2021
Get to know nature's quirkiest creatures with these incredible illustrated encyclopaedias from Sam Bayly.
In The Illustrated Encyclopaedia of Ugly Animals, meet some of the planet's most…. uhhh… unusual looking creatures – from the naked mole rat to the goblin shark, aye-aye, blobfish and many more. Find out the science behind why these animals developed such extraordinary features!
The Illustrated Encyclopaedia of Dangerous Animals gets up close to some seriously deadly critters – including the wolverine, the Irukandji jellyfish and the slow loris. Discover how they have adapted to survive, and whether we should be threatened by these animals or appreciate them for their incredible features.
And learn how plant and animal species rely on each other for their survival in The Illustrated Encyclopaedia of Peculiar Pairs in Nature. This book explorers all types of relationships, from symbiotic to parasitic – whether its a rare tick living in the fur of a pygmy possum, a stick insect feasting and hiding out amongst the Melaleuca or a handfish laying its eggs on a sea squirt!
The prize
Three lucky winners will get their hands on ALL THREE illustrated encyclopaedias.
By entering our competitions you agree to the terms set out in our Privacy Policy and our competition terms and conditions.
SIGN IN TO TAKE PART
or Register here
Thanks for registering, you're now free to explore our site.