SPONSORED
Dolittle
Meet the man who can talk to animals
Eccentric Dr. John Dolittle, famed doctor and veterinarian of Queen Victoria's England has the remarkable ability to talk to animals! But after losing his wife, he hermits himself away behind the high walls of Dolittle Manor with only his menagerie of exotic animals for company.
However, when the young queen falls gravely ill, a reluctant Dolittle is forced to set sail on an epic adventure to a mythical island in search of a cure, regaining his wit and courage as he crosses old adversaries and discovers wondrous creatures.
Dolittle is in cinemas from 7 February
MEET THE ANIMALS
Poly
Polynesia aka Poly, is Dolittle's oldest friend, as well as his conscience. He listens to her advice even when she says something he doesn't want to hear. She is regal, vein and ferocious when called for.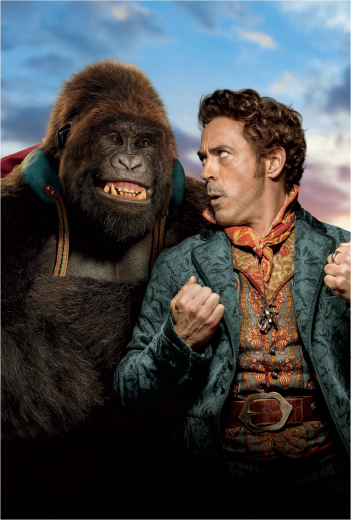 Chee-Chee
Wildly shy mountain gorilla Chee-Chee loves games, words, riddles and facts. Despite being nervous and inseparable from his blanket, Chee-Chee is strong, playful and very good at chess!
Yoshi
Although he's a polar bear, Yoshi hates the cold, and he likes nothing more than finding a bit of sun or a spot by the fire to help his poor circulation. But this gentle giant is a friend you can always count on.
Dab-Dab
Though Dab-Dab is warm, loving and motherly, she isn't always the most talented nurse. While this one-footed American Pekin duck can be a little ditzy and bossy, she's fiercely faithful to her family.
COMPETITION
To celebrate the release of this paw-some movie, we're giving away a special bumper Dolittle bundle. Click here to enter.
A UNIVERSAL PICTURE © 2019 UNIVERSAL STUDIOS