Your photo comp entries, 2015!
Check out the fab wining photos and find out who"s off to Costa Rica, below!
The judges
Our four celebrity judges…
Check out the lucky winners of the National Geographic Photography Contest for Kids 2015!
Find out who won the grand prize and see all the fab winning photos – including the international winners!
Thousands of you entered this year's photo contest and, as ever, we were bowled over by your talent – you guys are super snappers! Our four celebrity judges  – award-winning children's TV presenters Sam and Mark, celebrity adventurer Helen Skelton and renowned National Geographic photographer Reza –had a really tough time deciding who would win each category. Here's what they had to say about their favourite pics…
International winners
Our very own grand prize winner, Tadhg, was crowned winner of the Weird but True category in the National Geographic International Photography Contest for Kids, and runner up in the overall competition, which was made up of the very best entries from around the globe – well done Tadgh!
You can view all the international winners in the gallery, below, and keep scrolling to see our fab UK winners and runners up.
Grasshopper on Sunflower Leaf by Senne Mensink, 13
– Grand prize winner/1st place Amazing Animals
 Even the Longest Tunnel Has an End by Radostina Georgieva Todorova, 8
– Runner up, 1st Place Dare to Explore
 Headstone by Tadhg Verdier, 11
– Runner up, 1st place Weird but True
Over Our Heads by Henry Downing, 10
– Runner up, 1st place Wild Vacation
The Giant by Julij Kopilovi?, 8
– 2nd place, Amazing Animals
By Josephine Jennifer Tjahjadie, 11
– 2nd place Dare to Explore
Thermal Pool of Yellowstone by Chase Rodi, 13
– 2nd place Weird but True
By Zhixuan Wu, 12
– 2nd place Wild Vacation
UK winners
"Betsy the Explorer" by Evie Clark, 12
Congratulations to Evie, whose picture won our Dare to Explore category. Betsy the dog looks like she's enjoying the scenery in Evie's atmospheric photo, taken on Ilkley Moor, West Yorkshire.
"I loooove this picture so much. It"s beautiful!"
Nat Geo Kids judge Helen
"This photo is great. Evie should be proud of herself. It's really cute."
Nat Geo Kids judges Sam and Mark
"We Three Kings" by Josh Field, 8
This photo, taken at Volunteer Point in the Falkland Islands, was the winner of our Amazing Animals category. Josh crouched down and waited for these wild king penguins to waddle by – he was at just the right spot to capture this stunning shot. 
"Oh wow, this is brilliant. It"s perfectly timed and funny!"
Nat Geo Kids judges Sam and Mark
Hot Not Bothered by Isabella Barbaro, 14
And here"s the wonderful winner of our Wild Vacation category, snapped by Isabella during a hot day on London's Southbank. We think her image of a stranger playing in the fountains sums up the summer holidays!
"Isabella"s photograph perfectly captures a happy moment. Lovely!"
Nat Geo Kids judge Reza
"This is really good. The reflection, the light, it"s brilliant!"
Nat Geo Kids judges Sam and Mark
Grand prize winner! "Headstone" by Tadhg Verdier, 11
Tadhg was the winner of our Weird but True category, and also our grand prize winner! He captured this quirky picture of his cute little sister Nora after her she"d been buried under the sparkling stones of Ballyhillin Beach in Co. Donegal, Ireland, by their dad.
"We love this photo so much. We like the fact her red hair matches the red pebbles. The colours are great. It's odd and funny – fits the category perfectly! It's our favourite photo in the whole competition!"
Nat Geo Kids judges Sam and Mark
"This photo really makes me smile! Nora clearly enjoyed it, too!"
Nat Geo Kids judge Helen
Congratulations, Tadhg – you"re off on a nine-day family holiday to Costa Rica in Central America, courtesy of The Family Adventure Company! And so you can keep taking amazing snaps, you"ll also be receiving a waterproof camera and a fantastic Jessops Academy photography course for you and your mates.
The three other category winners have also won the Jessops Academy photography course and Jessops goodies. Cool!
Congrats to all of our winners!
You can check out some of our other fave entries in the galleries below, enjoy!
Amazing Animals
Sky Gazing by Madison Heath, 14
Breakfast Time by Lily Cutts, 12
Hello? by Jack Salmon, 13
Reptile With Attitude by Finley Ross, 12
Nuthatch in Shadow by Daniel Canning, 12
Dare to Explore
Mushroom Forest by Emily Bland, 9
Sunrise In The Rockies by Marcus Reilly, 14
The Miracle of Antelope Park by Noa Ben Menahem, 13
The Watchers by Isabella Barbaro, 14
Weird but True
Bee Runway by Hannah Cashman, 12
Distorted Reality by Isabella Barbaro, 14
Lost Property by Finley Ross, 12
Wild Vacation
Have You Heard? by Max Barbaro, 10
Gaudi"s Guardians by Katie Stockwell, 12
Ring of Fire by Phoebe Fitzpatrick, 9
Cool Christmas by Aaron Gerstel, 7
Don"t forget to take part in next year"s contest, we can"t wait to see more of your mind-blowing snaps!
More Like Hidden category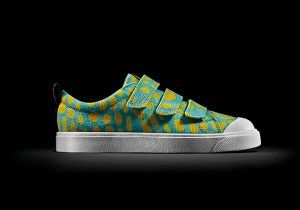 Check out the amazing winner of our shoe design competition