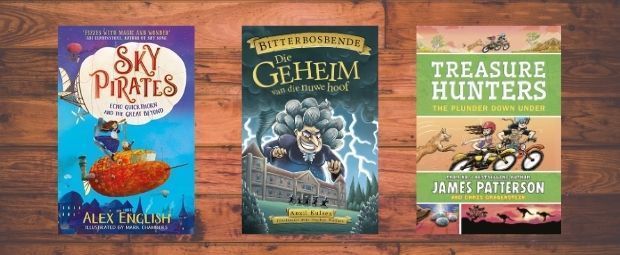 Win the books from issue 201!
Competition closes at 23:59 on
14 March 2021
Issue 201 of Nat Geo Kids magazine is out! This month, we reviewed some fab books, which include Sky Pirates, Bitterbosbende: Die Geheim van die Nuwe Hoof and Treasure Hunters: The Plunder Down Under…
Three winners will scoop: Sky Pirates, a story about orphan Echo Quickthorn who grows up believing there is nothing outside the kingdom of Lockfort – until Professor Daggerwing crashes outside her window one night. Bitterbosbende Die Geheim van die Nuwe Hoof , a few kids have their suspicions about the new principal, Mrs Bosman. Treasure Hunters The Plunder Down Under the Kidds, a family of treasure hunters are looking for Lasseter's Gold in Australia. For your chance to win, simply answer the question below.
You'll need to sign in to enter our competitions! If you aren't already registered with us, click the 'register here' link below and enter your parent or guardian's email address. Get an adult to help you, if you're stuck!
By entering our competitions you agree to the terms set out in our Privacy Policy and our competition terms and conditions.
SIGN IN TO TAKE PART
or Register here
Thanks for registering, you're now free to explore our site.