Fun facts about the world primary resource
Discover these 30 cool facts about different places around the world…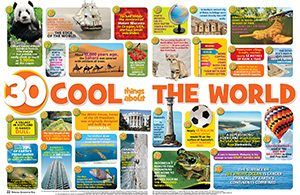 This Geography primary resource explores facts about the different locations, habitats and landmarks from around the world. Discover 30 cool things that it may surprise you to learn. How many football pitches would fit on the surface of the Great Barrier Reef? How much does the Dead Sea's water level drop each year? What part of the world is home to two man-made islands?
Pupils will learn about some of the amazing natural phenomenon and unique man-made achievements of our planet in our National Geographic Kids' Geography primary resource sheet.
The teaching resource can be used in study group tasks, as a printed handout for each pupil, or for display on the interactive whiteboard using the images and information included in the resource for class discussion.
Activity: Ask children to cut out the facts from their handout and, in small groups, group together all the facts about: i) wildlife, ii) sports, iii) food, iv) natural landscapes, v) culture fact, etc. Pupils could each be assigned one of the numbers between 1 – 30, and further research its corresponding fact. They could research individually, or as a group.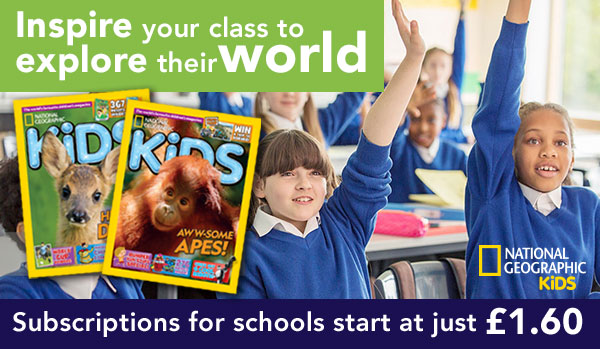 N.B. The following information for mapping the resource documents to the school curriculum is specifically tailored to the English National Curriculum and Scottish Curriculum for Excellence. We are currently working to bring specifically tailored curriculum resource links for our other territories; including South Africa, Australia and New Zealand. If you have any queries about our upcoming curriculum resource links, please email: schools@ngkids.co.uk
This Geography primary resource assists with teaching the following Key Stage 1 Geography objectives from the National Curriculum:
Pupils should be taught to: 
name and locate the world's seven continents and five oceans 
use basic geographical vocabulary to refer to: key physical features, including: beach, cliff, coast, forest, hill, mountain, sea, ocean, river, soil, valley, vegetation, season and weather
National Curriculum Key Stage 2 Geography objectives:
Pupils should extend their knowledge and understanding beyond the local area to include the United Kingdom and Europe, North and South America. This will include the location and characteristics of a range of the world's most significant human and physical features. They should develop their use of geographical knowledge, understanding and skills to enhance their locational and place knowledge.
Pupils should be taught to:
locate the world's countries, using maps to focus on Europe (including the location of Russia) and North and South America, concentrating on their environmental regions, key physical and human characteristics, countries, and major cities/em> 
understand geographical similarities and differences through the study of human and physical geography of a region of the United Kingdom, a region in a European country, and a region within North or South America
This Geography primary resource assists with teaching the following Social Studies First level objective from the Scottish Curriculum for Excellence:
By exploring a natural environment different from my own, I can discover how the physical features influence the variety of living things.
Scottish Curriculum for Excellence Second level Social Studies objective:
I can explain how the physical environment influences the ways in which people use land by comparing my local area with a contrasting area.
Download primary resource