SPONSORED
The Circular Economy Primary Resource
Learn how technology is being used to help reduce waste
This Primary Resource introduces pupils to the circular economy and the efforts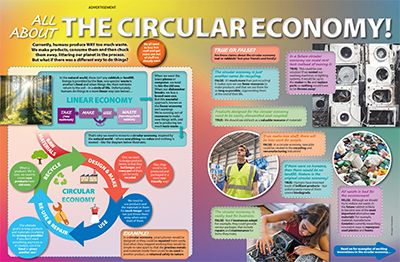 being made to ensure a brighter, greener future. It teaches pupils how the planet's resources are finite, and how our current linear system produces too many waste products. Pupils will learn how re-using and repairing products is an effective way of preserving raw materials and much more eco-friendly.
They will explore the popular misconceptions about the circular economy and learn about exciting and innovative ways people and businesses are starting to put the circular economy into action.
An interview with a chemist will introduce pupils to some of the ways in which new materials are being made that reduce fossil fuel and reduce the amount of carbon dioxide in the air, and teach them how science can help protect the environment.
The teaching resource can be used in study group tasks for discussing man-made inventions, problem-solving technology, and impacts of manufacturing and disposal. The quiz element could be used as a printed handout for each pupil to complete and discuss their results.
Activity: 
Pupils could use the resource as inspiration to create a poster promoting the circular economy. What do they think are the most important points? Could they create a catchy slogan? Pupils could re-use and upcycle waste items and incorporate them into their artwork. Could they create a diagram using different colour bottle tops? Maybe they could design a scene from nature using discarded packaging?
N.B. The following information for mapping the resource documents to the school curriculum is specifically tailored to the English National Curriculum and Scottish Curriculum for Excellence. We are currently working to bring specifically tailored curriculum resource links for our other territories; including South Africa, Australia and New Zealand. If you have any queries about our upcoming curriculum resource links, please email: schools@ngkids.co.uk
This Science primary resource assists with teaching the following Key Stage 2 Science objectives from the National Curriculum:
Pupils should be taught to:
Recognise that environments can change and that this can sometimes pose dangers to living things.
This Science primary resource assists with teaching the following Science Studies Third level objective from the Scottish Curriculum for Excellence: 
I can explain some of the processes which contribute to climate change and discuss the possible impact of atmospheric change on the survival of living things.

Scottish Curriculum for Excellence First level Social Studies objectives:

By exploring climate zones around the world, I can compare and describe how climate affects living things. 
Scottish Curriculum for Excellence Fourth level Social Studies objectives:
I can identify threats facing the main climate zones, including climate change, and analyse how these threats impact on the way of life. 

I can carry out a geographical enquiry to assess the impact and possible outcomes of climate change on a selected region and can propose strategies to slow or reverse the impact. 
Download primary resource