YOUR Book Reviews!
The latest books, reviewed by Nat Geo Kids readers…
Each month, we ask our readers to review the latest kids' books for us! Email us at kids@ngkids.co.uk if you'd like to take part…
Edward, 10

Bone Talk
Candy Gourlay
This historical fiction book is about a Filipino mountain boy called Samkad and his quest to be seen as a man within his village. Exciting and action-packed, it's well written and difficult to put down. My fave character is Kinyo (Samkad's brother) because he bravely stands up against his enemies and can speak two languages. I loved the part when Samkad fought a Mangili – I felt that I was there and wanted to help!
Nathan, 7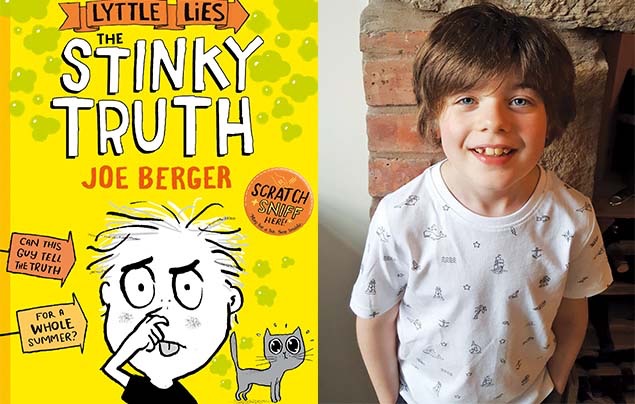 The Stinky Truth
Joe Berger
The book made me laugh A LOT! It's about a boy called Sam Lyttle who has to tell the truth for the whole of the summer holidays. Will he pass the test? Sam was funny because he kept trying to get out of trouble by telling his mum stories or distracting her with facts. I loved it when his cat kept farting! I really want to read the next one in the series and I also want the free cheeseburger that the 'scratch and sniff' test promised me – if you read the book you'll understand!
Tom, 8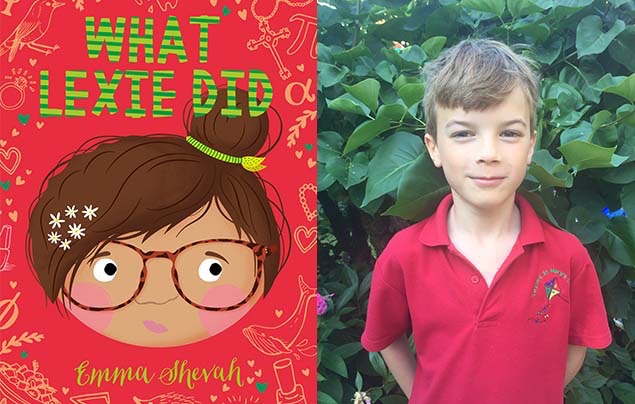 What Lexie Did
Emma Shevah
Have you ever been so close to someone that you could 'wah-wah' in a whale song? Lexie has. She and her cousin Eleni are so close they can communicate in special telepathic way, a bit like speaking to people in your mind. They're like two peas in a pod. But then Eleni befriends Anastasia… I really liked this book about jealousy, loyalty and lying. Every page kept me guessing – some scenes were mysterious and there were also funny parts.
Violet, 8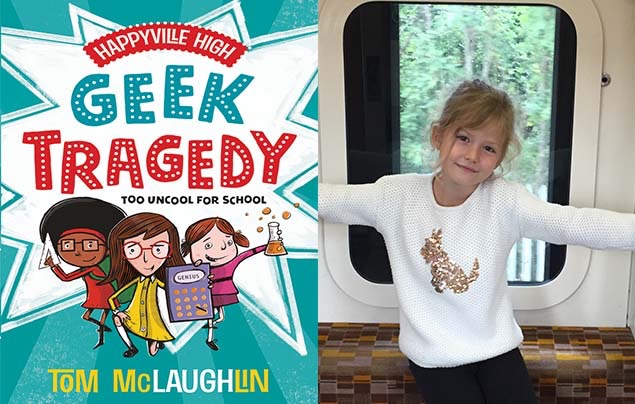 Geek Tragedy
Tom Mclaughlin
A young girl called Tyler Fitz moves to a new house in Happyville. Her adventures begin at a new school, where making friends isn't as simple as it seems – until she meets two fellow nerds. Soon they work together to solve a mystery.Tyler was my favourite character because she comes up with good ideas and is clever, just like me! The story kept me guessing the whole way through – a real page-turner! I look forward to
the new Geek Tragedy
book that's coming soon.
Daniel, 12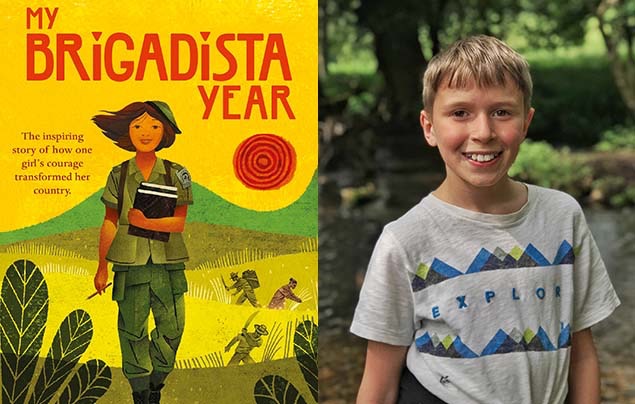 My Brigadista Year
Katherine Paterson
My Brigadista Year is an exciting novel set in 1961 – two years after the Cuban revolution. The book is the journal of an enthusiastic 13-year-old girl called Lora. She joins an 'army' of literacy teachers in order to travel the countryside, helping to educate the Cuban people. She's having the time of her life until she realises that danger is just around the corner. This book is amazing as I never thought I would have a fun history lesson!
I was really hooked when the evil Banditos threatened to torture
and kill all the teachers! I would recommend this book to older children with a
taste for adventure.
Adam, 7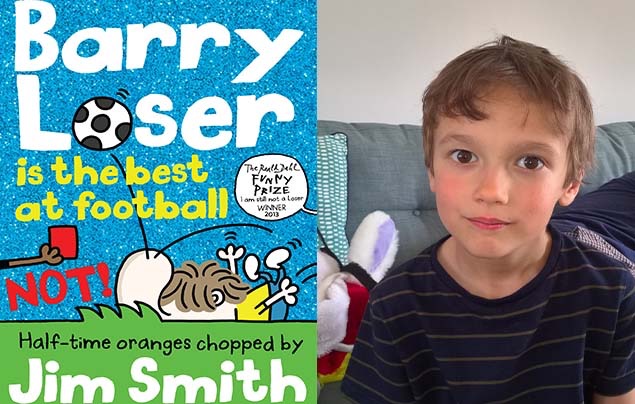 Barry Loser is the best at football – NOT!
Jim Smith
Barry's football team agree to have a match with the Green Giants football team at Avocado Hill. But just before the match their toys are confiscated by a dinner lady called Queenie and they have to go on a daring mission to get them back. My favourite character was Barry because he is funny and has crazy ideas. He is also very brave when his friends turn against him. I read this book all
in one go because the humour made me want to keep on going. If you like Tom Gates and Timmy Failure and have a good sense of humour you will enjoy this very funny story.
Madeleine, 11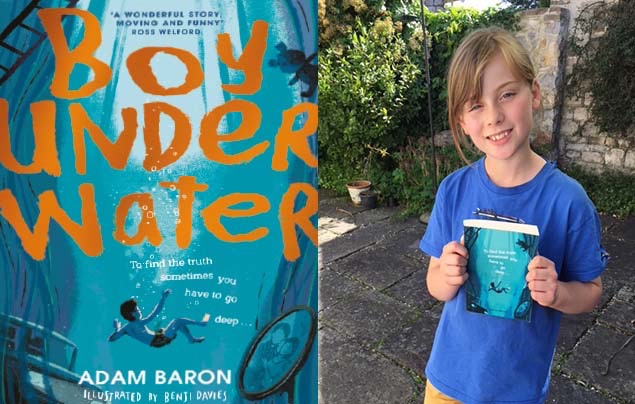 Boy Underwater
Adam Baron
This is a mystery adventure about a boy named Cymbeline Igloo. When the teacher announces that his class will have swimming lessons, Cymbeline is horrified because he has never learnt to swim
and doesn't even own any swimming trunks! Cymbeline doesn't tell anyone he can't swim and then there's an accident at the pool. That leads his mum to a nervous breakdown! So, with new friends and old, he tries to solve these mysteries: Where is his mum? Why doesn't he have a dad? And why has his mum never taken him near water? I couldn't put this book down, it was that good!
Seren, 8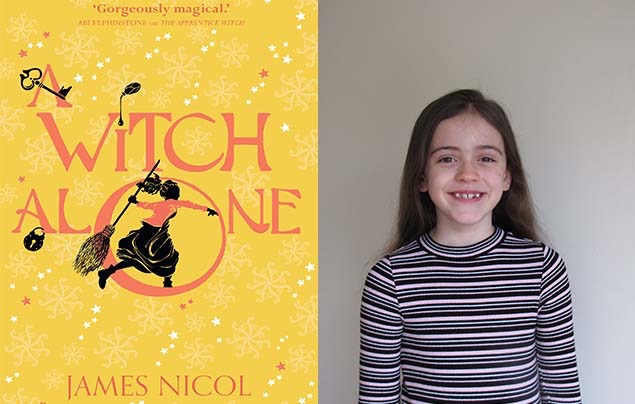 A Witch Alone
James Nicole
Arianwyn (my favourite character) is a newly qualified witch who gets into lots of mysterious missions. When you're reading the book she feels like a real person and her adventures are believable. I especially liked the part when the king got squirted with healable winged grippet juice – it really made me laugh.A Witch Alone is an extraordinary book and I didn't want to put it down. I was a little disappointed that the book didn't tell me if Gimma got freed from the Hex (a curse) but it was an exciting story. A must-read magical book.
Juraj, 7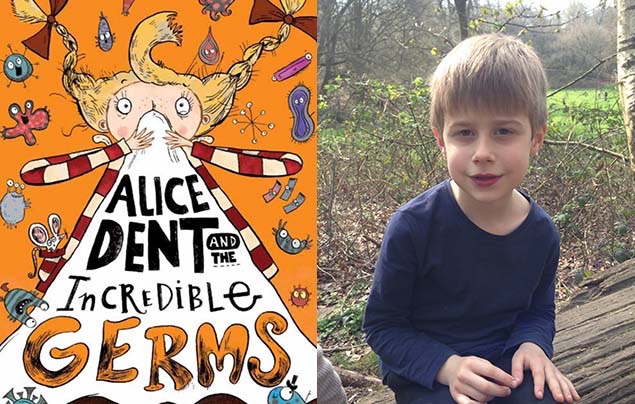 Alice Dent and the Incredible Germs
Gwen Lowe
This book is about a funny girl called Alice who gets a strange cold that makes her giggle a lot, and become a magnet for animals! The virus puts her in very unusual and often dangerous situations. Her adventures start when lots of men dressed in black come to take her away. She ends up in Tryton Mell, a strange school for dirty, messy children, where she forms some strong friendships. The children's characters all feel real, but the adult ones are exaggerated which is interesting. The description of Alice's parents is very funny but some parts of the story made me a bit sad.
Ellie, 10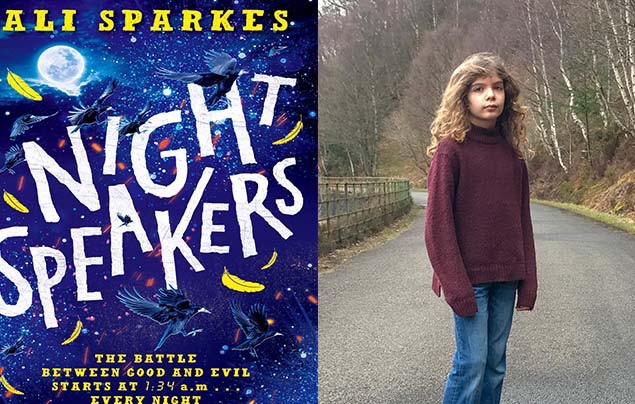 Night Speakers
Ali Sparkes
1.34am. They always wake at 1.34am. At the start of this book, Elena, Matt and Tima are always waking up at exactly the same time. It's messing them up – until they go out in the dark and find each other. They also discover they can communicate with animals! Elena thinks they're waking up because of a machine at Quarry End, so the three of them go there one night
to investigate… This gripping book kept me guessing the whole way through, but I think the best part is at the end. At the start it kept changing the perspective and I found that quite frustrating. But when I finished I just started reading it all over again!
Tommy, 11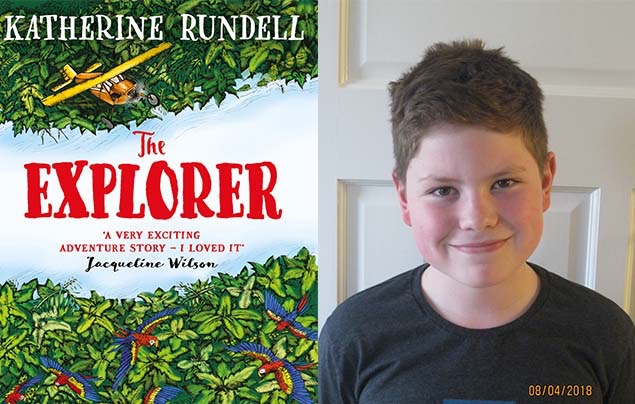 The Explorer
Katherine Rundell
In this exciting story, author Katherine Rundell takes the reader on a dangerous adventure through the Amazon when four children find themselves the only survivors of a plane crash in the dense rainforest. There they must use their skills and ingenuity in order to survive. The forest holds one particular surprise for the friends which I found completely unexpected and takes the story in an
intriguing direction… The book is decorated throughout with wonderful illustrations and there were many cliffhangers which kept me racing through it.
Rounak Chatterjee, 8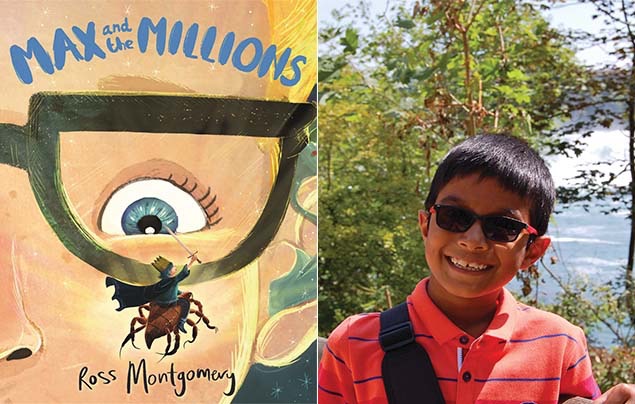 Max and the Millions
Ross Montgomery
This book is based on two worlds – the human world and the tiny people world. The story begins when two boys called Max and Sasha find the Floor People (tiny people) in St. Goliath's boarding school. The boys embark on an adventure to stop an evil, stone-hearted demon (the headmaster!) destroying the
Floor People's civilisation. My favourite character is the brave Prince Luke. Even though he's microscopic, he makes a huge impact. The book has suspense and is imaginative but I disliked the parts that were very detailed. The writing is in different fonts to tell the two worlds apart.
Daisy Struthers, 9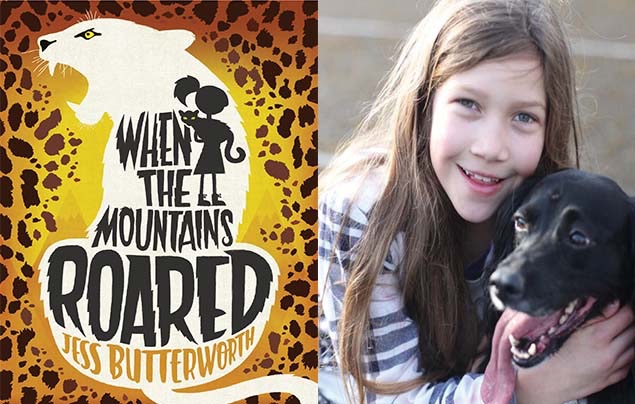 When the Mountains Roared
Jess Butterwoth
Ruby lives a normal life in Australia with her dad, grandma and Polly the dog. Until, that is, the family have to rush away to India. When they arrive, they
have lots of adventures, like finding out about some mysterious green lights, and they meet some fishy characters called Stinger and Toad. Ruby taught me about the importance of friendship and family, love, kindness, protecting animals and
the planet, and having courage. I loved the message behind the story – if there is something you care for and it is in danger, do anything you can to help it.
Sophie de Mul, 7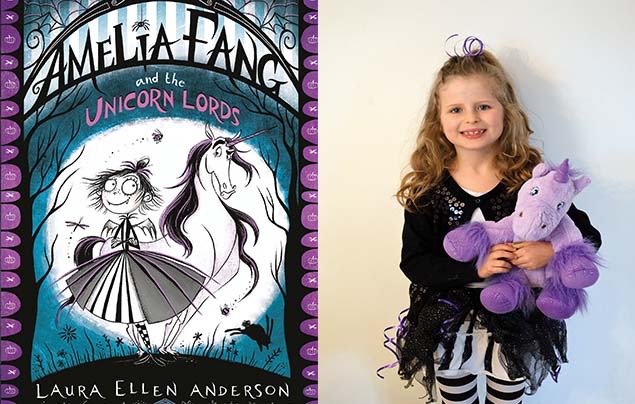 Unicorn Lords
Laura Ellen Anderson
Amelia Fang is a sparky little vampire in a dark and gloomy world. She goes on a mission with her friends to find the King of Nocturnia's wife, the Queen Fairyweather! The Queen is needed because otherwise her son Tangine will have to live with mummy maids for the rest of his life! I like that a few chapters have cliffhangers at the end because they gave me exciting dreams. The best bit is when they are trying to free everyone in the Candy Chambers but they get spotted by Alpha Unicorn! I would recommend this book to 7-10-year-olds who like drama. There are two more books in the series, Barbaric Ball and Memory Thief.

Torran Broddle, 10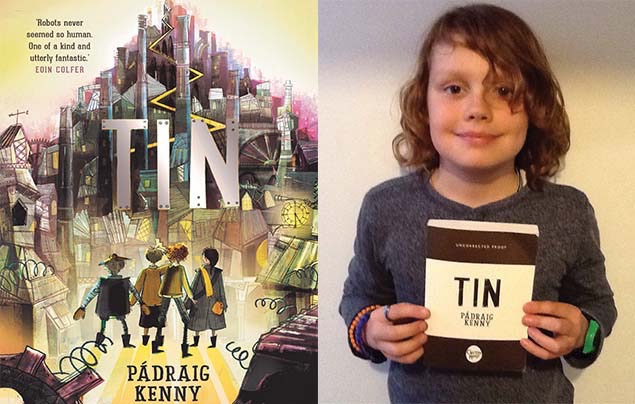 Tin
Pádraig Kenny
Tin is about a 'boy' called Christopher and his best friends – robots made out of
scrap parts. But in a nasty accident, Christopher discovers a secret that will change his life forever. My favourite character was Jack because
he was determined to find Christopher when he was taken away, and I always like to find things when they go missing. This story made me feel lots of different things, including happiness and sadness. It also made me feel tense. I liked the rise and fall in emotion. The plot kept twisting and turning and was unpredictable. I would recommend this unique book to people who like mystery and adventure.
Savannah
O'Shaughnessy, 9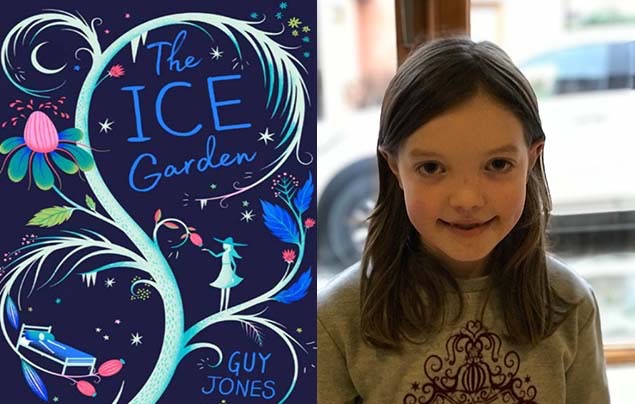 The Ice Garden
Guy Jones
Jess is allergic to the sun, and so she has to visit the hospital three times a month. She doesn't like these visits one little bit! But while exploring the hospital she comes across a boy called Davey, and she's glad to have found someone that listens. Sadly, Davey can't respond because he's in a coma. Then one night something happens that changes everything. She stumbles across the entrance to a new world made entirely of ice! Inside this paradise she finds what she's always wanted – a friend who's different, just like her. Owen, you see, cannot go outside because he's entirely made of ice. But suddenly the Ice Garden starts to melt and it's up to Jess to save her best friend and his world.
Róisín Faughnan, 10
The 1,000 Year Old Boy
Ross Welford
A boy called Alfie is, more or less, immortal. He is, as the title suggests, 1,000 years old! After his mam dies in a fire, he teams up with 11-year-olds Aidan and
Roxy to reclaim his mortality. This book has lots of different settings and far too many time zones to mention. Alfie was born in the Viking age, but the book is set in the modern age! If you like history, this book will teach you a lot. It was also funny and heartwarming! At times, it felt like I was actually in the book, participating in the plot. It's sure to be a classic. Author Ross Welford is a genius!
Sebastian Jones, 7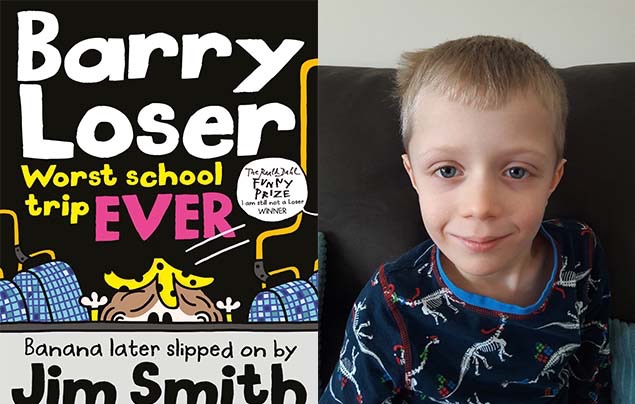 Barry Loser: Worst School Trip Ever
Jim Smith
This funny, easy-to-read book is about a boy called Barry Loser. Barry thinks he's very cool and the leader of his gang of friends. But his friends just think he's silly and a little bit strange. In the book, Barry's class go on a school trip to a TV station. When he realises it's where his favourite TV show is filmed, Barry gets his friends to help him meet his favourite star. But things don't go to plan! I would recommend this book to readers who like the Captain Underpants and Stinkbomb and Ketchup-Face books.
Fabio Reina, 7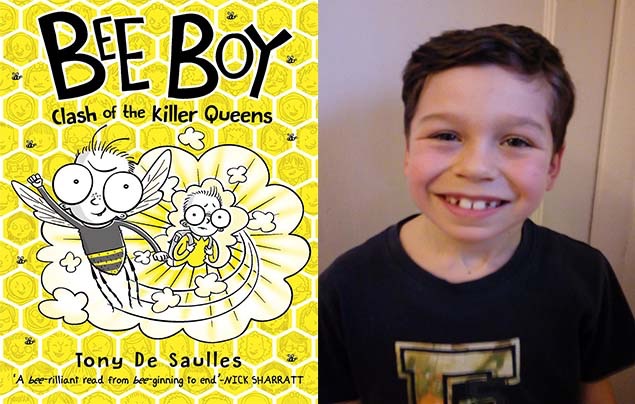 Bee Boy: Clash of the Killer Queens
Tony De Saulles
Melvin Meadly is given a beehive that's on top of Meadow Tower, the block of flats where he lives with his mum. Melvin has to protect the bees from many enemies, including wasps, hawk moths, his neighbours and Norman Crudwell,
the class bully. Melvin quickly learns how bees live and sometimes he magically turns into one! Like a good bee boy, he gets others working together to help him keep the hive safe. My favourite part was the honey making, because it looks like great fun. This book was funny and taught me a lot about how important bees are to our world.
James Ray, 9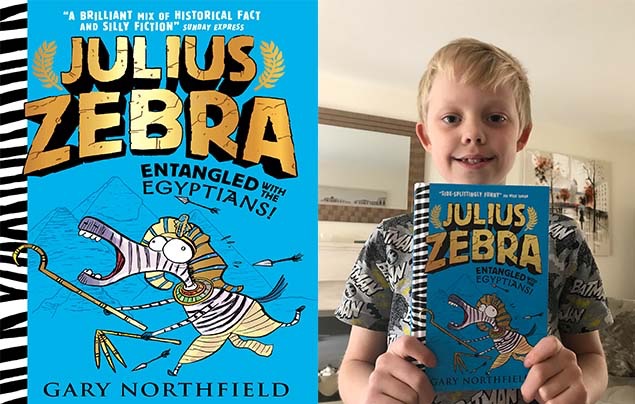 Julius Zebra: Entangled with the Egyptians!
Gary Northfield
This funny story is about Julius Zebra's adventures as he tries to get back home from Ancient Egypt. After Julius and his friends are shipwrecked (whilst on a mission to capture a baddy called Septimus), Egyptian guards find them and think they are intruders. They also think Julius is a Horse God called Heter who creates rain and is the bearer of good fortune! I really liked the bit where Cornelius, the warthog, went to the library and found a scroll that says the Egyptians are going to kill him. It left me wondering what was going to happen next. My favourite character is Julius' brother Brutus as he was silly and fun, especially when he had a seaweed wig on his head! There was nothing to dislike about this book.
Yousif Abdelaal-Wait,

10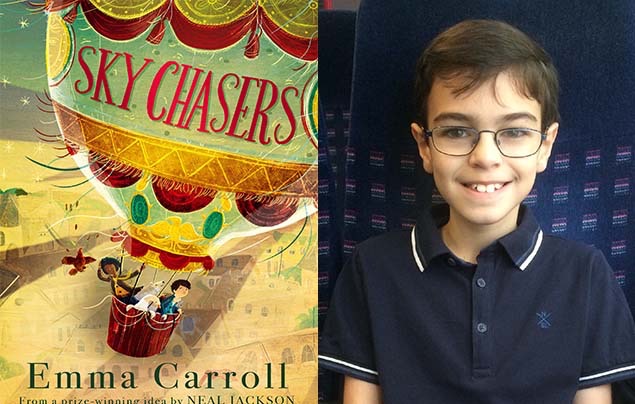 Sky Chasers
Emma Carroll
Sky Chasers is set in 1783 in France. The main plot is a race between the French and the English to fly the world's first hot-air balloon. When orphan Magpie meets the Montgolfier family, they work together to achieve this and fly their balloon above the King and Queen of France. However, someone mysterious is out to stop them… This action-packed novel is a must-read, perfect for children aged seven and over. The main themes are adventure, history and animals – because it's not just Magpie who wants to go up in the balloon… the pets do, too! This book's inspired by real events, but which pioneers will succeed first? Will Magpie and the Montgolfier family succeed, even with English spies, old enemies and stolen papers to deal with?
Martha Lambert, 8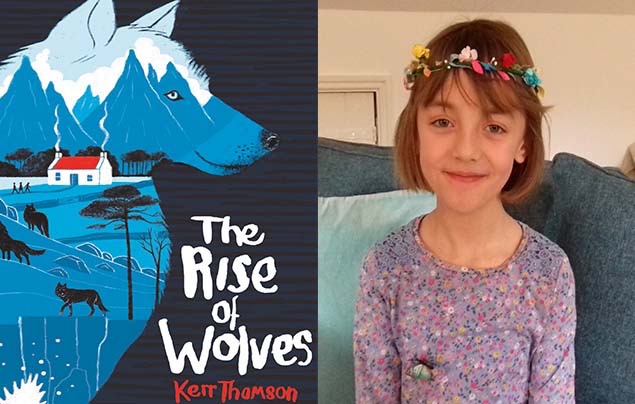 The Rise of Wolves
Kerr Thomson
A boy called Innis Munro lives on the island of Nin in Scotland. When he is walking on a path, he hears the mysterious howl of a wolf, and then
the adventure begins… This book is about how human beings can make things better or worse for animals. I also learned about the historical figure Bonnie Prince Charlie. The best part was the Bonnie Ladies Leap because it was exciting. The adventure story was scary in parts and kept me guessing and turning all the pages!
Connie Rawcliffe, 10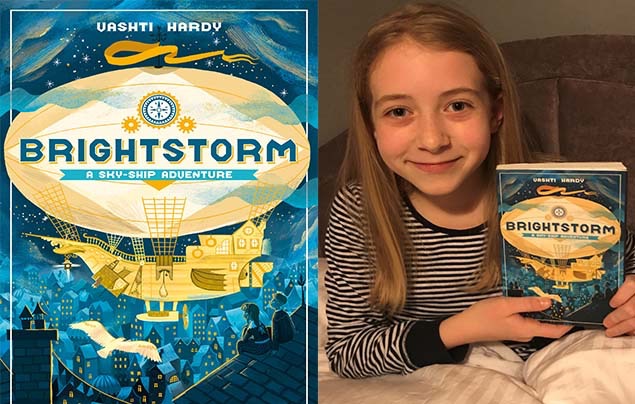 Brightstorm
Vashti Hardy
When Maudie and Arthur hear the news that their father has died on a dangerous expedition, they can't believe it's true. So when they learn that a lady called Harriet is searching for a crew to go to the same place, there's only one thing for them to do. They embark on a life-changing adventure that leads them to question their father's death. My favourite characters were Maudie and Arthur, because they are full of resilience, and won't give up their search. This book is full of surprises and keeps you desperate to find the truth. The characters are so well described that you feel like you have a connection to them. I would recommend it to fans of fantasy and adventure stories.
Lily Zielinski, 8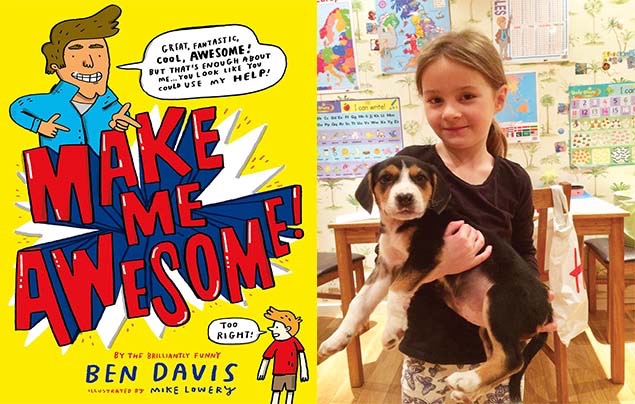 Make Me Awesome
Ben Davis and Mike Lowery
A boy named Freddie needs help because his family is about to lose their home. In the hope of becoming school president and helping his dad get a job, Freddie joins the online Make me Awesome programme, which is guaranteed to lead to awesomeness – or so it claims! He sneaks out of school to meet the leader of the programme, who turns out not to be as awesome as he seems on the internet. Read this book for an adventure full of surprises!
Joseph Baker, 9
The Extraordinary Colours of Auden Dare
Zillah Bethell
Auden Dare is an ordinary boy apart from the fact he can't see colour. When he discovers a secret in an old shed it changes his life. This moving story about friendship, family and adventure is set in the future in a time of war over limited water resources. I thought every page of this gripping and exciting book was brilliant. I couldn't put it down until I had finished it. My favourite character was Vivi because she is clever and a good friend to Auden. I think anyone over eight years old who likes science and adventure
will enjoy this.
Zanna Horn, 9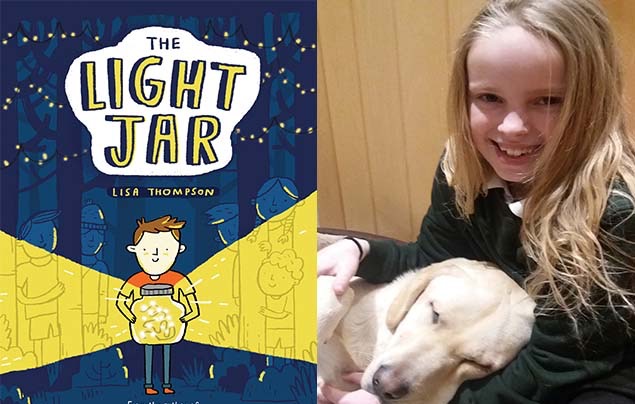 The Light Jar
Lisa Thompson
I loved this book. It's about a boy who is taken on a 'non-holiday' with his mother and takes a 'light jar' because he's scared of the dark – even though he never used to be. But when the jar gets broken, how will he manage without it? Will he find friends to help him? The story really draws you in and is a real page-turner. The characters felt like they were around me as if I was actually in the story. Although the progress was a bit slow I thought it was very funny. The book keeps you wondering what's going to happen next. I recommend this lovely story to everyone, especially children aged eight and nine.
Poppy Curtis, 8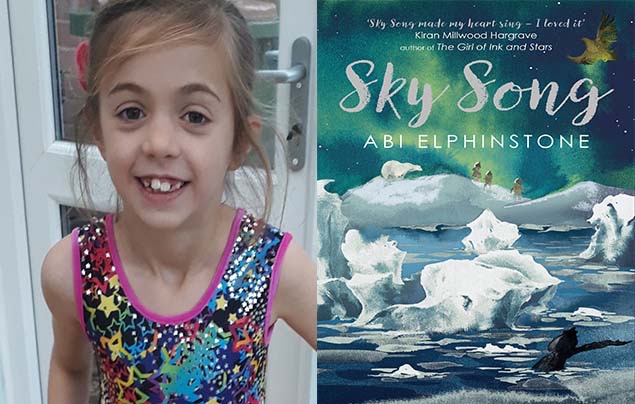 Sky Song
Abi Elphinstone
This book is set in a faraway land called Erkenwald, a kingdom ruled by an evil Ice Queen. Eske (a girl) and Flint (a boy) live in the kingdom and the book follows them as they try and stop the Ice Queen's power. My favourite character is Eske. She is a really nice girl and also very brave. The writing in the book made me feel like I was really there. Sometimes it made me nervous, sometimes excited and sometimes even a little bit scared! I would recommend this to children who like a lot of drama in their books.
Nina Lewis, 11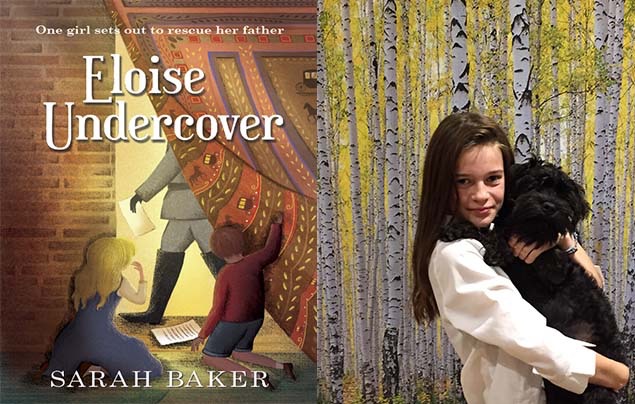 Eloise Undercover
Sarah Baker
When 12-year-old Eloise's dad doesn't come home from work one day, she is determined to find him – whatever it takes. Set in German-occupied France during WW2, this is the story of Eloise, and her adventures working for the Resistance and fighting the Nazis. This is definitely my favourite book because of all its action and suspense. The author really made me feel like I was right next to Eloise every step of the way. The only thing I didn't like was that progress was a bit slow at times.
Annabelle, 11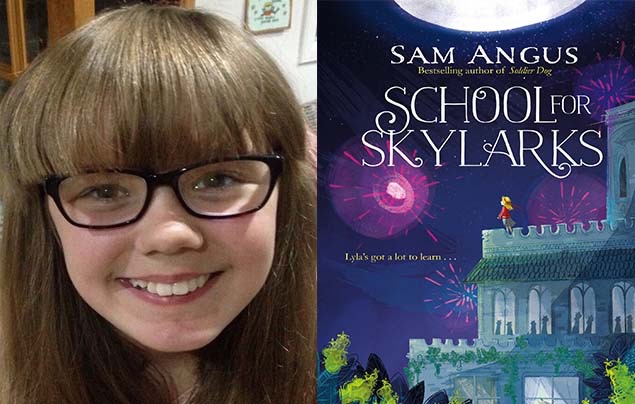 School for Skylarks
Sam Angus
Lyla Spence is a young girl who gets evacuated from her home and sent to her Great Aunt Ada's house, a boarding school for girls with a horse in one of the rooms! You could say it's not a normal house! My favourite character was Cat because when her friend was in trouble she was the first to help. What I liked about this book was that it kept you guessing and there was always a twist. What I didn't like was that sometimes it went into too much detail and I started to switch off.
Esme, 10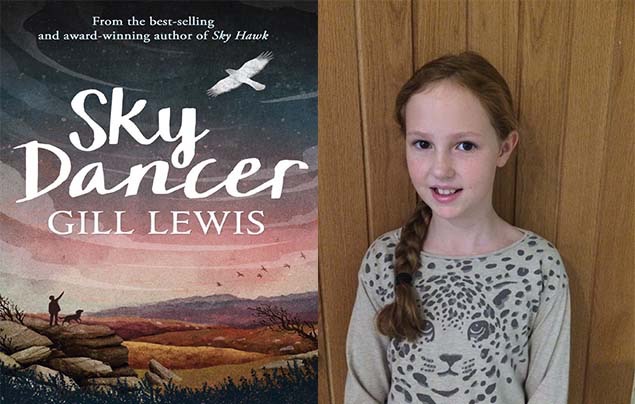 Sky Dancer
Gill Lewis
Sky Dancer is about a boy called Joe, his two friends Minty and Ella, and an impossible choice which brings everyone together. This book is a real page-turner and grips you from the very first sentence. It has a very moving storyline about the fate of the hen harrier birds that nest in the moorlands above Joe's home. I especially enjoyed it when the three friends
worked together to achieve their goal.
Jay Bromby-Phillips, 9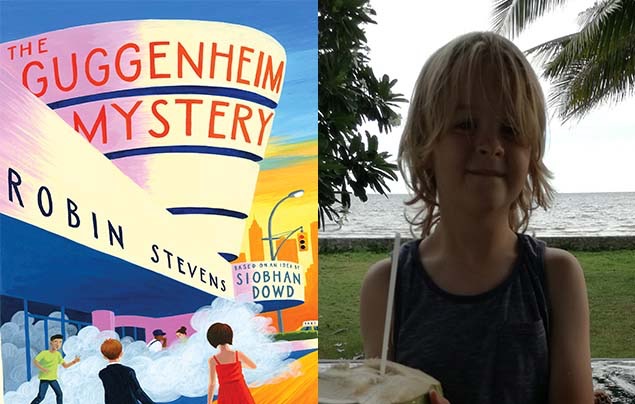 The Guggenheim Mystery
Robin Stevens
This is a story about Ted Spark, who is 12 years and 281 days old. He only has seven friends. Ted isn't sure about going on a trip to New York to meet his Aunt Gloria because he is not very good with change. But when he gets to the amazing Guggenheim Museum, where Gloria works, he loves it. When a smoke bomb is set off and a famous Kandinsky painting is stolen, Aunt Gloria is framed for the crime and arrested! Can Ted, his sister and cousins find the painting before it's too late? I would recommend this book to anyone who likes detective stories. Ted is an unusual character whose brain works differently.
I found him funny and weird!
Sarah Banks, 8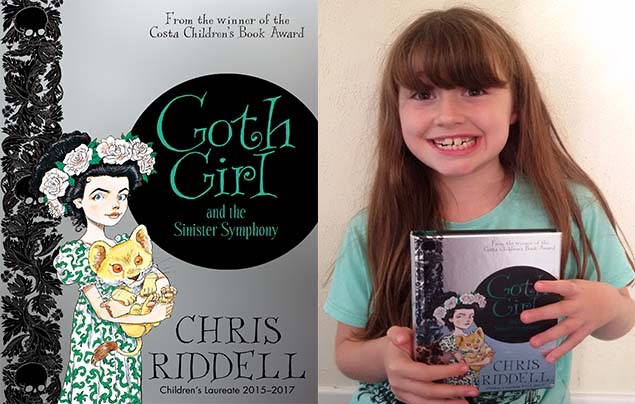 Goth Girl and the Sinister Symphony
Chris Riddell
This is the fourth book in the series, all set in huge Ghastly-Gorm Hall a long time ago. The main character is Ada Goth. Her dad, Lord Goth, has arranged a music festival and talent contest. There are some funny creatures like The Long Nosed Bush Cat, The Giant Jumping Mouse and The Spiny Badger, and there are also lots of interesting characters including some based on famous people who are really funny. I also liked the book's pictures. I liked it when Ada found a fawn in her wardrobe and she let him have an umbrella. There's a lovely animal in the story, too, and Ada solves a mystery. I would have enjoyed the book more if I had read the others first.
Olivia Steele, 9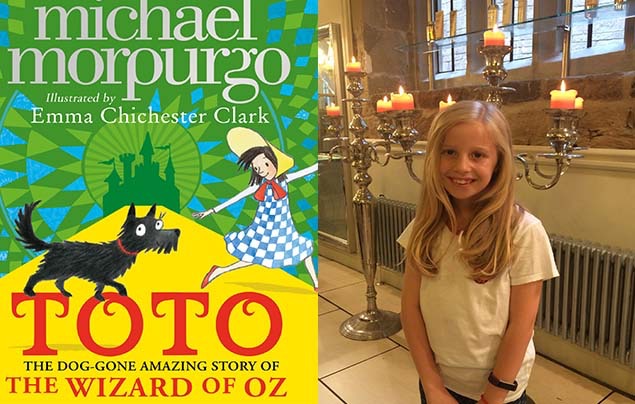 Toto: The Dog-Gone Amazing Story of the Wizard of Oz
Michael Morpurgo
This terrific tale follows the same plotline as the Wizard of Oz film, but with one twist – it's told from the point of view of a dog! When Toto and his owner Dorothy are swept away in a hurricane, they end up in a mysterious land. Soon enough, they find themselves on a mission to get back to their beloved home in Kansas. I loved this book, and even though I knew what would happen (because I've seen the film), it was still a real page-turner.
Oscar Sloane-Hase, 11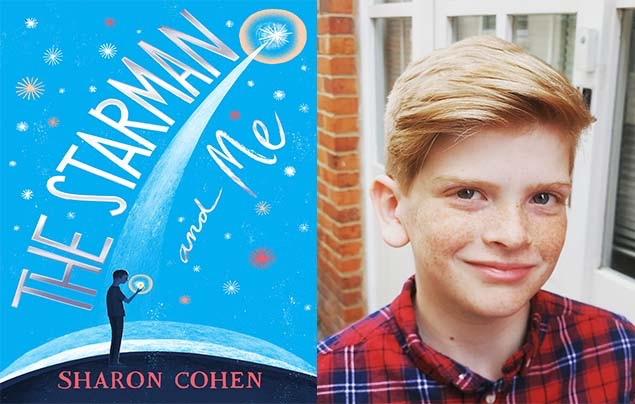 The Starman and Me
Sharon Cohen
When an English schoolboy called Kofi discovers a mysterious being, he's not sure if it's a good thing or not. Despite this, he decides to help… This is a really engaging book about friendship and courage that has plenty of cliffhangers. It really kept me on my toes – I finished it in a day. Sumo, who is my favourite character, made sure of that. Beware of bedtimes!
Emma Stephenson-Brias, 8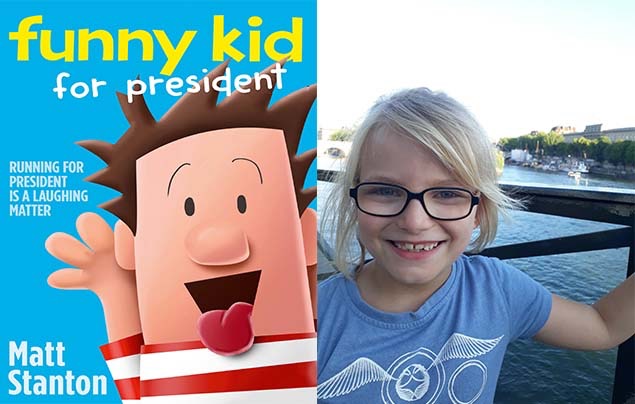 Funny Kid for President
Matt Stanton
Max wants to be class president, but if he doesn't find out who pooped in the school storeroom, he'll be known as poop boy for all eternity! My favourite character was Max's friend Hugo, as he was weird, strange and very funny. This book will make you laugh out loud. It also has great pictures. I'd recommend it to people who like Diary of a Wimpy Kid and people who like a laugh. I read it three times and can't wait to read the second book in this hilarious series.
Lola Thurston-Mathews, 11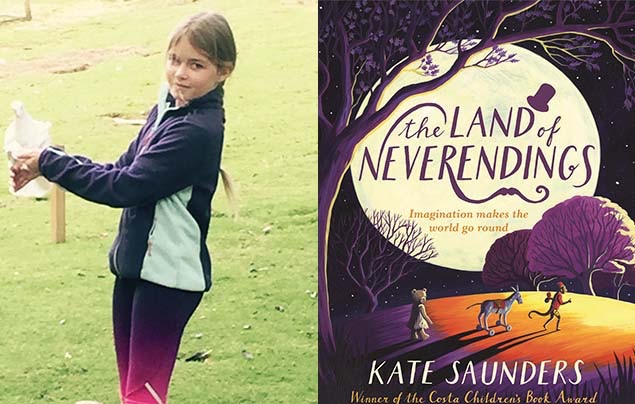 The Land of Neverendings
Kate Saunders
This amazing story begins when Emily's sister Holly dies. Emily used to tell Holly stories about her toy bear, Bluey, going on adventures in the Land of Neverendings, a magical place where toys are alive and wear hats made from cake! But after some talking toys visit her bedroom, with messages from Bluey, it seems this world of freedom and wonder could be real! And when the door between the Land of Neverendings and the human world is broken, Emily is determined to stop the evil toad from bringing sadness into the toy world. It was so exciting I couldn't put it down!
Oscar Smith, 9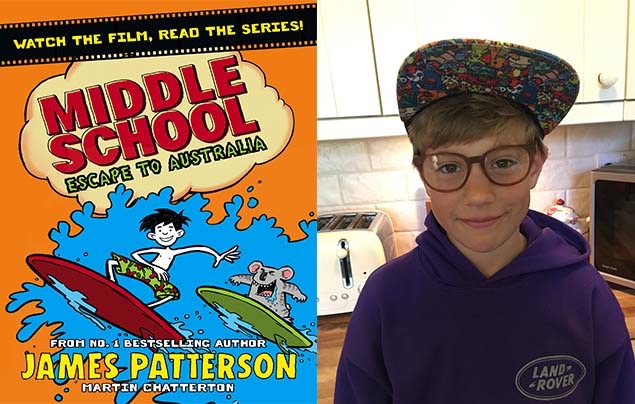 Middle School – Escape to Australia
James Patterson
This slapstick comedy story is all about a boy called Rafe Khatchadorian who wins an art competition. The prize is a holiday to Australia, where he has three weeks of whirlwind adventures! My favourite characters were The Outsiders,
a group of friends Rafe meets at the beach. Although they're not the coolest kids in town they help Rafe with all his plans – I liked them so much! I enjoyed the
story's illustrations because they really added to the picture in my head. The book gets ten out of ten from me!
Sheen Philip, 9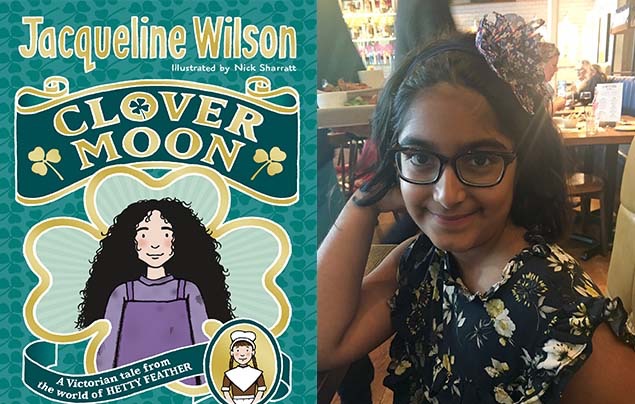 Clover Moon
Jacqueline Wilson
Clover Moon lives in Cripps Alley, a backstreet in Victorian London, with her six younger siblings. Her favourite is Megs – her only blood sister. Clover's best friend and teacher is Mr Dolly, the owner of the local shop Dolls Aplenty. After a wretched case of scarlet fever breaks out, Clover loses the most important thing in her life, and she runs away in hope to find a better future for herself. I think you should read this book if you are interested in the Victorian era or if you like books about adventures. If you enjoyed the HettyFeather books, you'll like this!
Ethan Woodward, 9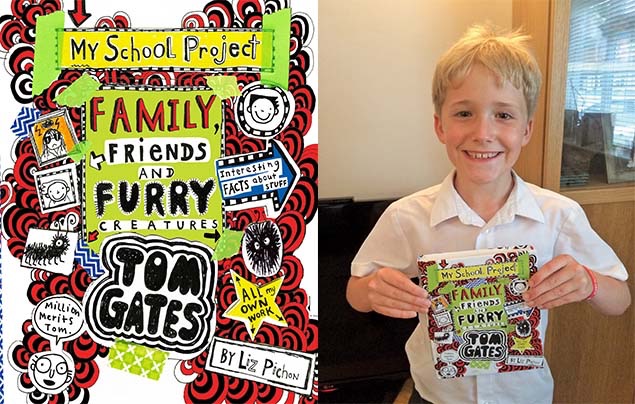 Tom Gates: Family, Friends and Furry Creatures
Liz Pichon
Tom is a really forgetful boy who loves scoffing snacks more than anything. His new school project is to research his family tree, but one day his shoes start squeaking! This is a great book and it made me giggle every few minutes. I love
that there are doodles on most pages. I read the whole book in one day! I have never read anything like it and I would recommend it to people who like to laugh.
Eleanor Jackson, 8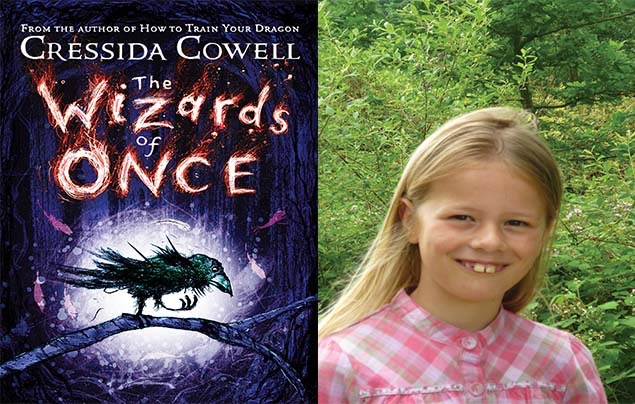 The Wizards of Once
Cressida Cowell
This book is about a young wizard, called Xar. He's unhappy because he isn't as magical as he wants to be. While trying to catch a witch – so he can steal her magic – Xar meets a girl, called Wish. And they go on an epic journey full of wizards and warriors! Xar is my favourite character. He goes on naughty, dangerous adventures with a raven, called Caliburn, who watches over him – trying to make sure he doesn't misbehave too much. If you like adventures and
make-believe, you'll love this book!
Mia Puncheon, 9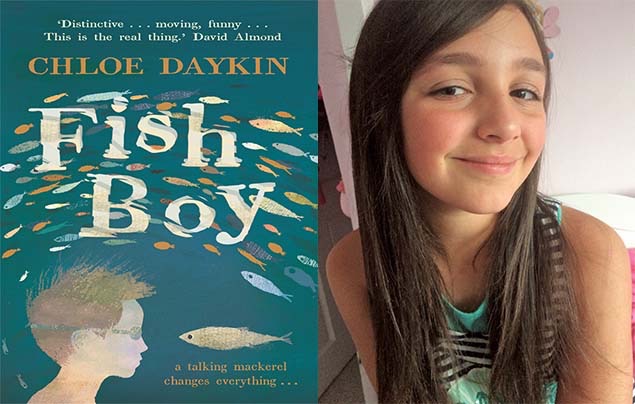 Fish Boy
Chloe Daykin
Fish Boy is a breathtaking novel about a 12-year-old boy called Billy, who meets a talking mackerel! Billy loves nature and he's crazy about Sir David Attenborough.
I loved every sentence in this book. It's a truly captivating read and a tribute to true friendship – a must read!
Emma Line, 8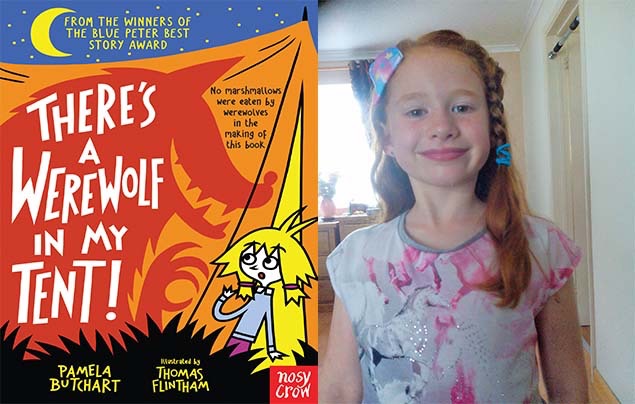 There's a Werewolf in My Tent!
Pamela Butchart
Izzy and her friends are mega excited about their school trip to a campsite in the middle of nowhere. Suspiciously, Miss Moon their PE teacher has very hairy legs, and is super strong and very mean. Then, during the night, Izzy hears howling and discovers a wild beast in the tent! I love the part when the friends find a giant poo and can't stop staring at it. This is a very funny book – I really enjoyed it and there are more books in the series. Also, it's by the winners of the Blue Peter Best Story Award!
Robbie Nicholls, 9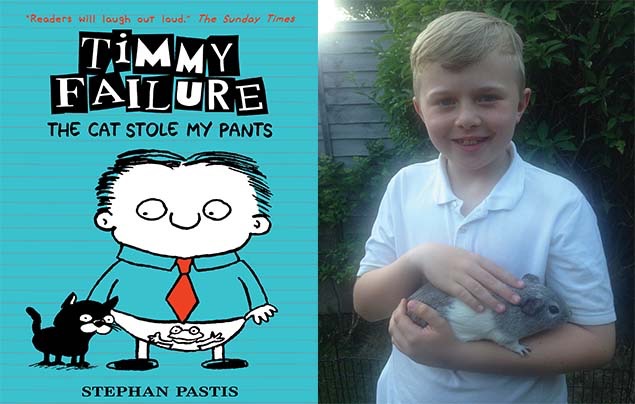 Timmy Failure: The Cat Stole My Pants
Stephan Pastis
Following a funny prologue about a six-toed cat called Mr Mittens who steals Timmy Failure's pants (American for trousers), we learn how Timmy ended up in this crazy situation… he is reluctantly on honeymoon with his Mum and her so-called 'husband', Doorman Dave. Timmy runs a detective agency with his 'unpaid intern' , Emilio Empanada, and when he finds a trail of messages, things start to get interesting! At some points it's tricky to work out what is in Timmy's imagination and what is actually happening, but overall I really enjoyed this story because it made me laugh out loud and was unique.
Katie Trahair-Davies, 13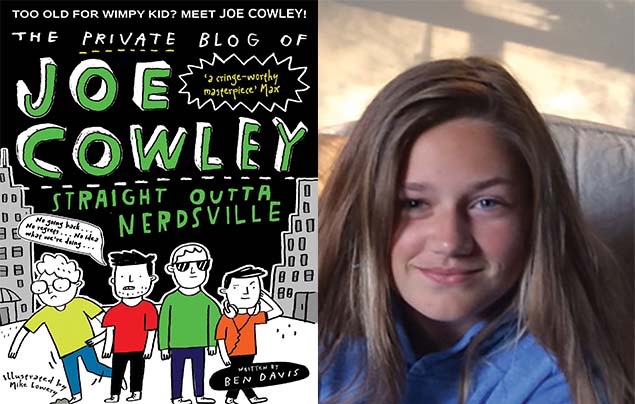 The Private Blog of Joe Cowley: Straight Outta Nerdsville
Ben Davis
This book follows Joe and his band, The Sound Experience, as they attempt
to make their mark on the music industry. It will have you laughing from beginning to end as they find themselves in cringeworthy situations and overcome funny accidents. Anybody who likes music, wants a light read and enjoys a good laugh will love it!
Madison Chaplin, 11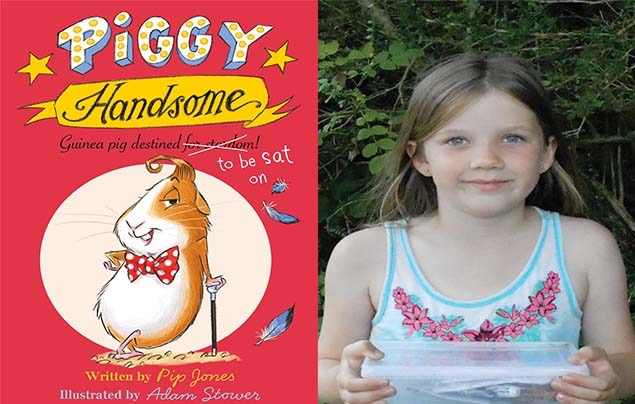 Piggy Handsome
Pip Jones
Piggy Handsome is a guinea pig who's always wanted to be famous. He's an amusing and silly character, and his cage looks funny because of the way he's decorated it. My favourite part is when he says he can drive a car – even though he can't reach the pedals! This hilarious book is really easy to read.
Phoebe Mitchell, 11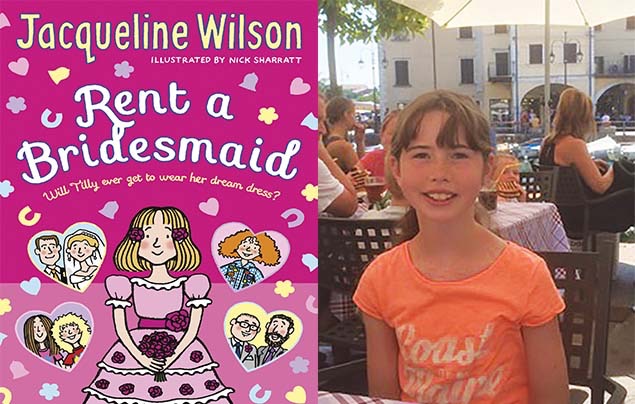 Rent a Bridesmaid
Jacqueline Wilson
This book is about a little girl named Tilly who desperately wants to become a bridesmaid. She eyes her best friend's frilly pink frock and puts up an advertisement in the hope that someone will rent her as a bridesmaid. This story is about keeping your dreams because there is always a possibility that they might come true.
I recommend Rent a Bridesmaid if you like picturesque descriptions and a heartwarming plot. It's a nice thick book which will keep quick readers entertained.
Niamh Dixon, 8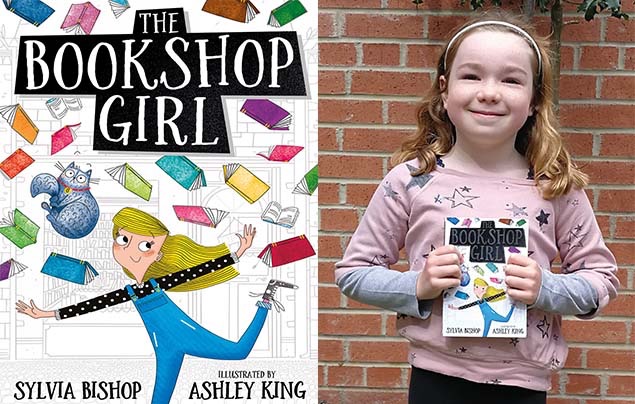 The Bookshop Girl
Sylvia Bishop
In this brilliant book, Property Jones (who was found in a cupboard when she was five years old!) and her family win the world famous Montgomery Book Emporium in a raffle. But everything is not as it seems, especially with Elliot Pink in the way. He is bad and his wish is to be wealthy. He does this by creating fake Shakespeare stories and trying to sell them
for millions of pounds!
I loved the book as it was so exciting and built up so much tension. It was one of those stories where you really want to find out what happens next. It was extremely funny, too!
Joseph Pepper, 14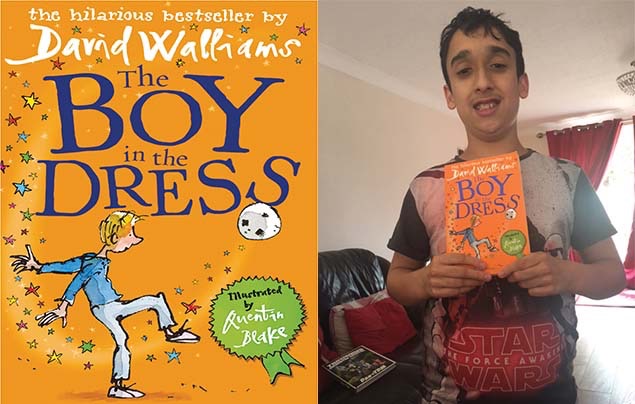 The Boy in The Dress
David Walliams
This book by former Britain's Got Talent judge David Walliams is about a boy called Dennis who lives in an ordinary house on an ordinary street in an ordinary town. Dennis' mum has left, and now it's just him, his big brother and dad.
Dennis is amazing at football but he also loves fashion and Vogue magazine, and one day, with the help of his new cool friend Lisa, he wears a dress to school and calls himself Denise! But Dennis is caught and gets expelled from school – and his dad is upset.
He then returns to play football for his team and his school without his headteacher knowing. Will everyone accept him as he is?
I think that this is a very good and funny book.
Matthew McCracken, 10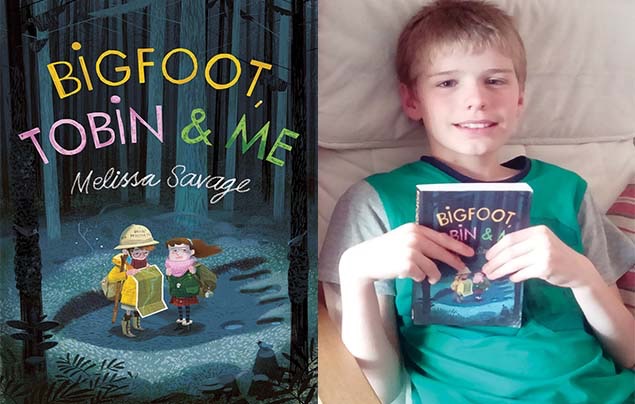 Bigfoot, Tobin and Me
Melissa Savage
When her mother dies, a girl called Lemonade moves to a small town called Willow Creek to live with her grandfather. There she meets an annoying boy called Tobin who runs a Bigfoot detective company, and she soon joins him in his quest to find Bigfoot and catch it on camera. The two have lots of expeditions and disagreements – but they find something even greater in the end…
I thought the book was great. Some parts are a little predictable but that didn't dampen the greatness.
Stephanie Chaplin, 12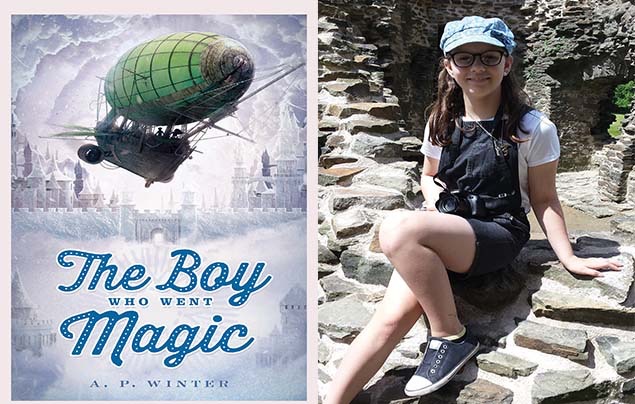 The Boy Who Went Magic
A.P. Winter
An orphan boy has an accidental occurrence with a mysterious object and suddenly the world around him, and everything he has ever known, changes. A girl with metal legs. A magnificent pirate. An insane prince with a metal arm. Can magic really be real?
My favourite character was Finch, the girl with metal legs, because she was tough, adventurous and was always ready to fight and help. The way the characters were described made me feel like they were real – I wished I was there to experience what they lived through!
Keir Dorell, 7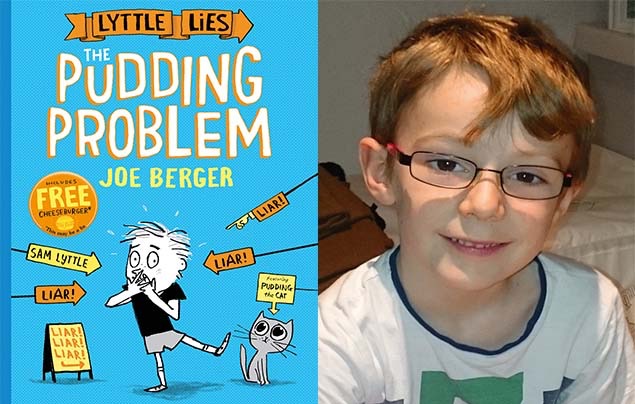 Lyttle Lies: The Pudding Problem
Joe Berger
This book is about a very funny boy called Sam, who never tells the truth, and a cat called Pudding. When Pudding arrives one Christmas, he immediately has a strange effect on Sam.
The book made me want to read it to the last page in just one day. It made me feel very happy, with lots of laughs – people who like comedy will love it!
Eva Collins, 7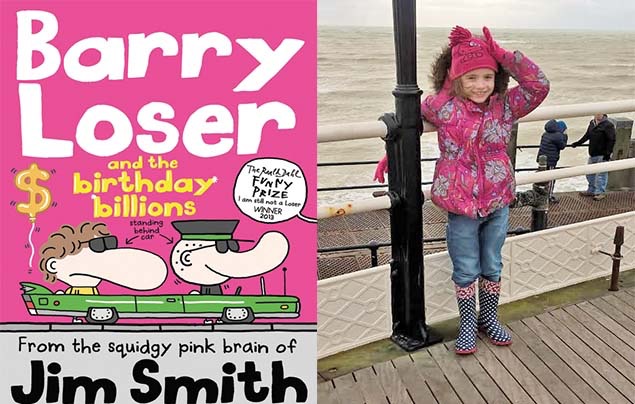 Barry Loser and the Birthday Billions
Jim Smith
The Shnozinator 9000 Gaming Helmet is the best birthday present that Barry has ever been given – but then his baby brother breaks it! So Barry decides to become a billionaire inventor, hoping he can make enough money to buy another one. He comes up with an awesome new invention that stops his parents from asking boring, stupid questions about school!
This book was really funny! I especially liked it when the characters spoke in a French accent. Now I want to read more Barry Loser books!
Owain Booton, 6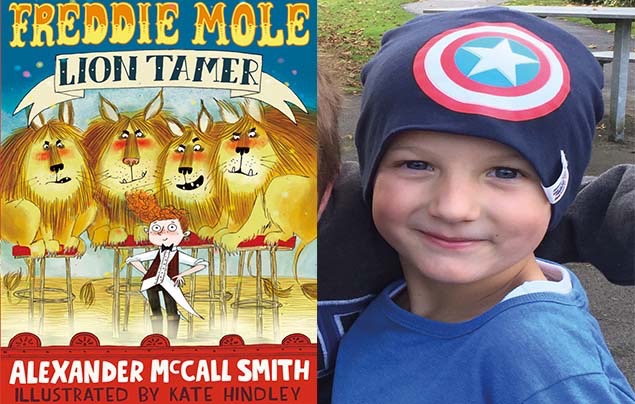 Freddie Mole, Lion Tamer
Alexander McCall Smith
Freddie Mole is a little boy who works at a circus to earn money for his family so they won't be poor. He is in for an exciting time! The start of the story is quite sad as Freddie's mummy works away from home and he doesn't see her often. But after Freddie helps his dad fix the washing machine at the circus, he ends up impressing the ringmaster so much he stays there to work!
I enjoyed reading what Freddie got up to. Some parts of the story made me worry for him – especially the bit with the trapeze! But this super story has a very happy ending, with a twist! I would recommend it to boys and girls who like exciting tales of bravery!
Nicola Sullivan, 10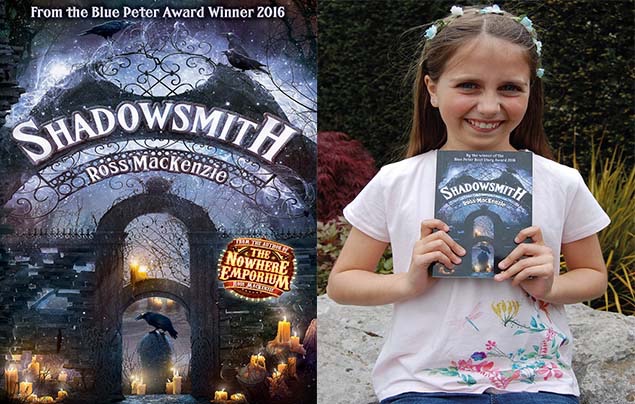 Shadowsmith
Ross Mackenzie
Kirby Simpson is living a hard life. First his mum is sent to hospital in a coma after a roof falls on her during a storm. Next he is disturbed by the sight of huge spiders looking at him. To make things even more creepy, a strange girl in a yellow raincoat knocks on his bedroom window in the middle of the night and asks him: "Are you brave?"
When I read this story I felt like I was Kirby – it seemed like all of the dark scary events were happening to me! I loved everything about this gripping book and would recommend it to fans of fantasy and mystery books.
Neve Canelo, 10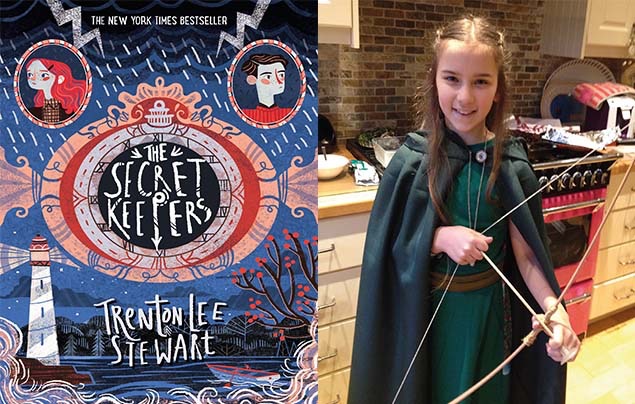 The Secret Keepers
Trenton Lee Stewart
A boy called Reuben finds an old-fashioned (although in perfect condition) watch and a key inside a stone wall. But he doesn't share his overwhelming discovery with his mother. Instead, he takes them to the watchmaker, who repairs them. Unexpectedly, Reuben realises that his mysterious watch could also make him disappear!
I really liked this book and every time I finished a page, I wanted to see what happened next. It brings you in and never lets you out until you've read it all!
Max Fouquet
O'Garra, 7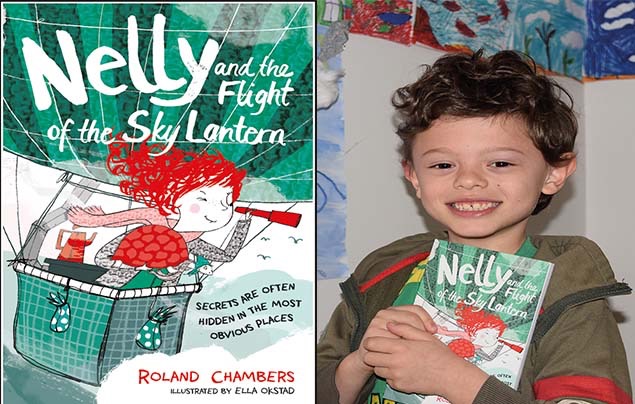 Nelly and the Flight of the Sky Lantern
Roland Chambers and Ella Okstad
When Nelly returns home from an adventure, she finds her mother has gone missing. So she sets off in a knitted hot-air balloon to find her, and many weird and unexpected things happen!
I liked the part when she finds out that the cabin boy who is living with her is actually a smuggler known as The Abuela. Nelly finds her mother in the end, as well as her lost turtle, Columbus. She has many exciting adventures, although I wish there was more action and less talking!
Overall, I thought it was excellent and I can't wait to read the next book!
Zoe Starr, 9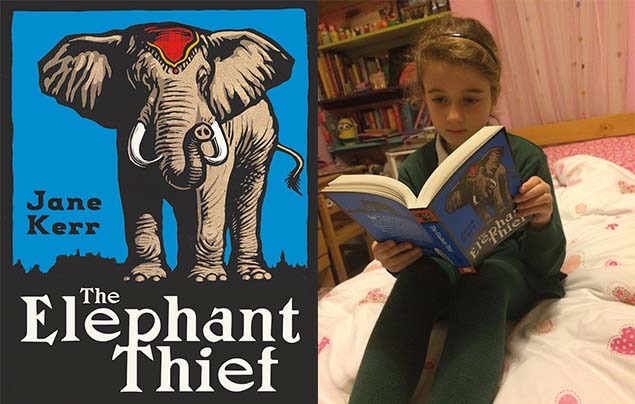 The Elephant Thief
Jane Kerr
A pickpocket called Danny accidentally helps a zookeeper named Mr Jameson buy an elephant at an auction. After his new boss transforms Danny into an 'Indian prince', the pair must ride the elephant all the way from Edinburgh to Manchester in seven days as part of a bet! But if they fail, a rival zookeeper will get all Mr Jameson's animals and property.
The good things about this book are that it's very imaginative and is a bit of a mystery. The bad thing is it's quite violent – the author describes hurting animals and people which makes it a bit gory. So I would recommend it to children aged 8+.
Jyotsna Jayanth Bhat, 14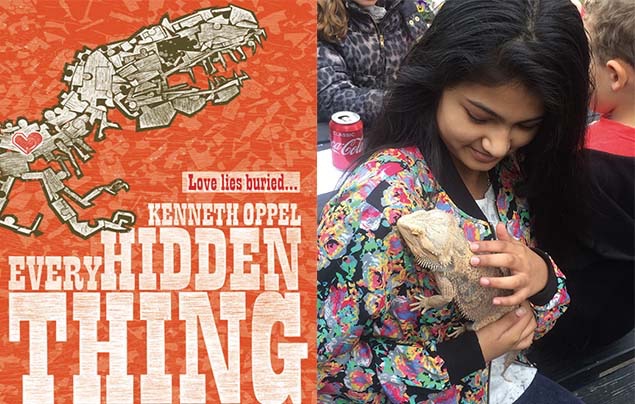 Every Hidden Thing
Kenneth Oppel
Every Hidden Thing takes place during the 1800s and centres around two top palaeontologist families. When Professor Michael Bolt, announces his latest dinosaur discovery, his son Samuel becomes captivated by Rachel, the daughter of his father's rival Professor Cartland! Soon, the families head to the same place in search of the dinosaurs that could change their fortunes…
This book has an essence of Romeo and Juliet about it and the characters are unique and have their own quirks. I liked how the author used a different font for Samuel and Rachel, making it easier to know whose point of view it was.
Anna Twomey, 10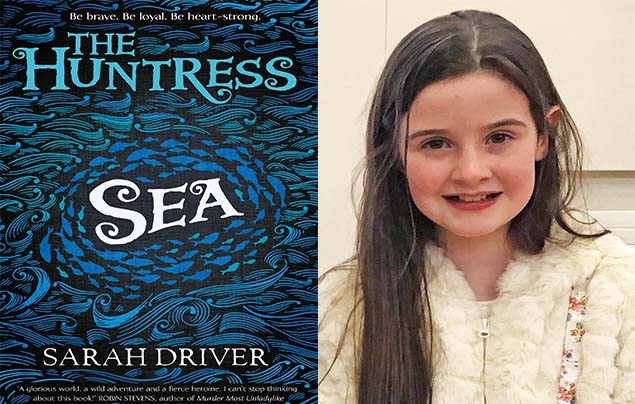 The Huntress
Sarah Driver
A cunning girl called Mouse lives on a ship called the Huntress with her brother, Sparrow, her grandma (who is also the captain), and her friends, including Bear, Hammer and Frog.
On the day of her 13th birthday a strange man arrives. Grandma says that he used to be part of the tribe but Mouse is not too sure about him…
This is a fantastic fantasy novel with lots of heart-stopping adventures and mythical creatures. I'd recommend it to boys and girls aged 10-14 who like adventure stories.
Alex Joyce, 7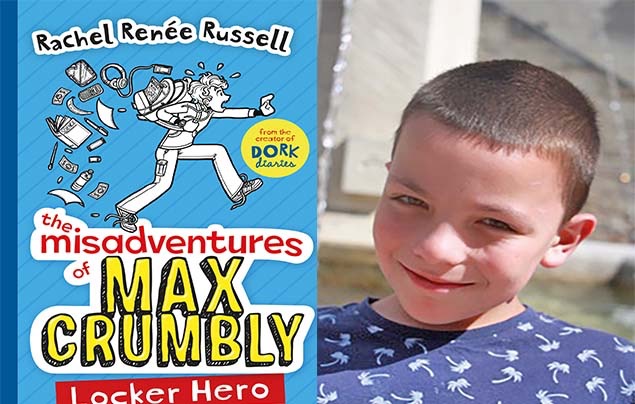 The Misadventures of Max Crumbly
Rachel Renée Russell
In this comedy adventure, a boy called Max Crumbly has an arch enemy called Thug Thurston. Max wants to be a superhero and he writes comics about a superhero called The Incredible Hawk.
My favourite character was Max because of the hilarious way he would get out of problems. It made me laugh a lot and near the end I had to keep reading because I enjoyed it so much. Anyone who likes the Tom Gates books would like this.
Tilly Wright, 8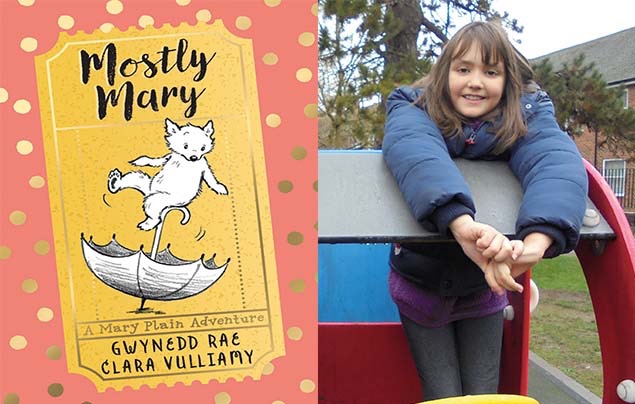 Mostly Mary
Gwynedd Rae and Clara Vulliamy
Although Mostly Mary was originally written in the 1930s, it doesn't feel old fashioned. It's about a little bear who has mischievous adventures. She lives in a zoo in Switzerland with her relatives and the book revolves around her everyday discoveries of the world around her – like the first time she encounters snow and how she learns to climb a tree.
I enjoyed Mostly Mary – it was quite sweet. It wasn't the most exciting book I've ever read but it was gentle and quite funny – it made me smile.
Isaac westaway, 7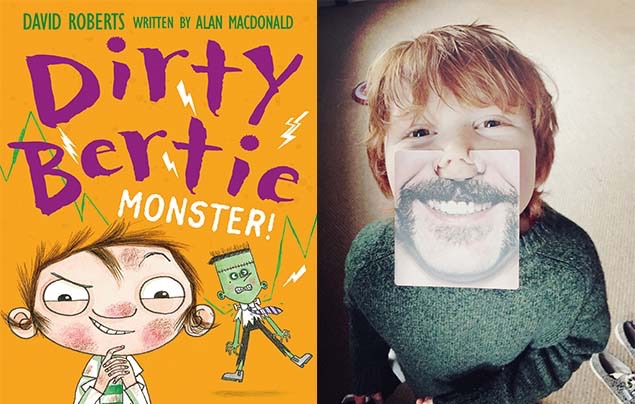 Dirty Bertie – Monster
Alan MacDonald
This is a really funny book about a naughty boy called Bertie who gets into trouble a lot. It had three different stories about the tricks Bertie did. The bit that made me laugh the most was when Bertie was in charge of the face paints at the school fair.
I also enjoyed it when he tried to go busking and played Christmas songs even though it was summer! I really like the drawings and the front cover. This is a good book – but it might make you want to do naughty things.
Annie Bullough, 12
Hook's Daughter
Heidi Schulz
Jocelyn longs to meet her father, Captain Hook, but he's always away sailing. She wants to be a pirate like him, but her grandfather sends her away to a finishing school instead, to transform her into a lady. She tries to squeeze into the rules there, but when she hears news of her dad's death, she runs away to sea to take on the crocodile that killed him.
This book has great descriptions and you experience Jocelyn's emotions clearly. I'd recommend it to anyone who seeks adventure, but personally the pirate theme was not for me.
Nayra Apaza, 10
Beetle Boy
M.G. Leonard
Darkus's dad suddenly disappears from the locked vaults of the museum where he works. Then Darkus meets a hamster-sized beetle called Baxter when it falls out of his neighbour's trousers! What has this beetle got to do with his dad's disappearance? And can it help him find his father?…
My favourite character is Baxter because he's very intelligent and listens to everything that Darkus says. I really enjoyed the book – it was a page-turner!
Eloise Mack, 9
The Shapeshifter: Feather and Fang
Ali Sparkes
Dax Jones lives in a boarding school for kids with extraordinary powers, such as shapeshifting and reading minds. Dax shifts into a fox, a falcon and an otter, which makes him really intriguing. The security perimeter outside the school seems to protect him and his friends – but Dax suspects otherwise. Can he lead his friends to safety?
The book was well written and a page-turner. I loved the character of Dax's friend Lisa because she is sharp, brave and loyal, which is crucial to the plot. The story was slightly confusing, though, as it's the last in a series and I haven't read the previous books.
Zahaara Jones, 9
My Embarrassing Dad's Gone Viral
Ben Davis
My Embarrassing Dad's Gone Viral is an absolutely hilarious book. It's about a crazy dad who is actually a YouTube sensation! His son, Nelson (named after Nelson Mandela), has a normal life. But when mum leaves home, it all goes downhill.
I would definitely recommend this to anyone who wants to read an awesome book. It's exciting, funny and…more funny! I enjoyed reading the book and learned from it, too. It's literally magic!
Archie Wilson-Smythe, 11
Rebel Science
Dan Green and David Lyttleton
Dan Green and David Lyttleton Rebel Science guides readers along the 'Path of Discovery', teaching you all about the history of science. It's a great book, which kept me wanting to read on! The path sometimes has a dead end which explains where scientists got the science wrong. I liked the pages that show where scientists fought each other, because you see how they argued and had different ideas about the same thing.
The cartoon illustrations are funny, but I would have liked more information about the science. I think this book is very good for people who are starting to learn about science.
Sebastian Grey, 7
They Didn't Teach This In Worm School!
Simone Lia
This funny, intriguing book is about a bird called Laurence and a worm called Marcus, who become the best of friends! It's a story about following your dreams, never stopping believing and always making the best of a bad situation. Laurence is very funny and by far my favourite character. He is always cheerful, adventurous and never gives up.
I thought the start of the story was a bit too long and descriptive, but the more I read the more the characters came to life. It"s a really good story and I would recommend it to my friends.
Georgina Peters, 8
Electrigirl and the Deadly Swarm
Jo Cotterill
A girl called Holly gets special powers after being electrocuted – and she becomes Electrigirl! But Electrigirl needs to save her powers from the evil Professor McAvity, who wants to use them for bad things. I like Holly's character because she uses her powers for good – like when she saves her brother, which is my favourite part of the story. I enjoyed this book [which is part comic] and, if you like adventure, you will, too!
Jake Curtis, 9
Our House
T.S. Easton
This funny, interesting book is about a girl called Chloe and her crazy family. She has to write a fact file about her house for a school project. My favourite character was Chloe because she is very warm-hearted and friendly. I also really liked the family's pet cats. My favourite scenes were when Chloe"s brother William D got stuck in the lift at the gardening place! I'd recommend this book to people who like Tom Gates or Diary of a Wimpy Kid.
Dot Lee, 8
The Other Alice
Michelle Harrison
Join Midge as he battles against an evil villain and her talking cat to find his missing sister Alice. As characters start coming out of the pages of Alice's book, it's up to Midge to break the curse before it's too late – with the help of a few friends, of course. This exciting book always kept me guessing. The characters were described so vividly that they felt real, and there were loads of twists and turns.
The only bit I didn't like was when a character escaped from a scene and the author didn't really describe how it happened. People who like adventure and mystery will enjoy this story. I can't wait to read Michelle"s other books.
Lola Titcombe, 9
Theodore Boone: The Scandal
John Grisham
I thought this exciting story was very good – it's set in America and the plot revolves around teachers changing test scores. Theo, the main character, wants to be a lawyer like his parents. He likes to question everything, and he has a dog called Judge.
My favourite part of the book was when two characters ended up in court over an otter! The story ends with a cliffhanger which I really enjoyed. I'm looking forward to the next book in the Theodore Boone series.
Niamh McEachran, 12
Iron Fist
Andy Briggs
Living with his strict uncle in a top-secret hideaway which holds technology too dangerous to release to the public, Dev (short for Devon) is really unpopular at school. Living in the world's strongest vault has its downsides, and everybody at school hates him – or so he thinks. Meanwhile, a man only known as 'The Collector' is on a mission to break into Dev's vault. And as these two main characters get closer and closer to meeting, a battle will take place that puts the whole world at risk…
I didn't enjoy this book that much, but I recommend it to people who like action and adventure.
Dixie Lee, 10
Erica's Elephant
Sylvia Bishop
Erica is a little girl who gets sent an elephant from her Uncle Jeff for her birthday. In this book, you hear all about their adventures. My favourite character was the elephant because it's blue and that's my favourite colour.
The best part was when the elephant gives rides around the garden even though his leg is poorly – he tries really hard. It is a very good book which I enjoyed.
Gracie Findlay, 6
A Library of Lemons
Jo Cotterill
This exciting book is about a lonely girl called Calypso who becomes best friends with Mae, the new girl in school. Until Mae came along, Calypso's only friends were the characters inside books. Together, the girls discover Calypso's father's horrible secret.
My favourite character was Calypso because she's looked after her dad since her mum passed away. When something bad happened I was expecting something good to come out of the blue but it was quite realistic because it took a while to find some good luck. This book is absolutely spot on. Jo Cotterill is a very talented author.
Clara Waters, 9
The Bone Sparrow
Zana Fraillon
The protagonist of The Bone Sparrow is a young boy named Subhi who is a refugee born in an immigration detention centre. He has no idea what's beyond the fences until a girl named Jimmie turns up one day. Can Subhi and Jimmie both find a way to freedom? The book was very well written and it made me keep turning the pages, wanting to know more. The story is quite upsetting as it is based on reality and many people in refugee camps and detention centres are treated badly. Some have even lived in terrible conditions for all of their lives.
The only thing I disliked was that the author didn't explain what happened to some of the characters at the end and I found that frustrating.
Sophie Lee, 12
The Awesome Body Book
Adam Frost
Even though I've read lots of books about bodies, The Awesome Body Book is one of a kind. It's jam-packed with disgusting and fascinating facts. For example, how much poo do we create in a lifetime? And how do other creatures see things in comparison to us? This book explains information with amazing drawings and brilliant diagrams.
I like it because you can just pick it up, open any page and straight away find out something new. Plus, it has information to trick your parents!
Joshua Pembry, 7
The Thing About Jellyfish
Ali Benjamin
A girl called Suzy sets out on an adventure to prove that Franny, her best friend, didn't just randomly drown – but was stung by a deadly jellyfish that caused her to drown. The story is told very well as it made me feel a part of Suzy's life. There are plenty of tense moments that keep you guessing what the final outcome will be.
I love Suzy's determination and it is a wonderful story that I'd recommend.
Rachael Beckett, 12
The Nowhere Emporium
Ross MacKenzie
This magical mystery story changes settings a lot, from Edinburgh to Venice. The main character is Daniel Holmes, a magician's apprentice who is kind, excitable and grateful. As you read the story it feels like it's pulling you in bit by bit and it keeps you excited.
The more chapters you read the more intense it becomes! I enjoyed every moment and didn't expect what happens in the end.
Joseph Seward, 8
The Imagination Box: Beyond Infinity
Martyn Ford
Tim can create anything he likes with his new Imagination Box. Until it gets into the wrong hands! Can Tim, his friend Dee, and Tim's talking finger monkey Phil stop the evil Mind Surfer from controlling people with the new hi-tech 'IcoRama' mobile phones?
I found this book a lot of fun to read and didn't want to put it down. I'd recommend it to readers who enjoy a little adventure and futuristic, technological, cool stuff.
Matthew Cook, 8
The Story of a Seagull and the Cat who Taught her to Fly
Luis Sepúlveda
This story is about a cat called Zorba who makes a promise to a dying seagull that he will look after her egg and raise the hatched chick. Zorba and his cat friends – clever Colonel, silly Segretario and serious Einstein – all work together to teach the little seagull chick how to fly!
My favourite thing about the book is the bond between the cats, and the way they all help the baby seagull.
Daniel Pilling, 9
Pax
Sara Pennypacker
I thoroughly enjoyed Pax – it's a story full of drama and suspense. The main character is a boy called Peter who sets off to find his beloved pet fox, Pax. They were separated in the woods before the war began. The story is about them trying to find each other again. Their journey is a real emotional rollercoaster – tissues are a must!
The descriptions are very vivid and sometimes upsetting. It is a heart-warming story and I couldn't stop reading it until I had found what happened to them. A book you must read.
Rosie House, 10
The Terrible Two Get Worse
Mac Barnett and Jory John
Miles Murphy and Niles Sparks live – and prank – in the tranquil village of Yawnee Valley. They spend their days turning their world upside-down by pranking! Usually, their pranks are aimed at Principal Barkin, with hilarious consequences, until one day it all backfires – and he gets fired! Niles Sparks is my favourite character, because he's the mastermind of all the pranks.
The book gripped me because it was exciting and funny at the same time. I'd recommend this to readers who enjoy fast-paced, ridiculous plots.
Otis Howarth, 9
Superhero Street
Phil Earle
I felt sorry for the main character, Mouse. He has a big busy family, but his mum and dad are always tired and don't often have time for him. Mouse desperately wants to be a superhero, and after lots of trying he finally does it – but not in the way you would think! I love that Mouse got to wear his superhero cape everyday under his clothes – that's really cool!
I think other people my age would enjoy this book and find it funny. It made me laugh and I found it easy to read once I got into it.
Jason Treneman, 7
Death or Ice Cream?
Gareth P. Jones
The front cover of this book suggests it's full of dark humour and I wasn't disappointed! The main character is a girl called Park, who's dragged to a village called Larkin Mills by her archaeologist father – he's obsessed with the 'egg of life' that's been found there. Through a twisting set of tales featuring the village waxwork museum, the ice-cream parlour and an ice dungeon, all the plots come together in a dramatic way.
The story made me cry and laugh and kept me full of anticipation. It's perfect for older readers who love drama, horror and dark humour.
Finn Howarth, 9
Julius Zebra – Bundle with the Britons!
Gary Northfield
This exciting book is inspired by real life at the time of the Romans. But there's an awesome twist – the animals are the gladiators! Julius Zebra was just an ordinary zebra until he became a Roman gladiator. This book follows his journey from Rome to Britain.
If you read it you'll find out facts without it being boring! The pics are really skilfully drawn – if you like Tom Gates you'll love this book. It made me laugh out loud!
Isaac Burrage, 9
The Astounding Broccoli Boy
Frank Cottrell Boyce
When Rory Rooney one day suddenly turns green, everybody thinks he's contagious and so he is locked in an isolation room. Unfortunately, his arch enemy Grim Komissky has also turned green and is locked in there with him. The story follows their adventures when they escape. Will they ever return to their original colour?
The story was gripping and it wasn't really like anything I've read before, which made it even more exciting.
Bradley Phillips, 8
The Person Controller
David Baddiel
This is a story about twins Fred and Ellie who, after losing Ellie"s game controller, acquire a new one with unusual powers. They discover that dreams and ambitions are possible, if only you believe in yourself. I would recommend this extremely funny, inspiring book to any confident reader that enjoys light-hearted stories.
The lettering and line spacing in this book was wider than normal which could help kids with visual stress or who are new to reading a bigger book.
Ben Cook, 9
Alice Jones: The Impossible Clue
Sarah Rubin
Alice Jones is a girl who solves mysteries. In this story, she is searching for Dr. Learner, a scientist who disappeared from his office. The story kept you guessing and my favourite part was when Alice falls off a balcony.
The mystery scenes were written well but the story was not good at keeping me turning the pages. I would recommend it for readers aged 9-12.
Ben O'Carroll, 11
Zoo Boy
Sophie Thompson
This is a funny illustrated story about a boy called Vince who lives with his dad and gran. Vince does not like animals but his dad works in a zoo. Vince soon discovers that he can talk to animals!
My favourite character was the llama because of the way he spoke. The best part of the story was when a penguin named Asquith was rude about Vince's new jumper.
This book made me laugh and I really liked the characters. Some of the words were quite difficult for me, but it's a fun book to read with a grown-up.
Heath Fairhall, 5
Wilfred the (Un)wise by
Cas Lester
When a young wizard's apprentice named Wilfred fiddles with magic above his level he gets transported 1,000 years into the future with no hope of getting back. The author uses a balance of suspense and humour to tell an adventurous tale of friendship, hope and perseverance.
This astonishing, hilarious and original story will make you laugh, wonder and wish you could turn back time to start reading it all over again.
Jasmine Ardeleanu, 10
The Bubble Boy by Stewart Foster
Eleven-year-old Joe has no immune system, which means he is vulnerable to the slightest cough or cold. He's not allowed outside and lives in a hospital room. All he has is his sister Beth, and his jolly American friend Henry (who he can only talk to on Skype). But one day a new nurse arrives and changes his life forever…
This is a wonderful book, full of surprises and adventure – you never know what is going to happen next! It is sad at points but ends happily with some humour in it as well.
James Pilling, 11
Mr. Baboomski and the Wonder Goat
by
Richard Joyce
This story is about a boy called Tom who meets an entertaining circus master called Mr. Baboomski after he almost kills the circus master's goat.
It's a great, witty read but did not have enough excitement for me – I knew what would happen next. If you like Roald Dahl you might like this book because it has made-up words.
Faye O' Carroll, 8
Time Travelling with a Hamster by Ross Welford
This emotional rollercoaster follows the story of 12-year-old Al Chaudhury, who travels back in time to save his dad's life. I like Al because he's funny and up for adventure, though he is slightly reluctant at first.
I enjoyed how he has to work out the rules and consequences of time travel but I wasn't so keen on some of those consequences – they sometimes made the story a little sad. The book gripped me and kept me guessing – the ending is very unexpected.
Barney Woodrow, 12
Nelly and the Quest for Captain Peabody by Roland Chambers
I loved everything about this story – it was an adventure! It's about a girl called Nelly who sets off to find her dad, Captain Peabody, on a ship with knitted sails. Columbus, her turtle, comes along for company. Along the way she meets a pirate postman and a hungry polar bear on an iceberg. Eventually she finds Captain Peabody – in a very different home to normal! The characters are fun. My favourite was Columbus.
Floella Simpson, 8
Moon Princess by
Barbara Laban
Wow this book is so fun! It's about a little girl called Sienna and her invisible dog, who no one believes in. After her mother disappears, Sienna explores the city of Shanghai in China to try to find her. I absolutely loved this story – I read it all in one night! I would recommend it to anyone who loves mysteries and Jacqueline Wilson – the story reminded me a bit of Hetty Feather.
Vita Kan-Moloney, 7
Peter Wright, 6
Create Your Own: Alien Adventure!
Andrew & Chris Judge
Alien Adventure is the best thing ever. An alien spaceship crashes right outside a school and you get to draw in the book to complete the story! It's about Daisy and B'ob and, my favourite character, Undrawn John.
I had fun drawing their adventure and choosing where they went next. I've asked my mum for the next book in the series, Create your own: Spy Mission!
Arabella Smithson, 9
A Slice of the Moon
Sandi Toksvig
This thrilling book is about an Irish girl called Slim and her family who are very poor. The potato famine in Ireland forces them to travel to America, where they think the streets are paved with gold. The book is sad as the family are always hungry. Slim's sister Beatrice is my favourite character as she does lots of drawing.
I would recommend it to readers interested in history, travel and the sea.
Celeste Woodall, 10
The League of Unexceptional Children
Gitty Daneshvari
Two ordinary children, Shelly and Jonathan, are sent on a mission to save the vice-president from a villain called the Seal. The reason they've been chosen for this daring rescue is because they are unexceptional (they don't stand out).
The plot is fast, exciting and full of unexpected twists. I couldn't put this book down, and would recommend it to all people who love mysteries!
Rachel Wilson, 9
Frank Einstein and the Brain Turbo
Jon Scieszka
In this funny, exciting and fact-packed book, Frank Einstein tries to invent something that will help his friend get picked for the baseball squad. My favourite character was Mr Chimp. He uses sign language and has some mad ideas.
The drawings and diagrams are very good, but some are tricky to understand.
Emma Day, 9
Confessions of an Imaginary Friend
Michelle Cuevas
Jacques thought he knew everything about his twin sister Fleur and that Fleur knew everything about him until one day he hears his mum say to his dad, "Do you think there's such thing as too much imagination?" It turns out Jaques doesn't really exist!
I found some of this book hard to follow and I sometimes got a bit confused about who was talking, but apart from that I loved it. I would recommend this book to someone who likes mysteries.
Eloise Mack, 9
Beetle Boy
M.G. Leonard
Darkus's dad suddenly disappears from the locked vaults of the museum where he works. Then Darkus meets a hamster-sized beetle called Baxter when it falls out of his neighbour's trousers! What has this beetle got to do with his dad's disappearance? And can it help him find his father?… My favourite character is Baxter because he's very intelligent and listens to everything that Darkus says. I really enjoyed the book – it was a page-turner!

Holly White, 10
Beetle Boy
M.G. Leonard
Beetle Boy is an informative book about the intriguing science of beetles and also the friendship between Darkus and his pet beetle. When Darkus's father Dr. Bartholomew goes missing, he suspects that the culprit is an extremely evil woman who owns a major jewellery brand based on beetles.
The characters in the story felt immensely real to me because the descriptions were so detailed – my favourite was Darkus because he is willing to take on a challenge and won't give up. He's also caring towards the beetles. I recommend this book for fans of adventure and anyone who enjoyed Wonder by R.J. Palacio. I think M.G.Leonard has an amazing imagination.
Charlie Dunn, 8
Tom Gates: Top of the Class (Nearly)
Liz Pichon
This funny book is about a boy called Tom who often daydreams in class. Things get complicated when a rude picture of a teacher goes missing! The characters feel real to me because it is written like a diary. My fave character is Buster because Tom is afraid of him – until Buster helps him get out of trouble. One of the surprises in this story is that most of Tom's silly ideas work in the end.
The illustrations were well drawn and were on every page. I want to read more of the Tom Gates series to see how he gets into trouble. I recommend this to anyone who likes to laugh.
Isla Munnik, 9
Grandpa's Great Escape
David Walliams
Poor old Grandpa Bunting's memory is going. He believes that it 's 1940 and that he is once again a WW2 flying ace. His son and son's wife are convinced that an old folk's home is the right idea. But his grandson, Jack, knows that that is the wrong way for his grandpa to spend the last years of his action-packed life. Besides, there is something sinister about Twilight Towers…
I loved this book. It was so funny, but a bit scary, too. I laughed out loud as I read it, though the ending gave me more to think about.
Bryher Gemmill, 10
Operation Rhino
Lauren St John
This brilliant, gripping book is set in the gorgeously described landscape of a South African game reserve. After poachers carry out a horrific attack on a family of rhinos, 11-year-old Martine and her best friend Ben become 'detectives' and end up on a scary, mysterious and funny journey.
This book taught me a lot about the disgusting trade in rhino horn. Even though some parts were hard to believe, I loved it.
Lucy Marshall, 10
Operation Rhino
Lauren St John
Operation Rhino is moving and has some cliff-hanging parts. When the rhino calf had to be taken into a sanctuary it was very upsetting! The character Martine was passionate about keeping the rhinos safe.
The fact that she wanted to track down who killed the adult rhinos touched me, and I agree with her – rhinos should not be killed for their horn, because it is as valuable as our finger nails!
Megan Woodgate, 10
Dara Palmer's Major Drama
Emma Shevah
This hilarious book is about a girl who moves from a Cambodian orphanage to a new home in England. A series of obstacles jeopardise Dara's dreams of fame and fortune – she feels her life is over when she doesn't succeed in the school play auditions, especially when she's asked to join Miss Snarling's dreaded drama group (my favourite part)!
The author balances suspense and humour with great descriptions to keep the reader keen to know more!
Naomi Dee,
1
0
The Secrets of Sam & Sam
Susie Day
This book is about twins, confusingly called Sam and Sam. The girl (known as Sammie) is the brave one, a bit of a tomboy. However her brother is afraid of everything except for his dog. The twins love being twins and they love both their mums. Mum Gen, is kind and gentle, while Mum Ken can be very strict! In the beginning, they have a merry little life, but a secret between the mums causes the family to fall apart.
Meanwhile, at school, can Sam overcome his fear of heights in time for the school trip? You'll have to read it to find out!
Elleanore Phillips, 7
Pugs of the Frozen North
Sarah McIntyre and Philip Reeve
When a shipwrecked boy named Shen meets Sika, a girl from the North Pole, they decide to take part in the Great Northern Race together. If they win, they'll get their wish granted by the Snowfather. With a sled pulled by 66 pugs, and yetis trying to eat them, an they survive the journey?
This adventure story is about friendship and helping each other. I love it – it's funny, full of unusual characters and has brilliant illustrations.
Nayra Apaza, 10
Hook's Daughter
Heidi Schulz
Jocelyn longs to meet her father, Captain Hook, but he's always away sailing. She wants to be a pirate like him, but her grandfather sends her away to a finishing school instead, to transform her into a lady. She tries to squeeze into the rules there, but when she hears news of her dad's death, she runs away to sea to take on the crocodile that killed him. This book has great descriptions and you experience Jocelyn's emotions clearly.
I'd recommend it to anyone who seeks adventure, but personally the pirate theme was not for me.
Iona Henderson, 13
The Wild Beyond
Piers Torday
Thirteen-year-old Kester can communicate with animals. When the last whale in the ocean informs him that the key to rebuilding their destroyed planet lies on a faraway island, he embarks on a dangerous journey along with an unlikely assortment of animals. But their mission leads them to something far beyond expectations.
This gripping book had me laughing out loud. Despite being the third in a series, the storyline is easy to pick up and I look forward to reading the other Last Wild books.
Tulsi Parmar, 13
If You Find This
Matthew Baker
Nicholas shares an unbreakable bond with the tree in his garden and will do anything to stay with it – even going on a crazy treasure hunt with fellow misfits Zeke and Jordan! The three unlikely friends follow confusing clues to find four missing heirlooms, with help from Nicholas' grandfather. It was entertaining to see Nicholas and his friends eventually accept each other for who they were.
However, I found it hard to connect with the characters, so when something bad happened I didn't feel upset. Fans of mysteries will like it.
Alaya Apaza, 7
Nixie the Bad Bad Fairy
Cas Lester
Naughty Nixie uses her wand to cause problems for the other fairies, especially Adorabella. But the Fairy Queen is coming to open the Blossom Ball and everything needs to be perfect by then. Can Tabitha and Buzzby get Nixie out of trouble?
I loved it when Adorabella's dress got turned into candyfloss! And when things went really crazy in Chapter 5. This book is full of fun.
Zaynab Price, 12
Circus Mirandus
Cassie Beasly
Micah Tuttle lives with his dying grandfather who tells him stories about the magic circus he discovered as a boy. Back then, the Lightbender promised his grandad a miracle. Can Micah use it ?now to save him? My fave character is Ms. Chintzy, a parrot – she's so full of herself.
It was a bit annoying the way the book gets interrupted by grandfather's stories – I was tempted to skip them. I hope they make a second book as it ends on a cliffhanger. Grr!
Annie Bullough, 12
Sun Thief (9+)
Jamie Buxton
Set in Ancient Egypt, this gripping mystery is full of twists and turns. I couldn't put it down! It's all about a young boy (called Boy) who is taken out of the River Nile as a baby and now works at the local inn making crockery from mud – as well as amazing model animals. It focuses on the exciting events that happen after Boy meets a mysterious stranger.
I enjoyed the book, although I did find it hard at times to grasp the story.
Noah Battelley, 11
The Big Wish
Brandon Robshaw
This story is about a boy who sees a shooting star and makes a wish of a million wishes. Do they come true? You'll have to read the book to find out…The best part of the book was that it was quite random and kept me interested.
I really enjoyed the comments (in brackets) which made the story more real! It's certainly NOT a boring book!
Charlotte Carswell, 12
Not As We Know It (9+)
Tom Avery
Although this isn't a book I would normally have chosen, I found myself constantly wanting to know what happened next. It's about twins (Ned and Jamie) who do everything together. But then Ned becomes very ill. One day whilst exploring the beach, they find a Merman, who's known in stories to help the sick, like Ned…
The story was light hearted and emotional. Especially the end. It's descriptive and a good read, just hard to get into.
Jayson Childs, 10
Hamish and the WorldStoppers
Danny Wallace
Hamish discovers he has an amazing ability – the power to move within the world when it pauses – which it"s been doing lately. Anything is possible in this temporarily frozen world, but Pause Walkers like Hamish do not walk alone – something terrible is out there, too. He sets out to save the world by joining the Pause Defence Force – and has an adventure before its time, within time! This book is fantastic.
It made me both laugh out loud and read with excitement to an ending that left me wanting more. I'm eagerly awaiting the sequel!
Aoife Sweeney, 9
Violet and the Pearl of the Orient
Harriet Whitehorn
A girl called Violet investigates when her neighbour Dee Dee's precious pearl goes missing. Could it be something to do with the Count family who have moved in next door? My favourite characters were Violet and her friend Rose – they were very brave to break into the Counts' house!
The only thing I didn't like were the illustrations – there were too many and they were all purpley. People who like mystery and adventures will enjoy this book.
Hannah Riordan, 9
Sedric and the Great Pig Rescue
Angie Morgan
When a suspicious Baron inherits a mansion in Sedric's village, it isn't long before he captures Sedric's pig Denzel for slaughter, and takes all the village turnips. It's up to Sedric and his friends to get Denzel and the turnips back! The story is hilarious, I really liked it.
It takes place in the Dark Ages and is written in a rustic sort of way, but seems very realistic. There really is nothing wrong with this book.
Elizabeth Dutton, 10
Hercufleas
Sam Gayton
The Giant Yuk is terrorising the town of Tumber – and Greta wants the monster to stop. She believes that Hercufleas will save them. Unfortunately, he's just a flea! Can the pair find out why the giant is doing this – and discover the real reason for Tumber's suffering?
I really enjoyed this story. The best part is when you're introduced to Hercufleas for the first time. I could really picture it in my head!
Ralph Davies, 11
The Grindle Witch
Benjamin J. Myers
When people start being torn to shreds by something evil in the woods near Grindle Village, three friends set out to try and stop it… but what could it be? Paddy was my favourite character, because he's afraid of nothing and always keeps a cool head. The author is very good at writing suspense – you won't want to put this book down.
You might find it annoying how many cliffhangers there are – but there's nothing wrong with being on the edge of your seat!
Emily Lonsdale, 9
The Imagination Box
Martyn Ford
When ten-year old Tim sneaks a peek at the mysterious box that Professor Eisenstone always carries around, his life is transformed. With the help of a special hat, the Imagination Box turns his thoughts into actual objects! Tim imagines a teeny talking finger- monkey (aka a pygmy marmoset) and thus Phil is created!
I loved Phil – he's posh and funny and his use of very long words is amazing! When the friendly professor disappears, it's up to Phil, Tim and Tim's imagination to save him…