SPONSORED
MYSTERIOUS MACHINES!
Strange, floating machines have taken over the Tate Modern art gallery…
The Tate Modern art gallery in London has been taken over by strange, floating machines. And there's a very strange smell in the air. What's going on?
NG KiDS visits Tate Modern to investigate an exciting new exhibition by Anicka Yi…
We look up to see two different species of 'aerobe' moving through the Turbine Hall above our heads. Filled with helium, propelled by rotors and powered by a small battery pack, the aerobes are clearly machines. But the way they look and behave makes them seem more like natural organisms. It makes us wonder if this is what machines could be like in the future!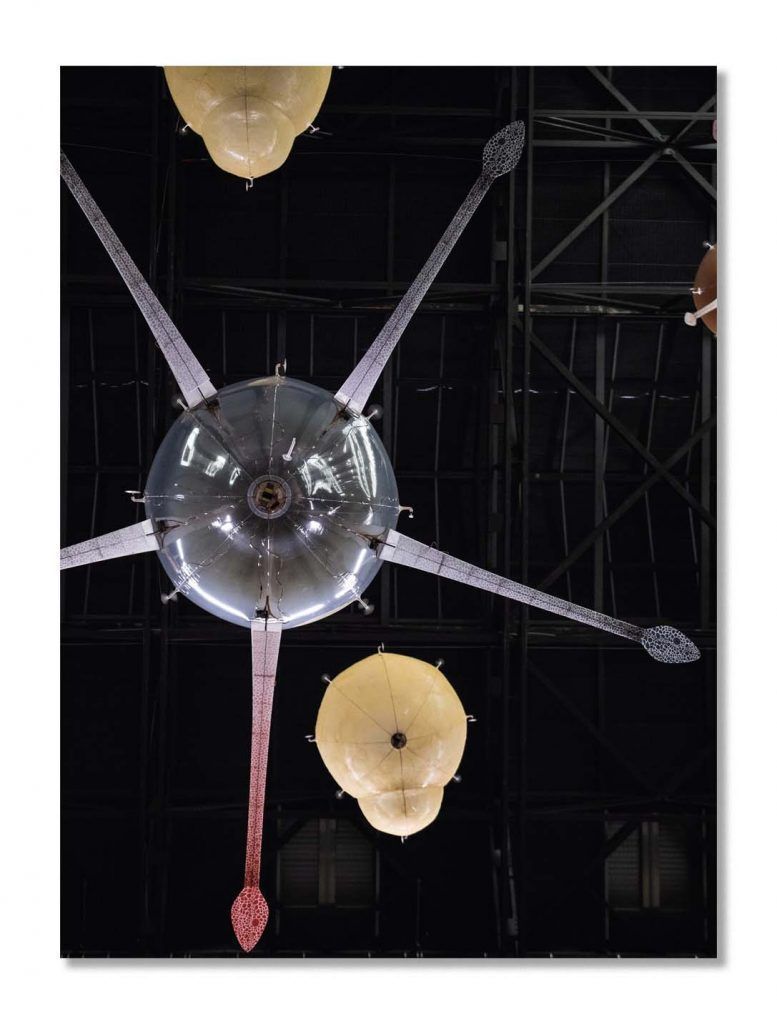 Like a bee's dance or an ant's scent trail, the aerobes communicate with each other in ways we can't really understand!
Incredibly, the 'intelligent' aerobes respond to visitors. They're not remote controlled, though – instead, they react to the heat given off by human bodies, and to smells in the space. Wow!
XENOJELLIES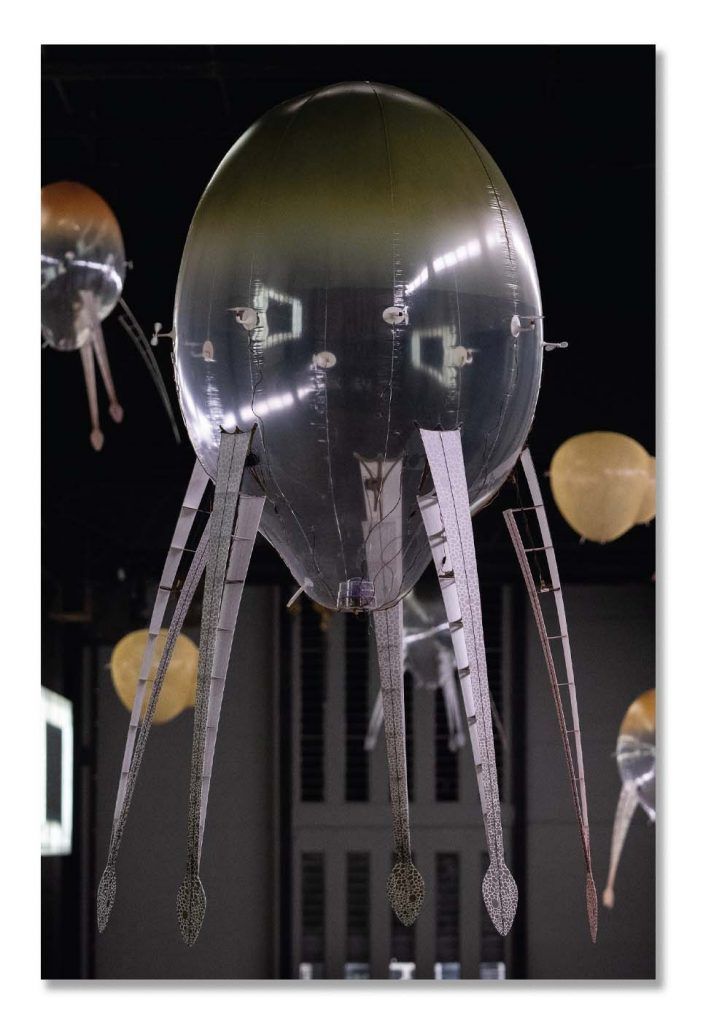 These 3m-tall aerobes have semi-transparent bodies and patterned tentacles. Called xenojellies, they look kind of like jellyfish as they gently twirl about.
PLANULAE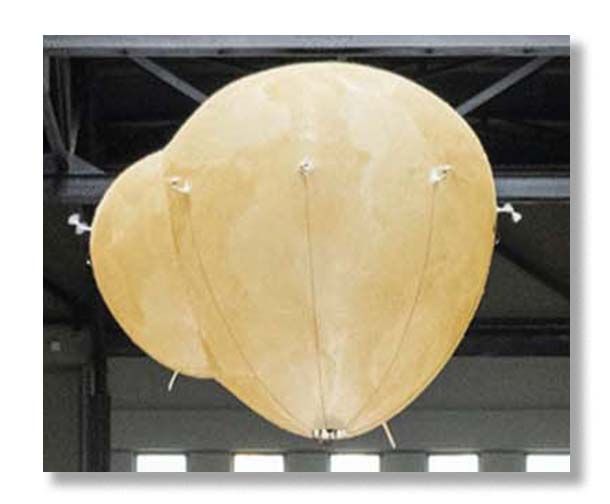 Resembling furry mushrooms, the planulae 'species' are covered in short yellow hair and bumble about like bees.
WHAT'S THAT SMELL?
There's a whiff in the air! It smells a little bit fruity, a touch spicy, and slightly smoky, too! We learn that this odour was designed to recall the time of the Black Death in the 14th century. Back then, doctors would have worn masks lined with with cloves or oranges to disguise the reek of rotting bodies. Eww!
SCENTSCAPES
Each week the gallery will be filled with a new odour to recall a diff erent era in the area's history. Coal and ozone smells will conjure up the industrial revolution; marine scents will take visitors right back to pre-human history when the world was underwater, and the Cretaceous period will stink of vegetation.
SHARED AIR
The smells in the space remind us that the hall is not an empty space; it's filled with the air that we all share, connecting us to each other and to our environment. In the time of Covid-19, this is something we're more aware of than ever before.
WHO NEEDS A BRAIN, ANYWAY?
It's not just humans that can be clever. And not all intelligence comes from brains! Anicka's machines are inspired by real-life creatures that have physical intelligence rather than brain intelligence, responding to the world with their senses. Let's meet some…
JELLYFISH
Jellyfish don't have brains at all, but that doesn't mean they're not extraordinarily complex. Their sensory organs recognise and respond to light, touch, gravity, temperature and the saltiness of water.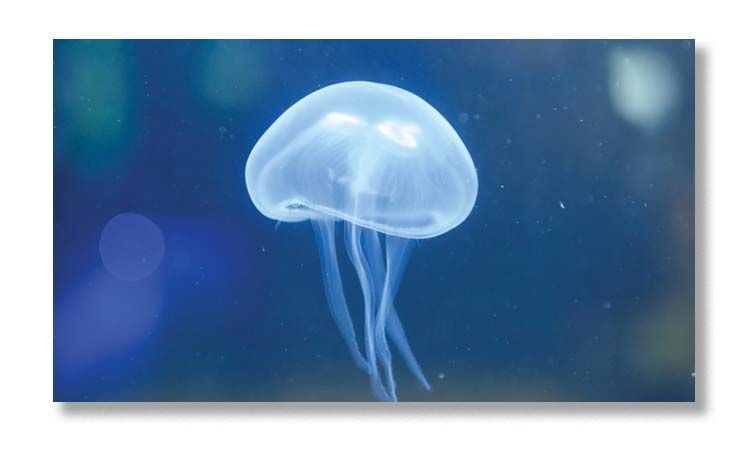 FUNGI
More closely related to animals than plants, recent studies suggest fungi are capable of learning and decision making, and have short-term memories! They're also known to share information and resources with trees.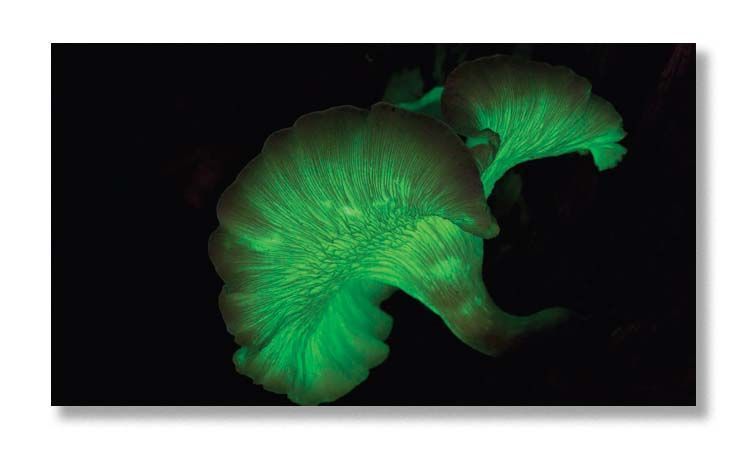 THE FUTURE OF ARTIFICIAL INTELLIGENCE
We tend to imagine robots of the future as either our servants or as evil and out of control! But Anicka's art asks, what if they lived peacefully alongside us, evolving into independent life forms? Can you imagine sharing your world with curious, gentle machines like the ones at Tate Modern?
ABOUT ANICKA YI!
Anicka is a very exciting artist! She creates portraits and sculptures out of smells, is fascinated by AI, and has lots of interesting ideas about human behaviour that she wants us all to think about! She doesn't work alone, but with a team of expert engineers, microbiologists, computer scientists and perfumers among many others. Top teamwork!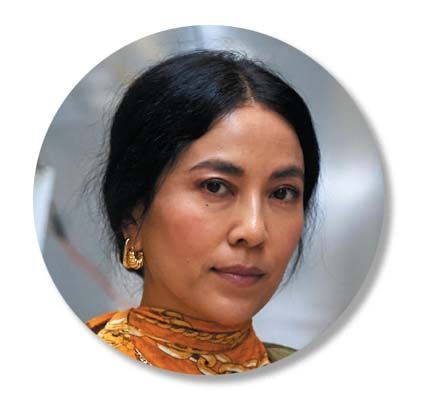 In my imagination I was thinking about the Turbine Hall as a kind of aquarium. So I thought, 'Oh, it would be nice to create an aquarium of machines!'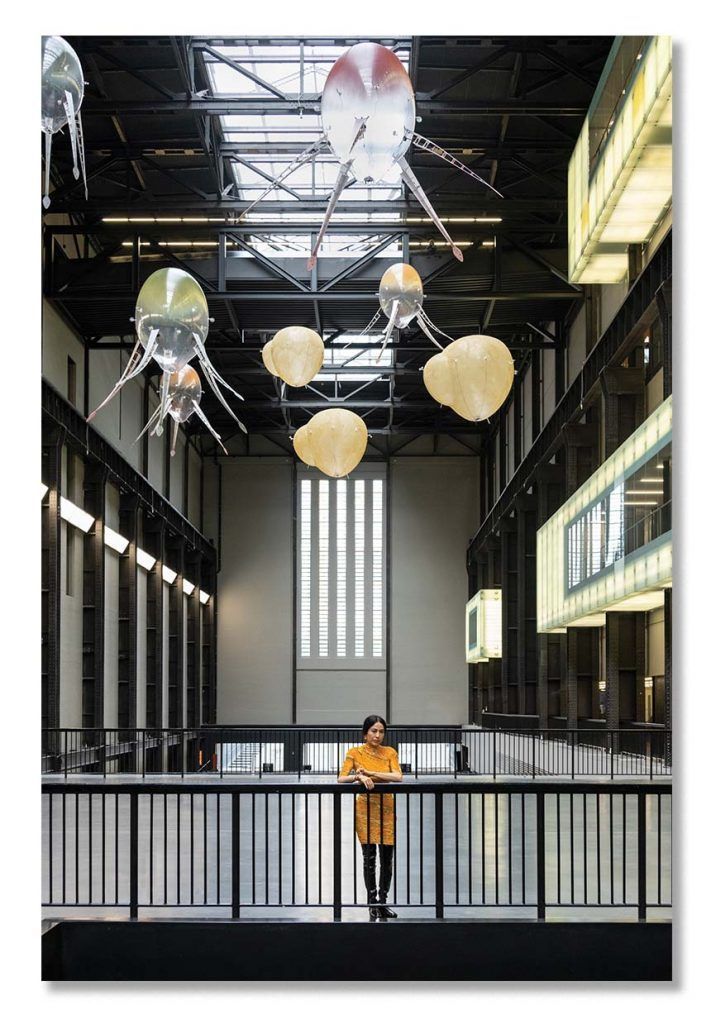 WIN TATE GOODIES!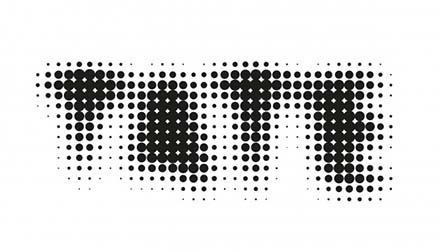 More Like General Entertainment