Win the complete Wizards of once series
Competition closes at 23:59 on
3 December 2020
Set in an ancient, magical time, Xar and Wish are on the last leg of their epic journey. Together they must find the remaining ingredient to make a Lovespell – a powerful concoction that will get rid of the evil Witches destroying the Wildwoods and all its creatures!
The fate of the Wizards and Warriors of this enchanted world lies in the hands of our young heroes. Will their combined strength and bravery be enough for the ultimate challenge – to defeat the evil Kingwitch once and for all?
Click here to find more about this magical book!
The prize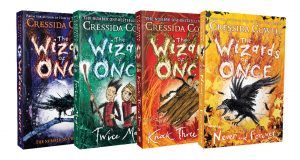 Three lucky winners will scoop all four books from this magical series – 
The Wizards of Once, The Wizards of Once: Twice Magic, The Wizards of Once: Knock Three Times and The Wizards of Once: Never and Forever. How cool is that?! 
 

How to enter

 
On their adventure, Xar and Wish come face to face with terrifying monsters – including Tatzelwurm, who is part cat part dragon, and breathes poison!
For your chance to win this brill book bundle, we want YOU to draw a picture of your own monster and name it.
Why not make it a hybrid of two animals or fearsome creatures?! Let your imagination run wild – the monsters we find the scariest will win! 
By entering our competitions you agree to the terms set out in our Privacy Policy and our competition terms and conditions.
SIGN IN TO TAKE PART
or Register here
Thanks for registering, you're now free to explore our site.