SPONSORED
Kat Wolfe Takes the Case
Adventure alert! Lauren St John's second book in the awesome Wolfe & Lamb Mystery series is here…
* Advertising promotion
Join brave Kat Wolfe and her animal sidekicks in this brilliant follow-up to Kat Wolfe Investigates. Filled with friendship and freedom, Kat Wolfe Takes the Case sees a landslide on the Jurassic Coast reveal a rare 'dragon' dinosaur!
Kat and her best friend Harper Lamb are thrilled with the dino discovery, especially when stars and scientists come flocking to sleepy Bluebell Bay. But when the friends begin investigating a suspicious death, events quickly spiral out of control. Worse still, Kat's wild cat, Tiny, is in trouble. Can they solve the mystery – and save Tiny's life – before it's too late?!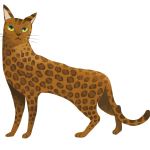 DINOSAUR DETECTIVES
You're gonna dig these top dino facts:
1. Paleontology (say pay-lee-on-toh-lo-gee) is the study of plants and animals that lived millions of years ago.
2. Palaeontologists investigate ancient living things by studying fossils (remains preserved in rock).

3. The word fossil comes from the Latin word fossilis, which means, 'dug up'!

4. Most fossils are discovered in sedimentary rock layers. This is rock that's formed from sediment, like sand, mud, and small pieces of rock.

5. A stretch of English coastline, called the Jurassic Coast, is famous for being home to loads of dino fossils – preserved dino footprints have even been found there!