SPONSORED
THE UNDERPANTS OF CHAOS
Detective duo Tuchus & Topps team up to investigate a weird new evil destroying their school…
In The Underpants of Chaos, the first book in Sam Copeland and Jenny Pearson's hilarious and heartfelt new Tuchus & Topps Investigate series, something bad is happening at Little Strangehaven Primary.
There are incredibly odd SHIVERS that keep striking the school, and they bring all kinds of Strangeness in their wake – from uncontrollable ballroom dancing to an attack by military chickens. Eek!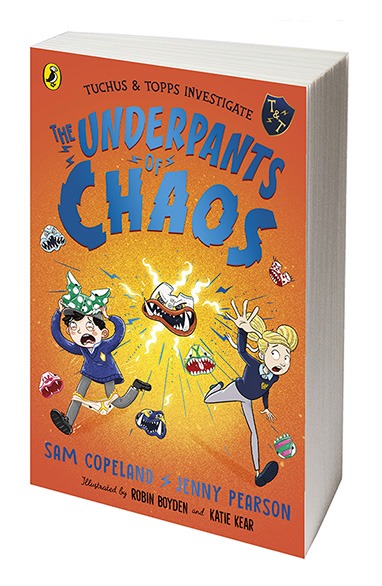 Spy-detective Agatha Topps is determined to find out. She's the only person who doesn't forget the Strangeness as soon as it's over. At least, until new boy Lenny Tuchus turns up and remembers too.
Their spy-detectoring leads them to the Book of Chaos, an ancient text which has been hidden away in the Room of Forbidden and Dangerous Books.
Can Agatha and Lenny fight off attacks from evil underpants and Transylvanian gargoyles to stop the SHIVERS before their town is sucked into oblivion?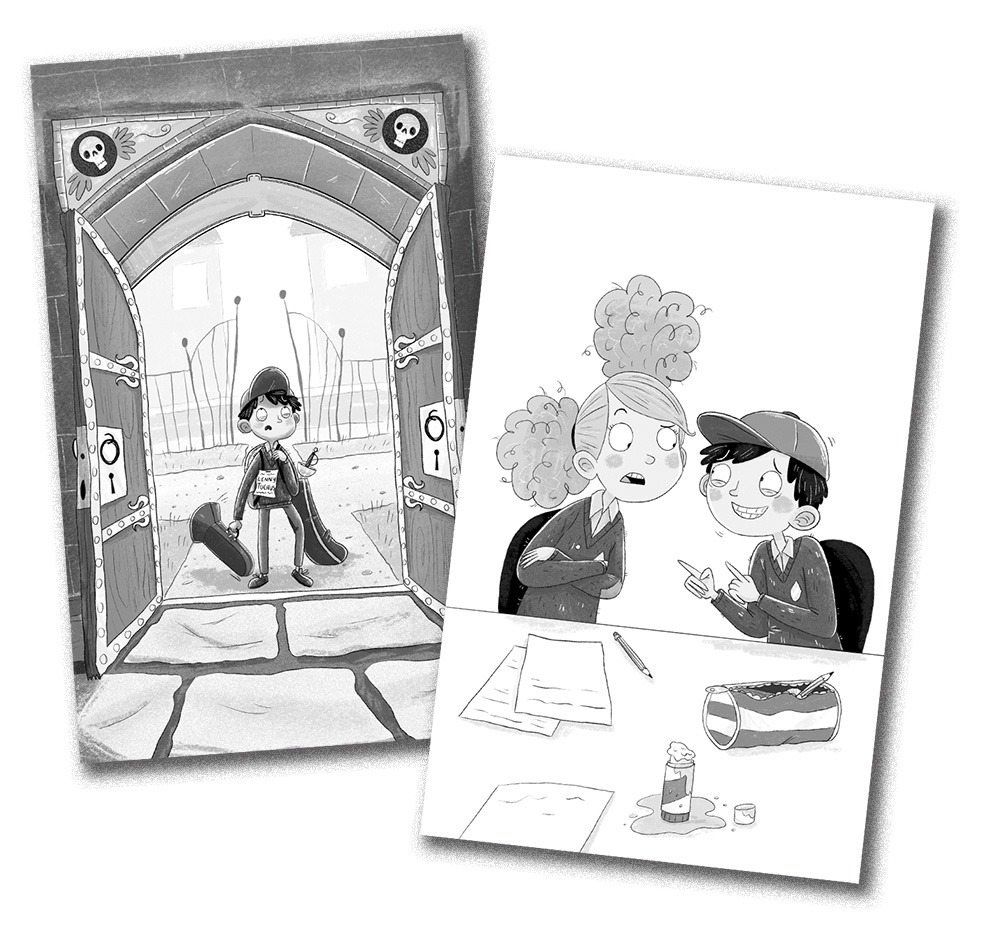 The Underpants of Chaos features fantastic illustrations from Robin Boyden and Katie Kear!
MEET THE AUTHORS
The Underpants of Chaos is a collaboration between celebrated authors Sam Copeland and Jenny Pearson. They sat down to tell us all about how they worked together to create this exciting new book series….
Please can you tell us about the book?
Jenny: Tuchus and Topps investigate is a funny series that follows Agatha Topps and her hapless assistant, Lenny Tuchus. The first book, The Underpants of Chaos is based upon Sam Copeland's very own underpants. (Part of what I have said may be a lie).
Sam: Jenny already told you what it's about because she gets to answer first and give all the easy answers. Ask a difficult question like 'What's the capital of Togo?' and guaranteed I'll be the one who has to answer it first.
Jenny: You could have added more teasers about the book! Like that Agatha and Lenny have to investigate the weird happenings at their school, Little Strangehaven Primary, and that there are military grade chickens and a Scottish gargoyle called Gregor and bearded dinner ladies, but no, you bring up the capital of Togo. Honestly.
How did you work together to write the book?
Jenny: We write a chapter each and then edit each other's chapters as we go. We'll plan a little bit before we start and meet over Zoom at regular intervals. We'll also both go over the final draft several times and chat about that once it's done.
Sam: Yes. What Jenny said. It's actually a surprisingly easy process.
Jenny: Sam might find it easy because he doesn't have to go through the soul-destroying task of editing his chapters. We have had many a Zoom meeting when we've hit a difficult moment in the story. Countless times, I have had to sit in silence, watching Sam whilst he lies on his sofa, massages his temples and enters his mind palace to come up with a solution.
Sam: What Jenny said is literally true! That's actually exactly what happens. I then usually repeat an idea that Jenny came up with an hour earlier.
There must be some inevitable creative disagreements – surely? Any funny writing quirks you've discovered about each other?
Jenny: We are remarkably similar in how we approach the writing process and I think we are both laid back when it comes to edit notes and listening to each other. I trust Sam's judgment completely. He is incredibly easy to work with. Honestly, it's been nothing but fun and I hope that comes across on the page.
Sam: It is remarkable that in two books we haven't had a single disagreement. And likewise, I trust Jenny completely to allow me to have full and total creative control.
Jenny: As I said earlier, it's all about approaching him the right way and letting him think he came up with an idea!
WIN A HUGE BOOK BUNDLE
We're giving away a copy of The Underpants of Chaos plus eight other amazing Sam Copeland and Jenny Pearson books…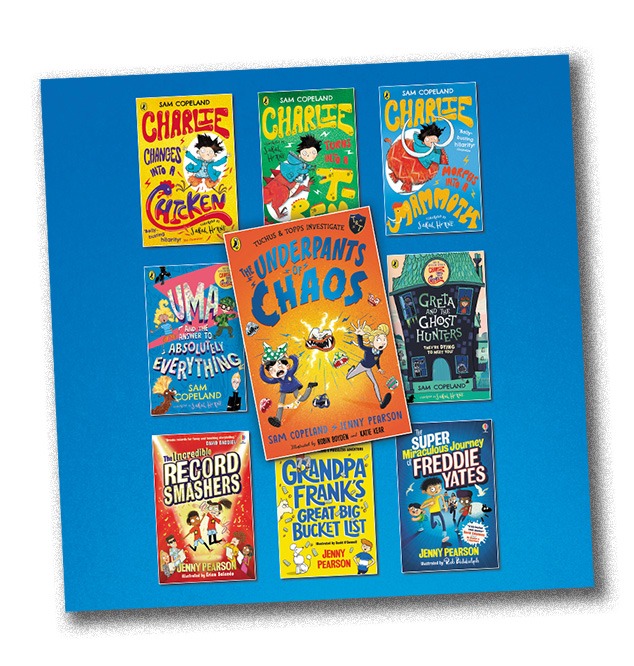 THE UNDERPANTS OF CHAOS IS OUT NOW!