SPONSORED
Tutankhamun's Treasures Resource Kit
Discover the treasures from inside King Tut's tomb…
Did you know it's almost 100 years since Tutankhamun's tomb was discovered? Celebrate by learning all about the 'Boy King' in our Tutankhamun's Treasures Primary Resources – packed with fascinating information and exciting activities for children to enjoy!
These primary resources feature mind-blowing facts and images about the world's most famous pharaoh. By investigating the amazing artefacts discovered in King Tut's tomb, pupils will gain both an understanding of his role as ruler of Egypt, and an insight into Ancient Egyptian beliefs on life and death. Pupils will also learn about the history and culture of Ancient Egypt as a whole – from its ancient monuments and hieroglyphics, to Egyptian gods and mummification!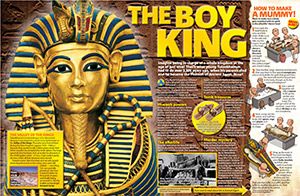 Resource Contents:
Tutankhamun Treasures: Information  sheets and Activity Pack!
All About Ancient Egypt: Info Pack and Quiz!
These teaching resources can be used in study group tasks for learning about King Tutankhamun and Ancient Egypt, as a printed handout for each pupil to review and highlight key information – or for display on the interactive whiteboard for class discussion.
Will your class be visiting the Tutankhamun Treasures of the Golden Pharaoh exhibition at the Saatchi Gallery, London? Then download the Exhibition Pack, featuring a Teacher Resource, Activity Trail and Educators Guide!
Get a flavour for the exhibition that awaits you in this video that explores Nat Geo Kids' top five artefacts on display:
Curriculum Information
N.B. The following information for mapping the resource documents to the school curriculum is specifically tailored to the English National Curriculum and Scottish Curriculum for Excellence. We are currently working to bring specifically tailored curriculum resource links for our other territories; including South Africa, Australia and New Zealand. If you have any queries about our upcoming curriculum resource links, please email: schools@ngkids.co.uk
This History primary resource assists with teaching the following History objectives from the National Curriculum:
Know and understand significant aspects of the history of the wider world: the nature of ancient civilisations; the expansion and dissolution of empires; characteristic features of past non-European societies; achievements and follies of mankind. 
National Curriculum Key Stage 2 History objective:
Pupils should be taught about: the achievements of the earliest civilisations – an overview of where and when the first civilisations appeared and a depth study of one of the following: Ancient Sumer; The Indus Valley; Ancient Egypt; The Shang Dynasty of Ancient China.

This History primary resource assists with teaching the following Social Studies First level objective from the Scottish Curriculum for Excellence:
Having selected a significant individual from the past, I can contribute to a discussion on the influence of their actions, then and since.
Scottish Curriculum for Excellence Second level Social Studies objective:
I can discuss why people and events from a particular time in the past were important, placing them within a historical sequence.
Download primary resource