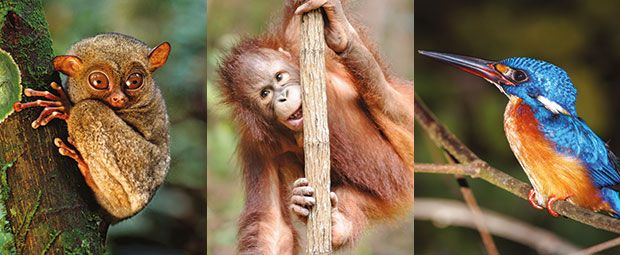 Win a family holiday in Borneo and Nikon cameras!
Competition closes at 23:59 on
28 August 2018
SORRY, THIS COMPETITION IS NOW CLOSED.
It's time to get snap happy – our famous photography competition is back, and there's a trip to Borneo up for grabs!
Read on to see what you could win and how to enter…
The prizes!
Grand prize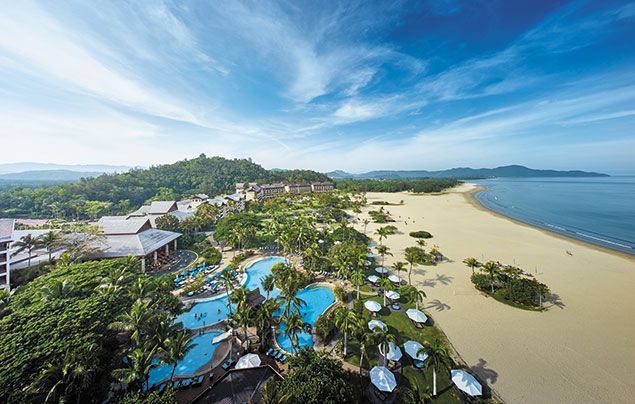 Fancy having the ultimate holiday here?
Our overall winner will be whisked around the world to Sabah, on the island of Borneo in Southeast Asia, where they'll stay in an incredible five-star resort by the sea and get up close to loads of amazing animals, including the orangutans – wow!
If you're our talented star-prize winner, you and your family will be flown to Kota Kinabalu, the capital of Sabah in Malaysian Borneo, where you'll be picked up at the airport and chauffeur-driven to the luxurious Shangri-La's Rasa Ria Resort & Spa, nestled on the shore of the South China Sea. You'll spend seven nights in one of Rasa Ria's super-swish Premier Ocean Wing rooms, with a balcony overlooking the beautiful 3km-long Dalit beach (above) – the sunset views will blow you away!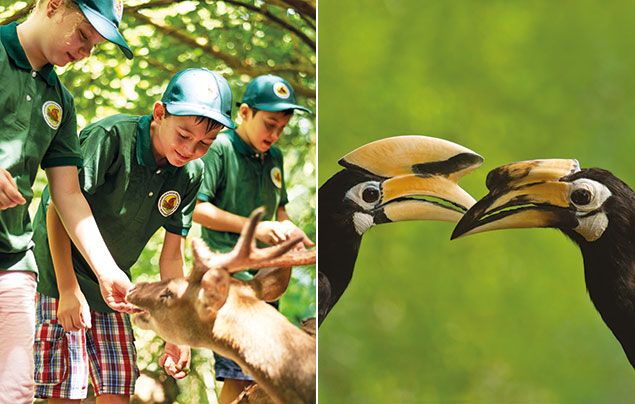 Become a Junior Ranger and see Oriental pied hornbills in Rasa Ria's forest canopy!
Explore the resort's amazing 26-hectare rainforest reserve, which is home to long-tailed macaques, slow lorises, western tarsiers, pangolins, bear cats (binturong), snakes, an incredible 100 species of butterfly and 65 types of bird!
You'll go on day and night treks (using night-vision goggles!) to spot animals in the reserve, and will enjoy an amazing early-morning hike to witness the spectacular sunrise, before having breakfast overlooking Borneo's highest mountain, Mount Kinabalu!
Visit the orangutans at Sepilok and look out for Western tarsiers and blue-eared kingfishers!
Rangers at Rasa Ria's new Discovery Centre will teach you everything you
need to know about the native animals and indigenous plants – you can even become a Junior Ranger yourself!
During your stay in Borneo, you'll also take a short flight to Sandakan, where you'll be given a guided tour of the historic town before visiting the Sepilok Orangutan Rehabilitation Centre and the Bornean Sun Bear Conservation Centre. Amazing!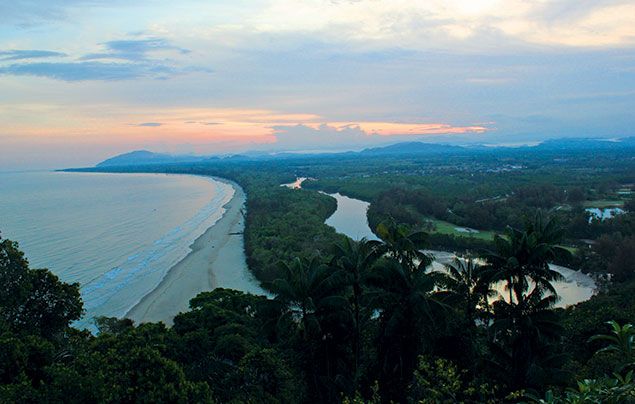 Breakfast with a view!
Back at the resort, you can learn about the local tribes and customs, then decide whether to swim in the crystal-clear sea or splash about in Rasa Ria's two swimming pools – get ready to test out the waterslide!
Grown-ups can head to the 18-hole championship golf course (look out for the monitor lizards and otters living around the fairways and greens!) or relax in the spa and enjoy a lush local treatment. Then dine in the resort's six on-site restaurants, with scrumptious menus from Sabah and around the world. Yum!
To find out more about Shangri-La's Rasa Ria Resort & Spa and to make a booking, visit shangri-la.com/kotakinabalu/rasariaresort. Head to sabahtourism.com to discover more about Sabah.
Category prizes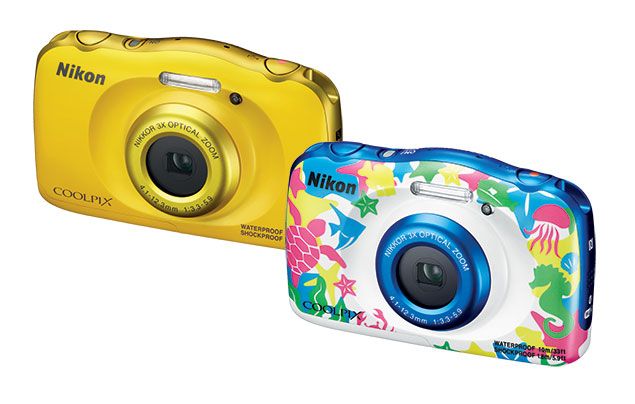 All three category winners will each walk off with a supercool Nikon COOLPIX W100 camera worth £150! Waterproof to ten metres, you can shoot superb photos and full-HD video underwater. Wow! What's more, the 13.2-megapixel camera is shockproof to 1.8m, so it'll cope with any knocks and bumps while you're excitedly trying to compose that perfect pic! The camera's SnapBridge software automatically transfers images to your smart device for easy storage and sharing with friends and family!
Competition time!
Ready to win this trip of a lifetime? Then it's time to get snappy…
The categories
You can enter as many categories as you like – but just ONE photo per category please! Let's check out the three categories and meet the judges…
Animals
Pictures of the planet's non-human inhabitants! Beloved pets, incredible insects, foraging park life, or exotic creatures – we want to see the world's wildlife in all its shapes and sizes. You could capture animals in their natural environment, in a zoo or wildlife park, or somewhere completely unexpected.
TOP TIPS!
"When you're photographing moving animals, you have to be very quick! Try to find the mode on your camera that helps you snap many shots in a row. Then choose the best!" REZA
"Try taking photographs with the sun coming from the side (sidelit) or from behind the subject (backlit) to create atmosphere and emotion." THE SCOTTS
Scenery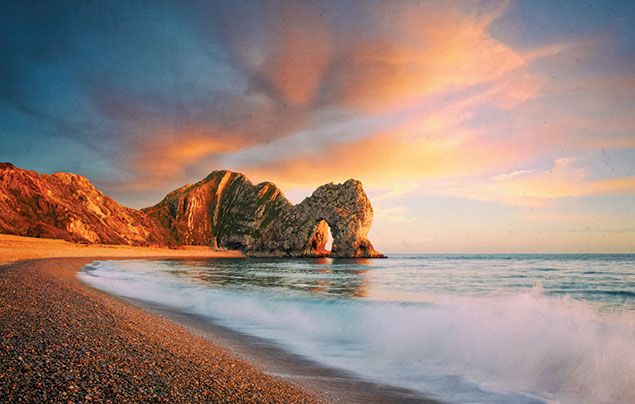 You could snap a stunning seascape, lovely landscape or a chaotic city. Whether you shoot lakes, forests and mountains, or towns, villages and amazing architecture, make sure you think about the composition of your image!
TOP TIPS!
"Choose a landscape you're really absorbed by and that you love!" REZA
"Great photography is about 'seeing the light'. Light is your paintbrush. Experiment in the early morning or late evening light when the sun is low in the sky." ANGELA SCOTT
People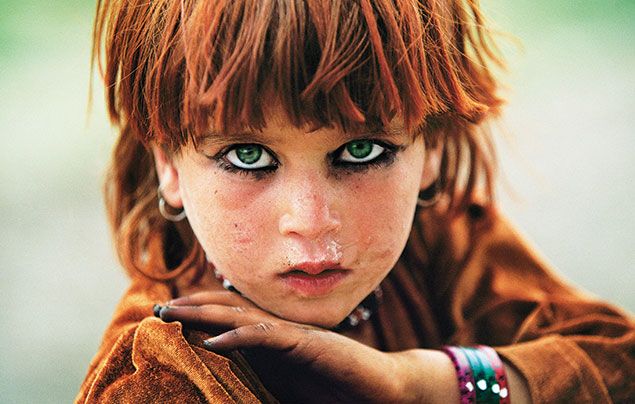 Will you take a planned portrait, carefully styling your subject's outfit and backdrop? Or capture a more candid, natural expression? You could show someone at work, at play, daydreaming, or snap an action shot. Group shots can be entered into this category too, or even crowds. Whichever you choose, try to reveal something about the character and emotion of the person or people in the picture.
TOP TIPS!
"Don't say 'cheese'! Try to avoid artificial smiles, but instead capture something natural." REZA
"Make sure everything you include in the image (the frame) is there for a reason." THE SCOTTS
The judges
Our judges for 2018 are National Geographic photographer Reza, and award-winning wildlife and travel photographers Jonathan and Angela Scott!
Reza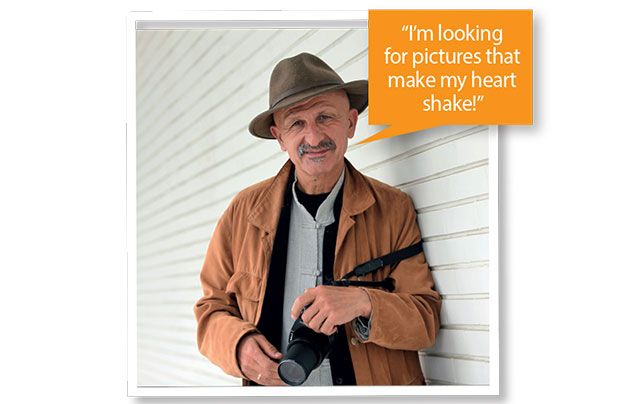 Jonathan & Angela Scott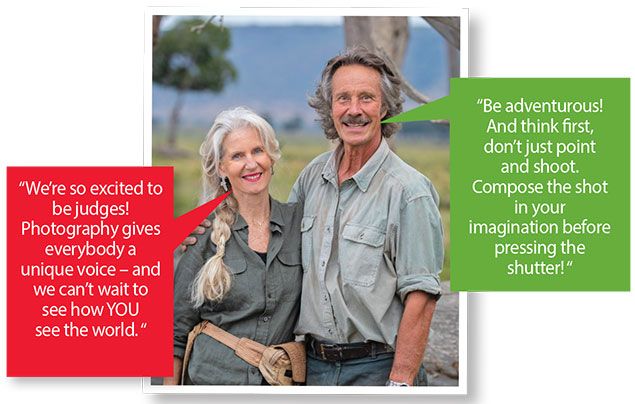 Look out for Jonathan and Angela's Big Cat Diary series on DVD!
How to enter!
— Ask your parent or guardian to send no more than one email per category to photocomp@ngkids.co.uk.
— Make sure the subject of each email contains your full name and the category you're entering, i.e. 'Tim Herbert, Animals'
— Don't forget to attach your photo to the email! It should be a JPEG format, between 1MB and 5MB in size.
— You must be aged 6-14 to enter.
— The competition deadline is 23:59 on 28 August 2018.
Read the full terms and conditions here. Don't forget to check out our previous winners!
Innocence © Reza;

 

Lion and Jonathan and Angela portrait © Jonathan and Angela Scott; Scenery © Getty Images UK; Reza portrait © Uygar Taygan; Anole © Asher Fletcher; Pond © Vivian Chung; Beach © Tadhg Verdier; Aerial photo of hotel, swimming pool and Junior Rangers © Shangri-La's Rasa Ria Resort & Spa;

 

Tarsier, kingfisher and hornbills © Getty Images UK. All other images © Tim Herbert.
By entering our competitions you agree to the terms set out in our Privacy Policy and our competition terms and conditions.
SIGN IN TO TAKE PART
or Register here
Thanks for registering, you're now free to explore our site.