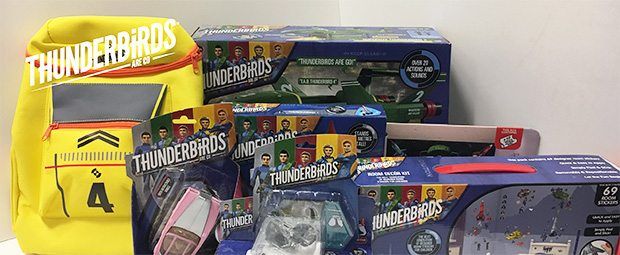 Win Thunderbirds Are Go prizes!
Competition closes at 23:59 on
30 April 2018
SORRY – THIS COMPETITION IS NOW CLOSED.
*Advertising promotion
You'll be pleased to hear that all new episodes of Thunderbirds Are Go are blasting onto CITV and ITV!
And to celebrate, we're giving you the chance to scoop a bundle of Thunderbirds Are Go merchandise – awesome!
The prize
One lucky winner will receive a large inflatable Thunderbird 1, supersize Thunderbird 2, Thunderbird 4 rucksack, Walltastic Wall Mural, Walltastic Wall Stickers, collectable Diecast Thunderbird S, collectable Diecast Multipack of Thunderbird 1, Thunderbird 2 and Thunderbird 3 plus a FAB1 toy with sounds!
Psst – don't forget to check out the Thunderbird vehicles!
To enter, simply answer the following question. Good luck, gang!
By entering our competitions you agree to the terms set out in our Privacy Policy and our competition terms and conditions.
SIGN IN TO TAKE PART
or Register here
Thanks for registering, you're now free to explore our site.