Win a mega bundle of family games!
Competition closes at 23:59 on
15 December 2021
Are you a bit of a brainiac? Got some epic spelling skills? Or lightning reflexes, perhaps? It's time to find out…let the games begin! 
Dobble is the smash-hit observation game where players race against each other to match identical symbols between cards. To claim victory, you'll need a sharp eye and super speed!
Put your knowledge and memory skills to the test in Brainbox Animals, Brainbox World History and Brainbox Science! In these games, players must study a card for 10 seconds before answering a question. If the question is answered correctly, they keep the  card – the person with the most cards after 10 minutes wins!
And in the brilliant game Bananagrams, players compete to build crossword grids using lettered tiles. No need for a board, pencils or paper! Be the first to use all your letter tiles and you'll be crowned the Top Banana!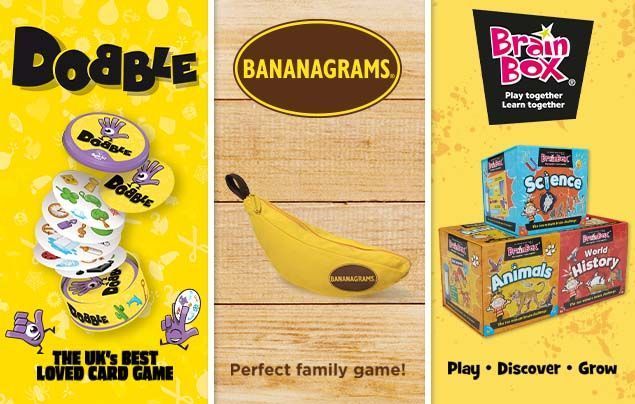 THE PRIZE
One super-lucky winner will bag all these games – Dobble, Bananagrams, Brainbox Animals, Brainbox World History, and Brainbox Science! But don't worry – if you don't win, you can find Dobble and Bananagrams in Waterstones and BrainBox in WH Smiths. Great!
To enter the competition, just answer this one simple question…
By entering our competitions you agree to the terms set out in our Privacy Policy and our competition terms and conditions.
SIGN IN TO TAKE PART
or Register here
Thanks for registering, you're now free to explore our site.