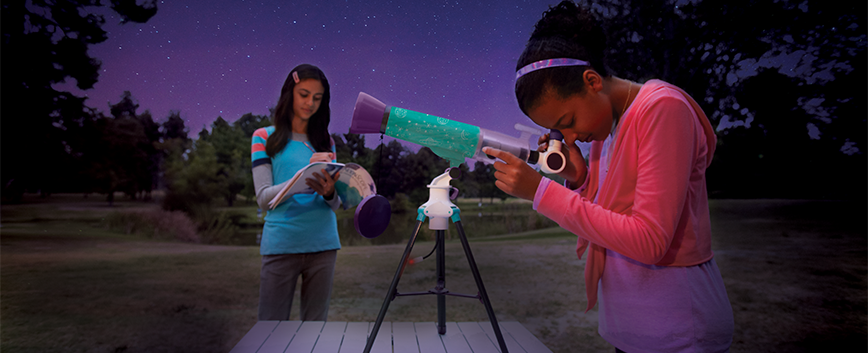 Win a telescope!
Competition closes at 23:59 on
16 October 2019
Learning Resources' telescopes are the perfect instruments exploring the cosmos from the comfort of your own garden.
Take a tour of the night time sky with Nancy B's Science Club® MoonScope. This cool bit of kit comes with its own tripod and two eye pieces offering 18x to 90x magnification. The Moon filter finder scope comes with built in red LED that enables night viewing, too. Plus, there's the Sky Gazer's Activity Journal, which is packed full of awesome exploration activities.
The durable, lightweight GeoSafari® Vega 360 Telescope allows you to explore the natural wonders of the Earth, Moon and beyond. It delivers clear, up‐close images at magnifications of 20x to 80x. The tabletop tripod makes exploring on‐the‐go easy. It includes two interchangeable eyepieces and an image erector for viewing earth-based subjects, too.
Click here to find out all about light and lenses help telescopes work
The prize
One winner will get a MoonScope and Sky Gazer's Activity Journal and another winner will get a GeoSafari Vega 360 Telescope.
Zip over to learningresources.co.uk from more inspiring products.
By entering our competitions you agree to the terms set out in our Privacy Policy and our competition terms and conditions.
SIGN IN TO TAKE PART
or Register here
Thanks for registering, you're now free to explore our site.