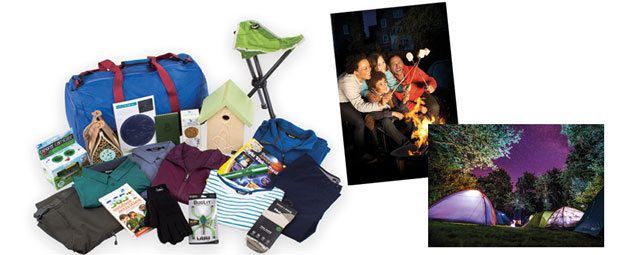 Win cool camping gear for a Big Wild Sleepout!
Competition closes midnight
26 July 2017
Summer's here at last, time to head outside and spend the warm nights sleeping under the stars, surrounded by nature. We're giving you the chance to win just the kit to get you and your family started!
Families across the UK will be joining the RSPB Big Wild Sleepout, from 28 to 30 July, getting together to discover the wonderful wildlife on their doorstep. From nocturnal mammals, moths and minibeasts to bats and owls, it's sure to be a hoot!
Pop up a tent in the garden and enjoy the outdoors! Don't have a garden yourself? No worries – the RSPB are organising loads of cool sleepout events right across the country!
The prize
To get you started on your camping adventure, the RSPB have one Ultimate Big Wild Sleepout kit to give away. It contains £500 worth of outdoor clothing and equipment (supplied by Rohan) plus a selection of cool RSPB nature goodies. Woop!
To find out about your nearest sleepout event and get lots of fun ideas, activities and tips to help you have a wild night out, head to rspb.org.uk/sleepout
By entering our competitions you agree to the terms set out in our Privacy Policy and our competition terms and conditions.
SIGN IN TO PARTICIPATE
or Register here
Thanks for registering, you're now free to explore our site.