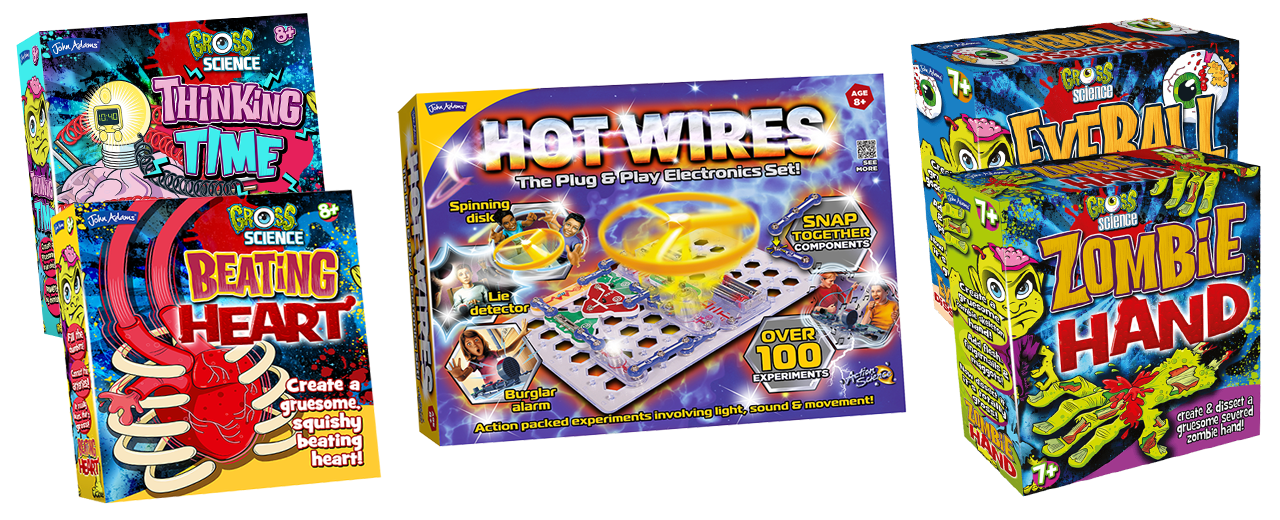 Win John Adams science kits
Competition closes at 23:59 on
1 November 2018
SORRY, THIS COMPETITION IS NOW CLOSED!
Celebrate Halloween with these gruesome science kits from John Adams!
Fancy performing a gory Eyeball Dissection? Place the 'pupil' and 'optic nerves' into the eyeball moulds, then fill with a special liquid to create a gooey, giant eye.
Create your own Zombie Hand by clipping together the skeleton bones and placing them in a hand mould. Pour in the liquid to form the gross zombie flesh, then perform autopsies on them with the kid-safe scalpels.
You can make a model of a Beating Heart, too! Fill the chambers with water and connect the tubing. Attach the squishy heart cover and press the balloon pumps to watch the heart beat realistically.
Create awesome snap together electronics sets with Hot Wires or power a clock using brain power chemistry with Thinking Time. Awesome!
The prize
Five winners will get all five of these fab kits.
By entering our competitions you agree to the terms set out in our Privacy Policy and our competition terms and conditions.
SIGN IN TO TAKE PART
or Register here
Thanks for registering, you're now free to explore our site.