What is a
B Corp?
Find out how businesses are becoming forces for good...
It's important that everyone works together to do their best for the planet – that includes people at home, charities, governments, and businesses! A certified 'B Corp' business has gone through a complicated assessment, that proves they're using business as a force for good. But what does that mean? Let's find out more…
What does B Corp mean?
A certified B Corporation, commonly known as 'B Corp', is a business that cares about their local community, employees, and the environment – as well as their customers.
When you see the B Corp label (below) on a product or website, you know that the company has proved that they care about purpose and profit. Only qualified businesses are allowed to use the label, and it's not an easy thing to get!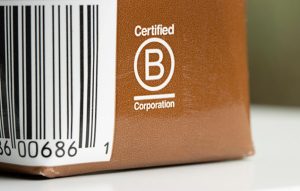 Since the B Corp label was first introduced in 2006, more than 150,000 businesses around the world have signed up for an impact assessment – but only 4,900 have passed. This just shows how good B Corps have to be!
So, what do B Corps do?
To pass their impact assessment and become a B Corp, businesses have to show that they treat employees, the environment, and the local community well.
Here are some examples of things that B Corps might do…
– Pay their employees a Living Wage at minimum, to ensure they have enough money to cover all the everyday needs of themselves and their families.
– Offer their employees extra training opportunities, to help them learn and develop.
– Care about the environment as much as they care about profit, and run the company openly and honestly, so that everyone can see where money is being spent.
– Record their carbon footprint, so they can start trying to reduce it.
– Act sustainably by reducing their waste, reusing whatever they can.
– Work with partners and suppliers who treat their employees ethically and who also consider the environment in their business plans.
– Listen to feedback from their customers and act on this accordingly.
– Create products that help save water, reduce emissions, or work towards social problems by providing access to education or reducing food poverty.
– Give back to their local community by giving employees volunteer days or by donating money to charity.
As you can see, there are lots of things to consider! B Corps have to think hard about the impact of their business, and their influence on everything and everyone around them.
Is National Geographic Kids a B Corp?
Excitingly, there are now over 700 B Corps in the UK – and we hope to be one of them in the near future!
We are currently going through the rigorous B Corp Impact Assessment. There's lots of work still to do before we're ready to submit it, but we've already achieved a lot! From making the magazine plastic-free, to giving our employees volunteer days and donating 1000s of magazines to disadvantaged kids, we're doing everything we can to become a better business.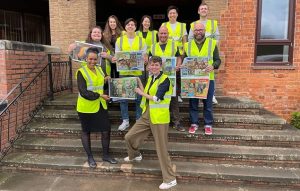 Check out our sustainability timeline to see how the business has changed in the last three years – and how we hope to improve even more in the future!