SPONSORED
The Secret Life of Pets 2
In cinemas from 28 June 2019
Get ready for the Secret Life of Pets 2!
What are your pets really doing when you're not at home? In the brilliant new movie The Secret Life of Pets 2, Max the dog is coping with some major life changes. His owner is now married and has a toddler, Liam. Max is so worried about protecting the boy that he develops a nervous tic. Luckily, he gets tips from veteran farm dog Rooster. Crazy-but-cute bunny Snowball thinks he's a real superhero when his owner dresses him in superhero pyjamas. Then Daisy the Shih Tzu asks for Snowball's help on a dangerous mission and so he has to act like a true hero. Can Max, Snowball and the rest of the gang face their biggest fears?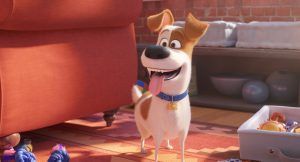 The Secret Life of Pets 2 opens in cinemas countryside on 28 June 2019.