Nat Geo Kids' Teacher of the Month Winners!
Congratulations to the awesome teachers who've bagged themselves one of our super prizes!
Each month, we ask our readers all over the country to nominate terrific teachers to be our National Geographic Kids Teacher of the Month. We receive hundreds of entries from pupils telling us why their teacher is super special, and why they deserve to win our fab prizes –  a subscription to National Geographic Kids magazine for their entire class, plus a £100 Love2shop voucher for their teacher!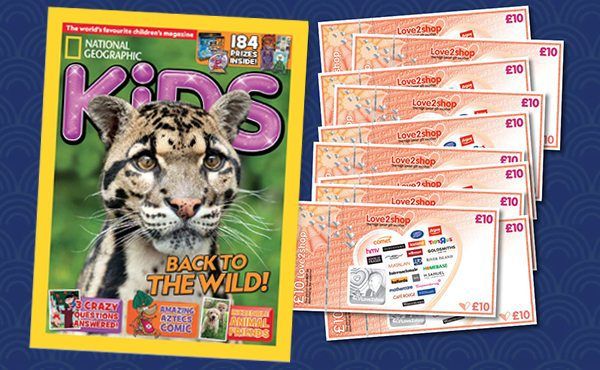 Let's give it up for the winners so far…!
Teacher of the Month – April 2018
Mr Robbins, nominated by Tânwen:
"Mr Robbins is the oldest working teacher at school. He is the most exciting and interesting one too.
We have learnt lots of things in his lessons about London and its transport through the ages (and I love History because of this).
He does very funny voices for the characters when he reads from books at the end of the day.
He is the world's worst artist (he says this too!) as when he draws people they look like jelly that are being splattered by water guns. 
But he is also very brave, as he is the only one what will feed our Dragon, that hatched during our project work, jelly for its meals.
His favourite football team is Liverpool FC, I prefer rugby but it's OK he likes football.
He is the best teacher EVER!  I wish he could be my teacher throughout my life."
Teacher of the Month – March 2018
Mrs Armstrong, nominated by Caitlin:
"Mrs Armstrong puts so much effort into bringing music to our school – she leads the choir twice a week, plays piano in assembly and every concert and performance, and teaches us to play ochorena. She is really calm and kind – I even call her Mummy sometimes by mistake!
She gets everyone in the class to quieten down really easily by saying, "1,2,3…eyes on me!" and everyone responds by saying, "1,2…eyes on you!". She helps me to make my work even better by suggesting things that make me think. I think we're the luckiest class in the school because we're the only ones who have had Mrs Armstrong twice."
Teacher of the Month – February 2018
Mrs Worth, nominated by Jolene, on behalf of Stanley:
"Mrs Worth is always willing to work alongside her class to teach them as much as possible. The children asked to make pizza, so the next day she went to the supermarket at 6am to get the ingredients for them! Every single child adores her and because of it they are learning so much. She spends time concentrating on each child, taking time to find their individual strengths and weaknesses, and what type of learning works best for them. For my son it's construction, so she uses bricks with words on to teach him his tricky words! Mrs Worth is one in a million and gives it her all – and it really shows!"
Teacher of the Month – January 2018
Rachel Thomas, nominated by Kyle:
"Rachel has helped me so much with my learning. I have a condition called autism, which can make studying at school difficult, but Rachel always takes the time to go through everything and support me. She is also always there to talk to, and tells me that if something is bothering me that I can go and see her, and she does her best to help me. 
Rachel is a lovely teacher and the best I have ever met! She deserves to be recognised for being an amazing teacher who goes the extra mile."
Teacher of the Month – December 2017
Miss Kluge, nominated by Darcey:
" Miss Kluge my teacher teaches me wonderful things such as joined up writing and spellings. She also teaches me interesting things about animals and once she made up an amazing story about a frog and a scorpion. She is very kind and last term she made my class a super poem. It said:
'Some small gifts just for you because you should be proud of the work you do! In this bag there is: A colouring book and pen so you can brighten up the world one page at a time. A rubber to remind you that it's ok to make mistakes! A box of smarties because you are so smart! A glow stick because your future is bright. A bouncy ball to remind you that you can always bounce back when things are tricky. A party popper because this year has been a blast! A smiley face sticker because you have made me smile this year. Bubbles because this year you blew me away! A caterpillar balloon so that you can continue to grow into a wonderful butterfly. And last but not least an ice pop because l want you to have a COOL SUMMER ! Love Miss Kluge.'
Miss Kluge is the best teacher because when I get stuck she always helps me."
Teacher of the Month – November 2017
Mrs Bienkowski, nominated by Elsie:
"Mrs Bienkowski is the best teacher because she makes our learning fun. We do rounds of learning – some rounds we are given tasks to do and some rounds we choose what we do. Mrs B has helped me improve my writing skills by getting us to do a burger plan before we start our writing.  This term our topic was science and we did a science experiment nearly every day!
 
Mrs B used to live in New Zealand and so one day she told us what to do if there was an earthquake. She told us about earthquakes she has been in. I found it interesting to learn about earthquakes because I didn't know how much damage an earthquake caused.
  
When we did a play on Mary Queen of Scots, Mrs B created at least three of the costumes for it and borrowed the rest of the costumes from National Trust. We made a movie of the play which Mrs B spent her holidays editing for us. She let us make our own movies, too!
 
Mrs B ran a Glee choir last year which got through to the second round of the competition. We were practising four lunchtimes every week for the month leading up to the county final.  
Mrs B should win this competition because she is fun, knowledgable and uses art to help us learn."
Teacher of the Month – October 2017
Mrs Evans 
Teacher Appreciation Week Winner – May 2017
Miss Williams, nominated by Thomas:
"Miss Williams was my favourite teacher ever when she taught me in year 3. I was really happy when I heard she was going to take our class again in year 5.
Then we had a school fire two days before the end of summer term 2016! We lost all the year 5 classrooms that we were about move into, as well as the brand new school library. School was closed early and I was very worried and upset.
Miss Williams, along with other teachers, arranged to meet up with pupils in a local church, to talk to us and make sure we didn't spend the whole of the summer worrying. She told me everything would be fine and we'd have some new portacabin classrooms for September. I still worried but it was good to see photographs on Facebook during the holidays of the portacabins arriving.
Miss Williams is very organised and always keeps everything in plastic boxes, these had become smoke damaged and wet during the fire, so she spent lots of time during the summer holidays cleaning the equipment inside to make sure everything was ready when school opened in September. On the first day of term everything looked perfect! 
It was weird being out of the main school building but the portacabins were made to look really friendly. After the fire I was really worried how this year would go but Miss Williams has worked especially hard to make year 5 a success for me and my friends!"
Download primary resource