Queen Victoria Primary Resource
How much do you know about this iconic British monarch?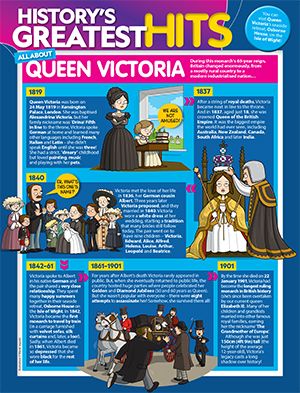 This history primary resource introduces pupils to Queen Victoria. Learn all about the life of the monarch who took Britain from a mostly rural country to an industrialised nation. When was Queen Victoria born? When was she crowned Queen of the British Empire? How many children did Queen Victoria have?
In our National Geographic Kids primary resource sheet, pupils will discover the significant events that occurred during Queen Victoria's lifetime, from her early childhood to her death in 1901.
Download the resource at the bottom of this page, together with a stimulus sheet featuring ideas for study group tasks and classroom activities!
This History primary resource assists with teaching the following History objectives from the National Curriculum:
Know and understand the history of these islands as a coherent, chronological narrative, from the earliest times to the present day: how people's lives have shaped this nation and how Britain has influenced and been influenced by the wider world
Gain historical perspective by placing their growing knowledge into different contexts, understanding the connections between local, regional, national and international history; between cultural, economic, military, political, religious and social history; and between short- and long-term timescales
National Curriculum Key Stage 1 History objective:
Pupils should be taught: significant historical events, people and places in their own locality
Pupils should be taught: the lives of significant individuals in the past who have contributed to national and international achievements. Some should be used to compare aspects of life in different periods [for example, Elizabeth I and Queen Victoria]
National Curriculum Key Stage 2 History objective:
Pupils should be taught a study of an aspect or theme in British history that extends pupils' chronological knowledge beyond 1066
This primary resource also assists with teaching the following English objectives from the National Curriculum:
Comprehension skills develop through pupils' experience of high-quality discussion with the teacher, as well as from reading and discussing a range of stories, poems and non-fiction. All pupils must be encouraged to read widely across both fiction and non-fiction to develop their knowledge of themselves and the world in which they live, to establish an appreciation and love of reading, and to gain knowledge across the curriculum
  

This History primary resource assists with teaching the following Social Studies Second level objective from the Scottish Curriculum for Excellence:
I can discuss why people and events from a particular time in the past were important, placing them within a historical sequence 
I can compare and contrast a society in the past with my own and contribute to a discussion of the similarities and differences 
Download primary resource
Oops! You'll need to sign up to access our primary resources. Registering is quick, easy and free!
SIGN IN TO DOWNLOAD
or Register here
Thanks for registering, you're now free to explore our site.