Join the
Dirt Is Good Academy!
Your chance to change the world…
The Dirt Is Good Academy is a brand new, free learning portal for kids who want to change the world!
Our planet is an amazing place! But sadly, there are lots of threats that people, wildlife and the planet face today. Problems like this can feel big and scary and almost impossible to solve. Well, the good news is, you can make a difference, and that's where the Dirt Is Good Academy comes in!
What is the Dirt Is Good Academy?
Full of amazing videos, fantastic facts, brain-boggling puzzles and hands-on, real-life challenges, the Dirt Is Good Academy is a training platform for kids who want to change the world for the better, a.k.a. Changemakers!
You'll learn about topics like global warming, green energy, water scarcity and plastic pollution, and you'll discover your very own Changemaker personality and matching avatar – who'll accompany you on your Changemaker mission!
By joining the Dirt Is Good Academy, you'll be joining forces with other kids around the world to make the world a better place.
Awesome Avatars!
You'll start your journey at the Dirt Is Good Academy by being matched with your very own Changemaker personality! The adventure begins with a short game, where you'll have to choose how you would react in different situations.
From your answers, we'll work out what kind of Changemaker you are. It could be anything from a Wordy Warrior, to an Action Hero!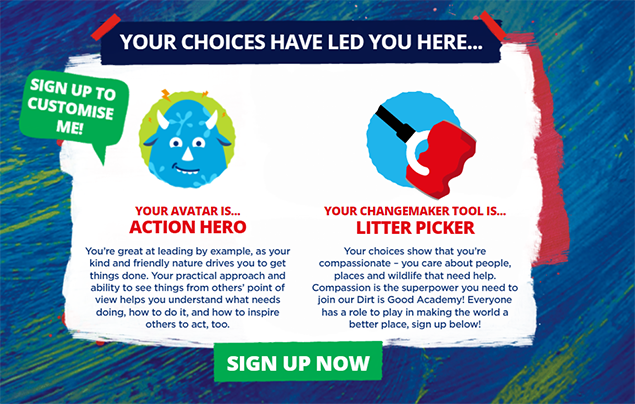 No personality type is better than another – it's just a way of describing how YOU might like to make change happen!
Once you've found out your Changemaker personality, you'll be able to create your own avatar, who will be with you the whole way through your Dirt Is Good Academy journey!
There are loads of cool customisation options, so you can get creative!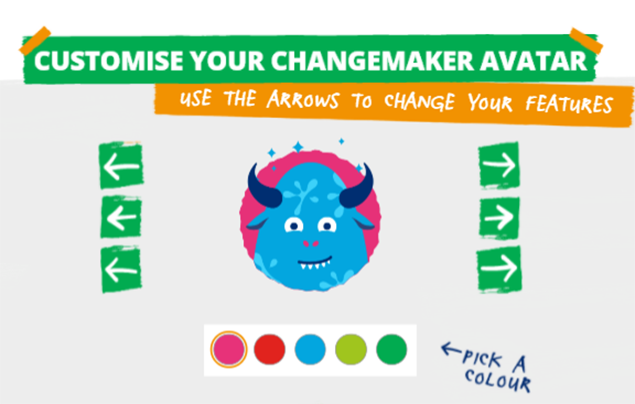 Marvellous Missions!
You'll get to go on some amazing adventures, which we call 'Missions'. These will take you on an online journey around the globe, discovering the issues the planet faces today and learning about how you can help.
In the Climate Mission, you'll learn all about clean energy and how it can help us solve the Climate Crisis, you'll delve into Earth's atmosphere to understand global warming, and then discover how sustainability can help us live more harmoniously with our planet's resources!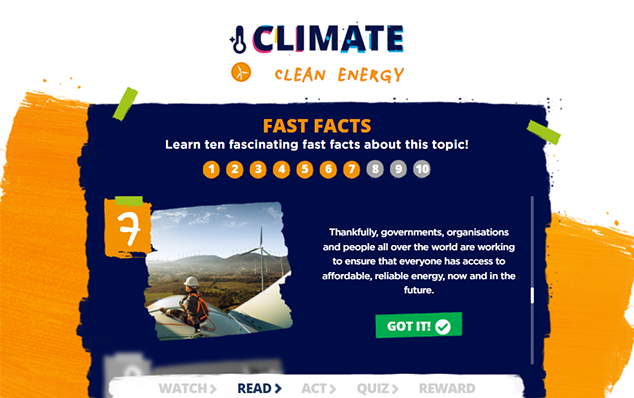 Next up, the Water Mission! Dive deep into the oceans and learn how overfishing and pollution are affecting our precious marine habitats. Then turn your attention to water scarcity – how the Earth's limited freshwater supply is under pressure.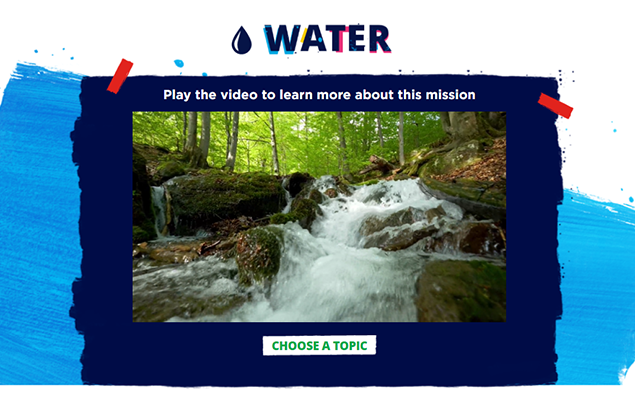 In each Mission, you'll move through a series of incredible videos, amazing facts and fun puzzles, and at the end, you'll earn a badge. Each Mission is full of learning and adventure!
Your Mission Dashboard!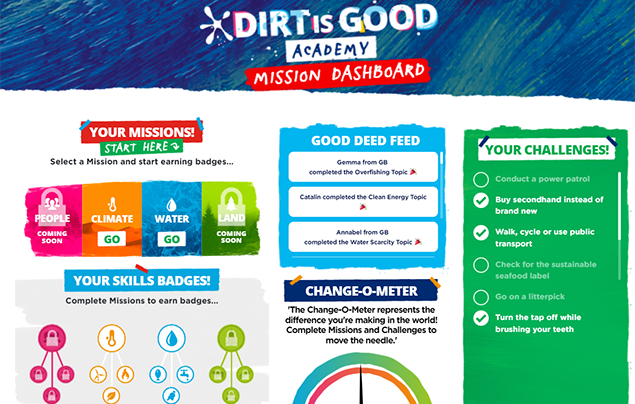 As you move through each Mission, your progress is recorded on your very own Mission Dashboard, so you can see the impact your journey is having! As you move through Topics and Missions, you'll earn Skills Badges, which display proudly on your Dashboard next time you visit.
Plus, you can see the achievements of other Changemakers, too! Each time you complete something new in the Academy, it'll populate in the Dashboard's live 'Good Deed Feed'. Everyone has a role to play in making change, so we hope that you'll feel inspired to keep progressing, by seeing how many other people care, too!
Cool Challenges!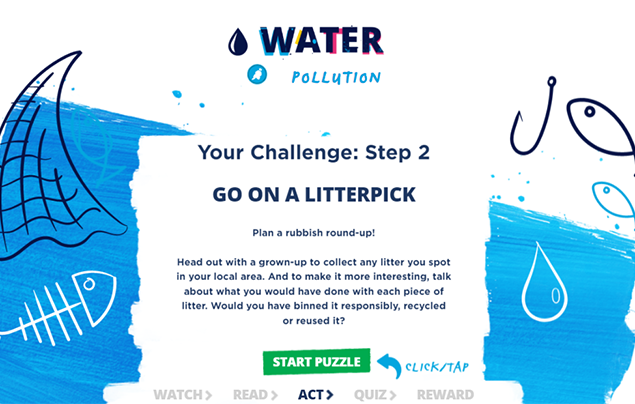 The most important thing you'll discover in the Dirt Is Good Academy, is how to make real-life change!
It's packed full of 'Challenges' for you to take out into the real world. Each one can make a real difference to our planet, by helping you reduce waste, make change, or teach others about the important topics you're learning about.
All of our Challenges can be done with other people, and it's great to work together. So, grab your siblings, your parents, or even your whole family, and take them along for the ride with you!
As you come across these Challenges, they'll be added to a checklist on your Mission Dashboard for you to check-off, later.
We're all in this together!
Everyone has a role to play in the Dirt Is Good Academy! It's a place where Changemakers from all over the world can come together, learn, take action and inspire others to make a difference.
Making positive change takes lots of little actions by lots of people, so it's important to club together!
How do I join the Dirt Is Good Academy?
You'll need to ask your grown-up for permission first, and they'll need to register for an account for you. After that, you'll be free to get started on your Changemaker adventure!
The Dirt Is Good Academy is part of Persil's Dirt Is Good Project, an initiative that supports young people to get stuck in and save the world – even when that job means rolling up your sleeves and getting dirty, like planting trees and litter picking! The Dirt Is Good Project aims to help you take action on the issues you care about through cool content, inspiring people and awesome activities.
More Like General Kids Club