Starling murmuration facts!
Discover some amazing aerial antics…
Is it a bird? Is it a plane? No, it's a starling murmuration! Come on gang, let's learn all about these amazing aerial antics…
What is a murmuration?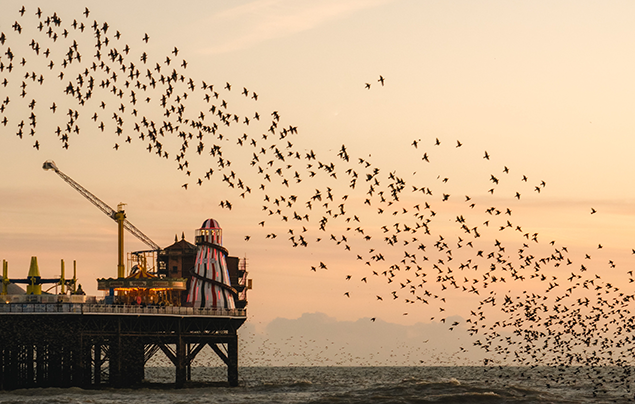 Murmuration isn't just a fun word to say – it's also an incredible natural phenomenon!
Imagine yourself stood out in the countryside, perhaps by a reed bed, near the sea on a large pier, or even on a tall hill in a city. Suddenly, you spot thousands of starlings, all flying together in a whirling, ever-changing pattern. The flock moves together as one, as smooth and fluid as running water. They fly as one huge mass that twists, turns, and changes direction at a moment's notice!
That's what seeing a murmuration is like.
Wait, what's a starling?!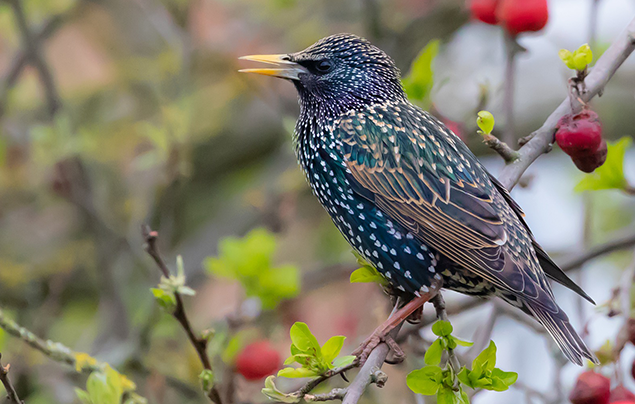 Starlings are small garden birds. They're pretty common, so you might be lucky enough to spot some in your garden, or other local green spaces!
Their plumage looks black from a distance, but if you look closely you'll see that starlings are very glossy birds, with a sheen of purple and green feathers.
These chatty birds spend a lot of their time in flocks, especially around the breeding and nesting seasons, or when they're gathering to roost.
Why do starlings murmurate?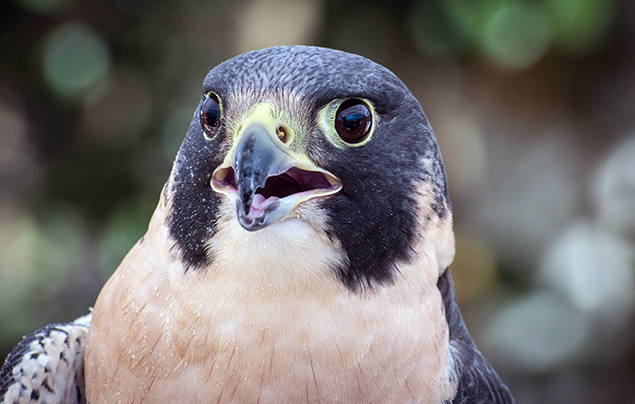 There are a few reasons why birds group together in huge flocks. Firstly, there's safety in numbers. It's much harder for predators like the speedy peregrine falcon to single out a particular bird when they're all flying together.
Even within the murmuration, starlings move around. No one wants to be at the edge of the flock for too long, as this is where they are most vulnerable to predators.
Find out how starlings manage to move around without crashing into each other in our article about flocks!
Starlings also gather together to keep warm and exchange important information – keeping up connections is key when you're a bird!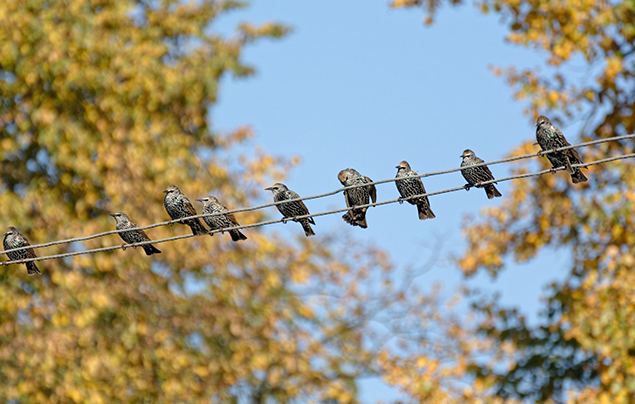 Are starlings the only birds that murmurate?
In short: no! Lots of other birds flock together in groups that are similar to starling murmurations. Plus, other animals like fish show similar swarm behaviours, where big groups come together to protect themselves using the same 'safety in numbers' tactic that starlings do.
However, the term 'murmuration' is used specifically to describe groups of starlings, because of the elegant way that their flocks move, and the beautiful sky art that they accidentally create!
Where and when to see starling murmurations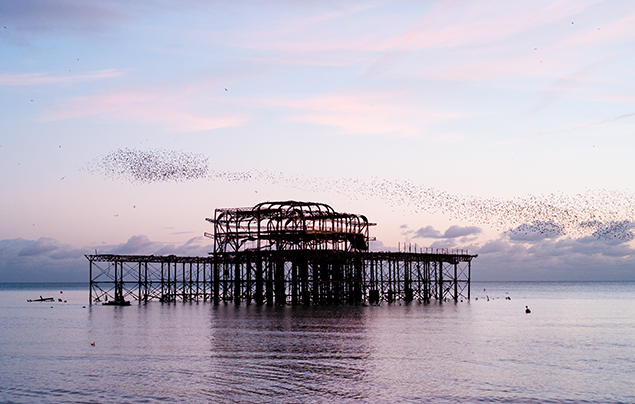 Starlings begin to roost in huge flocks after their spring nesting season is over. More and more birds will gather together as the weeks go on and eventually, the flocks can reach numbers of up to 100,000 birds!
The biggest and most incredible starling murmurations happen in winter, when the birds are roosting in huge numbers. You can sometimes spot smaller murmurations earlier on in autumn, too.
The birds mainly choose to gather in safe and sheltered spots, that aren't affected by harsh weather and which offer some protection from predators. These include woodlands, reed beds, cliffs, buildings, and other industrial structures like piers.
The murmurations will happen over these special gathering places, in the early evening before the birds land and roost for the night.
How can I see a starling murmuration?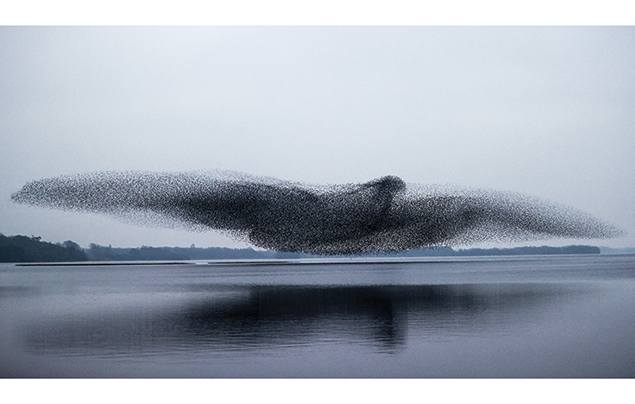 If you spot birds gathering, grab an adult and head out to somewhere with a good view just after the sun goes down. You don't need any special equipment to spot a starling murmuration – just patience! Watch the skies and if you're lucky, you might even spot an amazing murmuration, just like this one!
Thanks to Huey Images, Hamish Duncan, Rhys Kentish, Steve Harvey, Elissar Haidar and James Crombie for the images used in this article.
Have you ever seen a starling murmuration? Let us know by leaving a comment, below!