Russia facts
Learn about the world's largest country!
Prepare for one seriously big trip round one seriously cool country with our fab facts about Russia…
Facts about Russia
Official Name: Russian Federation
Form of Government: Federation
Capital: Moscow
Population: 144, 125, 000
Official Language: Russian
Money: Ruble
Area: 17, 075, 200 square kilometres
Major Mountain ranges: Ural, Altay
Major Rivers: Amur, Irtysh, Lena, Ob, Volga, Yenisey
Russian flag
Map of Russia
Russia: geography and landscape
As the world's largest country, Russia occupies one-tenth of all the land on Earth. It spans 11 time zones across two continents (Europe and Asia) and has shores on three oceans (the Atlantic, Pacific and Arctic Ocean).
The Russian landscape varies from sandy and frozen deserts, tall mountains to giant marshes. Much of Russia is made up of rolling, treeless plains called "steppes". The region of Siberia, which occupies three-quarters of Russia, is dominated by sprawling pine forests called "taigas".
Russia has around 100,000 rivers, including some of the longest and most powerful in the world. It also has many lakes, including Ladoga and Onega (Europe's two largest lakes), and Lake Baikal, which contains more water than any other lake on Earth.
Russia's wildlife and nature
As Russia is so huge, it's no surprise that this incredible country is home to a large number of ecosystems and different species. Its forests, steppes and tundras provide habitat for many rare animals, including Asiatic black bears, snow leopards, polar bears, and small, rabbit-like mammals called pikas.
Russia's first national parks were set up in the 19th century, but decades of unregulated pollution have taken a toll on many of the country's wild places. To help protect and restore the country's natural beauty, strict nature reserves have been established, known as zapovedniks.
Russia's most famous animal species is the Siberian tiger, the largest cat in the world. Indigenous to the forests of eastern Russia, these endangered giants can grow to over 3m long, and weigh up to 300kg. How's that for a big cat?!
Don't forget to check out more amazing tiger facts!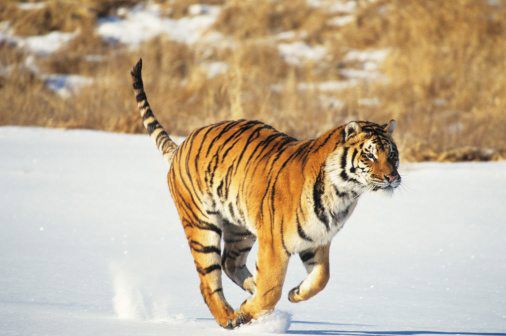 History of Russia
The earliest human settlements in Russia arose around A.D. 500, as Scandinavians moved south to areas around the upper Volga River. These settlers mixed with Slavs from the west and built a fortress that would eventually become the Ukrainian city of Kiev.
Kiev evolved into an empire that ruled most of European Russia for 200 years, then broke up into Ukraine, Belarus and Muscovy. Muscovy's capital, Moscow, remained a small trading post until the 13th century, when Mongol invasions in the south drove people to settle in Moscow.
In the 1550s, Muscovite ruler Ivan IV became Russia's first tsar (Russian emperor) after driving the Mongols out of Kiev and unifying the region. In 1682, Peter the Great became tsar at the age of just ten, and for 42 years he worked to make Russia more modern and more European.
In 1917, Russians, unhappy with their government, overthrew the tsar and formed a new elected government. Just a few months later, however, a communist group called the Bolsheviks seized power. Their leader, Vladimir Lenin, created the Union of Soviet Socialist Republics (U.S.S.R.) from Russia and 11 other countries.
The U.S.S.R. fought on the side of the United States in World War II. But soon after the war ended in 1945, relations between the two powers and their allies became strained, leading to what's known as the Cold War. After decades of conflict, the Cold War ended in 1991 with the break up of the Soviet Union.
Russian people and culture
There are about 120 ethnic groups in Russia who speak more than a hundred languages. Roughly 80 percent of Russians trace their ancestry to the Slavs who settled in the country 1,500 years ago. Other major groups include Tatars, who came with the Mongol invaders, and Ukrainians.
Russia is known all over the world for its thinkers and artists, including writers like Leo Tolstoy and Fyodor Dostoevsky, composers such as Pyotr Ilyich Tchaikovsky, and ballet dancers like Rudolf Nureyev.
Russian economy and government
Russia's history as a democracy is short. The country's first election, which took place in 1917, was quickly reversed by the Bolsheviks, and it wasn't until the 1991 election of Boris Yeltsin that democracy took hold.
Russia is a federation of 86 republics, provinces, territories and districts, all controlled by the government in Moscow. The head of state is a president elected by the people. The economy is based on a vast supply of natural resources, including oil, coal, iron ore, gold and aluminium.What did you make to these cool facts about Russia? Let us know in a comment, below!
What did you make to these cool facts about Russia? Let us know in a comment, below!
Credits
Map of Russia: National Geographic Maps. Smolny Cathedral in St. Petersburg, Russia: Tatiana Savvateeva, Dreamstime. St. Basil's Cathedral in Moscow: Alex83ch, Dreamstime. The Cathedral of the Annunciation in Moscow: Wrangel, Dreamstime. Sunrise over a Russian landscape: Alexey Shulika, Dreamstime. Fog along Russian mountains: Dmitryminin, Dreamstime. All other images: Getty Images UK.