School Strike for Climate!
Young people are taking to the streets to demand urgent action on climate change. Here's how you can get involved…
On the 20th and 27th September, people from over 150 countries around the world are taking part in the Global Climate Strike.
Instead of going to school, work, or going about their usual daily activities, people are taking to the streets to demand urgent action on climate change.
So what are the strikes and how can you get involved? We answer your questions…
Head to ukscn.org to find a strike near you!
When are the School Strikes for Climate?
The next worldwide protests are taking place on Friday 20 September and Friday 27 September. The first takes place just before the UN Climate Action Summit on 23 September so people can send a loud and clear message – politicians must act now!
Why are young people striking?
They don't think that politicians are doing enough to stop the climate crisis, and want to put pressure on them to act.
Inspired by young climate activist, Greta Thunberg, some young people are taking part in the Fridays for Future movement and striking from school every Friday. Others are taking part in the big national or global strikes.
Are the strikes helping?
Yes! The activists are being listened to! And the protests are in the news which means more people are becoming aware of the climate crisis and want to help. But there's only so much that individuals can do. It takes people in power to bring in new laws restricting carbon.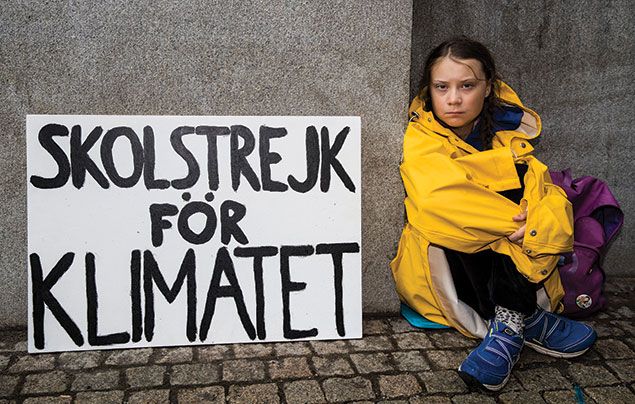 How do I take part and will I get in trouble?
Firstly, and most importantly, get permission from your parents! If they agree, then talk to your school to explain what you're doing and why. Some schools are more supportive than others. It's legal to strike if you have the school's permission.
How can I make the most impact?
Make a sign to let people know why you're striking. Short and snappy slogans work best. If you're on social media, let your friends know about it. And keep it peaceful!
Can grown-ups get involved, too?
Yes! You might not be able persuade them to turn vegan and give up air travel like Greta's parents did, but they can join the strike! As Greta says, "Everybody is welcome, everybody is needed!" Lots of adults are very concerned about the climate, too – you may have heard of another climate action group called Extinction Rebellion who have been supporting the youth movement.
I can't come on the strike, is there anything else I can do?
There are loads of other ways to help. The key to stopping the climate crisis is cutting down carbon emissions. So do everything you can to reduce your own family's impact:
Travel by bike or public transport
Avoid flying
Cut down on meat and dairy
Buy less new stuff
Eat seasonal local food
Reuse and recycle as much as you can
Spread the word!
Are you taking part in a School Strike for Climate? Let us know by leaving a comment, below!