SPONSORED
Lenny's Book of Everything
Get ready for the incredible new book by Karen Foxlee…
Our mother had a dark heart feeling. Lenny's younger brother has a rare form of gigantism and while Lenny's fiercely protective, it isn't always easy being the sister of 'the giant'. A book about finding good in the bad that will break your heart while raising your spirits in the way that only a classic novel can.
Lenny, small and sharp, has a younger brother Davey who won't stop growing–and at seven is as tall as a man. Raised by their mother, they have food and a roof over their heads, but not much else.
The bright spot every week is the arrival of the latest issue of the Burrell's Build-It-at-Home Encyclopedia. Through the encyclopedia, Lenny and Davey experience the wonders of the world–beetles, birds, quasars, quartz–and dream about a life of freedom and adventure. But as Davey's health deteriorates, Lenny realises that some wonders can't be named.
A big-hearted novel about loving and letting go by an award-winning author.
OUT NOW!
Meet the characters!
Lenny, small and sharp, is Davey's older sister. She is obsessed with beetles and wants to be a coleopterist when she grows up.
Davey is Lenny's younger brother and can't stop growing. At age 7 he is as tall as a man. He is filled with joy and goodness, has an imaginary pet eagle Timothy and dreams of running away to Great Bear Lake to build a log cabin.
Cynthia Spink is their mother. She is made entirely of worries and looks after Lenny and Davey on her own. They live in a tiny apartment and life isn't always easy.
Burrell's Build-It-at-Home Encyclopedia is the one bright spot in their week. As each weekly instalment arrives, and Davey continues to grow, the children experience the wonders of the world and the beauty of being alive.
About the author!
Karen Foxlee is an Australian author who writes for both kids and grown-ups. Her first novel The Anatomy of Wings won numerous awards including the Dobbie Award and the Commonwealth Writers' Prize for Best First Book. Ophelia and the Marvellous Boy, Karen's first novel for children, was published internationally to much acclaim while her second novel for younger readers, A Most Magical Girl, won the Readings Children's Fiction Prize in 2017 and was CBCA shortlisted the same year.
Karen lives in South East Queensland with her daughter and several animals, including two wicked parrots, who frequently eat parts of her laptop when she isn't looking. Her passions are her daughter, writing, day-dreaming, baking, running and swimming in the sea.

Q and A with Karen Foxlee!
Did you have an encyclopedia set when you were growing up?
Yes. My parents purchased an encyclopedia set when I was around eight years old. It was a life-changing moment in our household.  It was such a great thing to have all that knowledge at our fingertips.  This was quite a while ago, before Google and the internet! My love of reference books started right there!
What do you love most about encyclopedias?
I think I love that an encyclopedia set tries to place, in alphabetical order, everything that we know about us, the world, the universe!  I also love that some are old and musty and their pages creak when you open them.  If you open up the page of an encyclopedia you can go anywhere.  You can find yourself in ancient Egypt or inspect the wings of a butterfly or explore a map of the moon.
What kinds of things did you like to learn about? Did you have a favourite entry?
I don't think I've ever stopped learning but when I was a kid I can remember loving the pages on clothes through history and birds of the world, as well as being fascinated by the entries on the human body.  I also liked anything to do with history and based many of my stories that I wrote as a kid, on historical events.
Did you ever dream of running away to explore the world like Lenny and Davey did?
Yes, most definitely. Before we went to bed at night my brother and I would promise each other to wake up at midnight to run away together. I can even remember packing my little school bag for the journey.  It wasn't because we had a bad life. We had a great life! We just wanted freedom and adventure.  We never remembered to wake up at midnight though!
Were you very close to a brother or sister when you were growing up like Lenny and Davey are?
Yes, I am the third of four children. I am very close in age to my younger brother.  We always shared a bedroom and talked about all sorts of things to get to sleep: listing alphabetically what we wanted for Christmas, who our favourite cricket players were, where we'd run away to, if blackholes in outer space were real…
Have you explored much of the world?
I have travelled for many years, especially when I was in my twenties, and seen many places and had many adventures all over the world.   Now I travel with my ten-year old daughter and we have lots of fun planning our next journey.
Why is Lenny so obsessed with beetles?
As an author I think I gave Lenny an obsession with something that I'm quite fond of.  I really like the insect world and in particular the amazing beetle world, from plain to dazzling.  Lenny loves the amazing diversity of beetles and she wants to find out everything she can about them.
Was there a reason Davey's imaginary pet was a golden eagle?
I think the golden eagle just sums up Davey perfectly. The golden eagle is a symbol, I guess, for his strength and his optimism and, mostly, his goodness.  Everyone who met him was glad to know him.
Did you have an imaginary pet when you were growing up?
No.  But I had an imaginary friend, called Catherine, who came out of the pages of a book when I clicked my fingers three times.
Did you want Lenny and Davey to make it to Great Bear Lake?
Yes, more than anything.  Maybe not through running away, but later in their lives, if things had turned out differently.  I think Great Bear Lake is a symbol not only of Lenny and Davey's dreams but of how much they love each other.  It's their place and, somehow, I kind of think they both made it there in their hearts.
Do you have a favourite part in the book?
I think I have too many favourite parts to list, probably the encyclopedia and everything in it, but I also love Mrs Gaspar and her dreams. I also really loved writing about Great Aunt Em.
Who is your favourite character and why?
I love both Lenny and Davey.  Perhaps though, because I write in Lenny's voice, I love her the most.  I love her thoughts on the world, her feelings, her curiousity, her sadness and her strength. I also love her sense of humour.
What was your favourite book as a child?
I had so many favourite books as a child.  I think I loved anything that had an adventure in it; from fairy tales like The Snow Queen to Frank M Baum's Wizard of Oz books to The Neverending Story by Michael Ende.
Read an extract from the book…
Click on the book below to read the first 35 pages of this awesome read!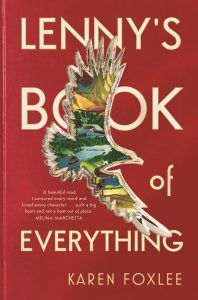 Watch reviews of Lenny's Book of Everything by other kids…
Win a copy of this incredible book: Design the front cover of Burrell's Build-It-at-Home Encyclopedia!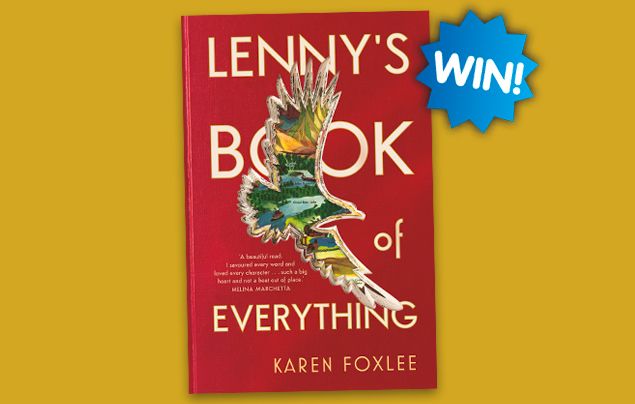 WIN! We have FIVE copies of Lenny's Book of Everything up for grabs. Enter the competition HERE!
For more about this amazing new read, and for more fab children's books, flick over to allenandunwin.com!
OUT NOW!