Nelson Mandela primary resource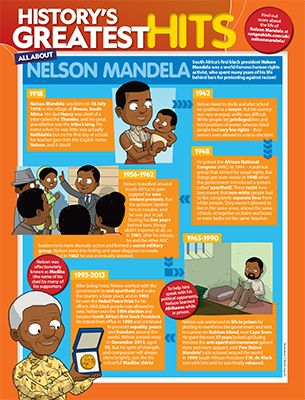 This history primary resource introduces children to one of the world's most famous human rights activists, Nelson Mandela. Discover how Nelson dedicated his life to the struggle against racism and discrimination. How did Nelson strive for equality? When and why was he arrested? What awards did Nelson Mandela receive? How is he remembered?
Pupils will learn about the key events of Nelson Mandela's life, and how he helped change the lives of millions of South Africans, in our National Geographic Kids' History primary resource sheet.
Download the resource at the bottom of this page, together with a stimulus sheet featuring ideas for study group tasks and classroom activities!
N.B. The following information for mapping the resource documents to the school curriculum is specifically tailored to the English National Curriculum and Scottish Curriculum for Excellence. We are currently working to bring specifically tailored curriculum resource links for our other territories; including South Africa, Australia and New Zealand. If you have any queries about our upcoming curriculum resource links, please email: schools@ngkids.co.uk
This History primary resource assists with teaching the following History objectives from the National Curriculum: 
Gain historical perspective by placing their growing knowledge into different contexts, understanding the connections between local, regional, national and international history; between cultural, economic, military, political, religious and social history; and between short- and long-term timescales.
National Curriculum Key Stage 1 History objective:
Pupils should be taught: the lives of significant individuals in the past who have contributed to national and international achievements. Some should be used to compare aspects of life in different periods [for example, Elizabeth I and Queen Victoria, Christopher Columbus and Neil Armstrong, William Caxton and Tim Berners-Lee, Pieter Bruegel the Elder and LS Lowry, Rosa Parks and Emily Davison, Mary Seacole and/or Florence Nightingale and Edith Cavell]
This History primary resource assists with teaching the following Social Studies Second level objective from the Scottish Curriculum for Excellence:
I can discuss why people and events from a particular time in the past were important, placing them within a historical sequence
I can compare and contrast a society in the past with my own and contribute to a discussion of the similarities and differences
This British values primary resource assists with promoting fundamental British values as part of SMSC (spiritual, moral, social and cultural development) in schools using the following OFSTED assessment criteria:
Through their provision of SMSC, schools should:
Enable students to develop their self-knowledge, self-esteem and self-confidence;
Enable students to distinguish right from wrong and to respect the civil and criminal law of England;
Encourage students to accept responsibility for their behaviour, show initiative, and to understand how they can contribute positively to the lives of those living and working in the locality of the school and to society more widely;
Further tolerance and harmony between different cultural traditions by enabling students to acquire an appreciation of and respect for their own and other cultures; 
Encourage respect for other people
Download primary resource
Oops! You'll need to sign up to access our primary resources. Registering is quick, easy and free!
SIGN IN TO DOWNLOAD
or Register here
Thanks for registering, you're now free to explore our site.