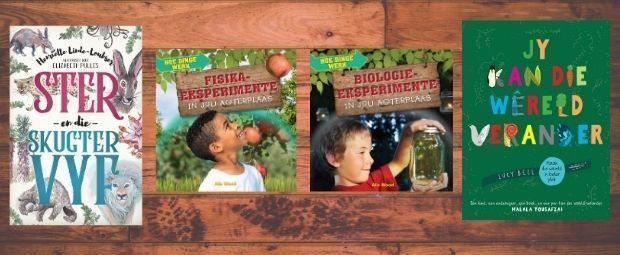 Wen dié lekker stories op Wêreldboekedag!
Competition closes at 23:59 on
25 April 2021
Vier Wêreldboekedag op 23 April en wen wonderlike boeke!
Daar is soveel opwindende en interessante boeke, jy kan elke dag 'n boekedag maak!
Ster en die skugter vyf deur Henriëtte Linde-Loubser
Ster bly by haar broer en sy vrou op 'n plaas. Een nag word sy wakker en sien 'n erdvark langs haar bed. Hy neem haar saam vir  'n nag van snuffel en ontdek. Die dier wil haar die skugter vyf wys: dis die erdvark, oewerkonyn, Kaapse luiperd, ietermagô en wit leeu.
Na elke storie is daar feite oor elkeen van die diere, soos byvoorbeeld dat die oewerkonyn die mees bedreigde soogdier in Afrika is.
Hoe dinge werk: Fisika-eksperimente in jou agterplaas deur Alix Wood
Fisika is die studie van materie en energie en hoe hulle op mekaar inwerk. Ons gebruik fisika om dinge in die natuurlike wêreld te leer verstaan. Dié interaktiewe boek wys jou stap vir stap hoe om experimente te doen wat fisika verstaanbaar maak. Dis ook groot pret!
Maak 'n eiervalskerm, sit op 'n papierstoel, bou 'n vuurpyl… Jy sal gou slim raak oor die dinge soos swaartekrag, lugweerstand en statiese elektrisiteit!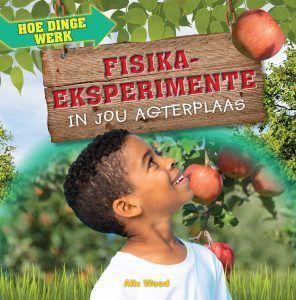 Hoe dinge werk: Biologie-eksperimente in jou agterplaas deur Alix Wood
Daar is lewe oral om ons – selfs in die agterplaas. Dié lekker interaktiewe boek stel jou aan biologie bekend met eksperimente wat jy self kan doen. Elke projek word stap vir stap en met volkleurfoto's verduidelik. In die kantlyn word die wetenskap agter elke eksperiment verduidelik.
Maak 'n eier wat hop, kweek bakterieë, keer dat 'n gesnyde appel bruin word… As jy oor dinge soos swamme nuuskerig is of wil sien hoe jou longe werk, is jy op die regte plek!

Jy kan die wêreld verander deur Lucy Bell
Kinders wêreldwyd wie die aarde'n veiliger, gelukkiger plek maak. Jy wil ook mos, of hoe? Ons sien elke dag 'n probleem wat ons graag sou wou oplos. 'n Hawelose mens in die ysige koue. Rommel in 'n park, plastiekbottels op die strand, 'n maer rondloperhond. Wat kan jy daaraan doen?
Dié boek is 'n gids met inligting, idees en aktiwiteite wat jou sal help om 'n verskil te maak Dis ook vol stories oor kinders wat jou sal inspireer!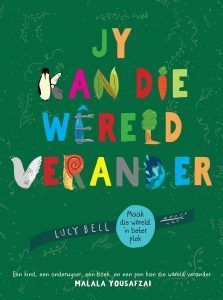 Besoek www.nb.co.za
WEN 'N GESKENKPAKKIE VIR WÊRELDBOEKEDAG!
DRIE GELUKKIGE LESERS sal 'n eksemplaar van al vier boeke WEN!
You'll need to sign in to enter our competitions! If you aren't already registered with us, click the 'register here' link below and enter your parent or guardian's email address. Get an adult to help you, if you're stuck!
By entering our competitions you agree to the terms set out in our Privacy Policy and our competition terms and conditions.
SIGN IN TO TAKE PART
or Register here
Thanks for registering, you're now free to explore our site.