SPONSORED
Celebrate Easter at Spur!
And check out their free Easter Holiday Guide…
Take a family trip to Spur this Easter and discover a world of fun!
Spur is perfect for young adventurers. With an awesome play area, a kids' club packed with fun activities and a tasty menu just for kids – yum – there's loads to see and do!
Easter antics!
Eggs-cited about Easter?! The Spur Easter Holiday Guide is packed full of fun activities for kids! Decorate Ninja Turtle eggs, get arty with autumn leaves, make your own bunny cupcakes for Easter, and more!
You can get your hands on the Spur Easter Holiday Guide in the April issue of National Geographic Kids magazine – out now!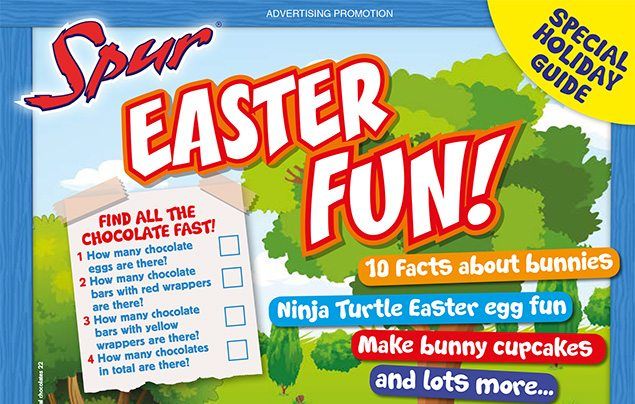 Birthday bonanza!
Spur throw brilliant birthday parties! Get a parent or guardian to help you follow these 3 easy steps to set up your party:
1. Join the club
Register for the Secret Tribe Club at spurtribe.co.za and you'll get access to awesome activities and competitions, plus you'll receive a birthday meal voucher every year on your birthday!*
2. Plan and book
Ask your parents to make a booking by calling your nearest Spur. Don't forget to enquire if your Spur offers themed parties! Then have fun creating and sending out our your free online invitations at spurtribe.co.za/birthdays/.
3. Celebrate and enjoy!
The Spur Play Canyon is a fun and safe area that will keep you and your friends entertained for hours! You can also enjoy a delicious Kids' Birthday Combo Meal for only R69.90 (a Kids' Meal PLUS a soda/fruit juice, a soft serve and a "Spur Birthday Surprise"), a special Spur birthday song and FREE activity sheets and masks. What's more? The birthday boy or girl also receives an awesome headdress to wear – cool!
*Ts & Cs apply.
More Like General Kids Club