The life of Alan Turing
Find out about this extraordinary mathematician…
This amazing mathematician's code-cracking skills saved thousands of lives, and now he's featuring on the UK's new £50 note! Learning hats on, gang, let's check out some awesome Alan Turing facts…
Alan Turing facts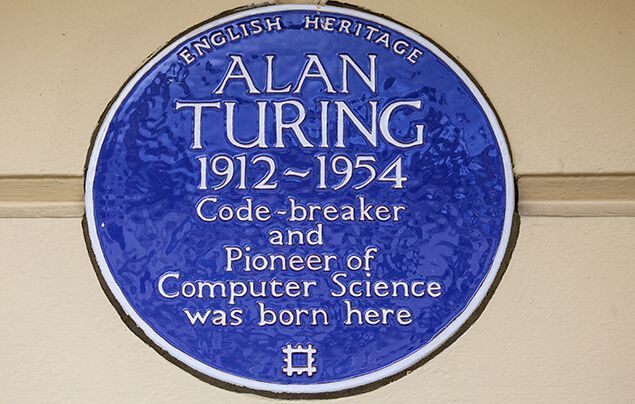 Who was Alan Turing?
Full name: Alan Mathison Turing
Born: 23rd June 1912
Hometown: London, England.
Occupation: Mathematician.
Died: 7th June 1954
Best known for: Creating machines that helped crack the Enigma code, and laying the foundations for modern computers and artificial intelligence!
Early life.
Alan was born in London, England, in 1912. He was a super smart kid – in fact, his teachers thought he was a genius! The trouble was, that his boarding school in Dorset mostly taught classics (ancient languages and literature) and Alan found these really dull.
Instead, Alan loved maths. He spent most of his time at school solving complex chess problems and learning advanced science all on his own.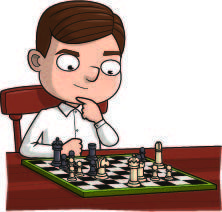 When he was 16, Alan formed a very close friendship with a fellow pupil called Christopher. He inspired Alan to come out of his shell and work harder at school.
When Christopher tragically died a couple of years later, Alan was determined to honour his memory by devoting himself to study. So, in 1931, he headed to King's College, University of Cambridge, to study maths. Shortly after, in 1936, he moved to Princeton University in the USA to complete a PhD.
Alan took up long-distance running while he was at university – a hobby that almost led to him competing for Britain in the 1948 Olympics. Wow!
The Turing Machine.
At Princeton, Alan developed one of his most famous ideas – a universal computing machine (later called a Turing machine) that would be able to decode and perform any set of instructions.
During Alan's lifetime, the machine remained just a theory and was never actually built – but his ideas laid the groundwork for modern computing, which has transformed the world we live in!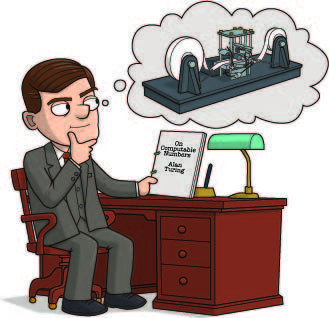 Code-breaking brilliance.
In 1939, World War II began, and Alan joined the British government's top-secret code-breaking department at Bletchley Park, Milton Keynes.
The Nazis had been using a system of scrambled messages called the Enigma Code to communicate military information. Decoding these messages could give the British a huge boost in the war efforts, as they'd get to find out what their enemies were planning!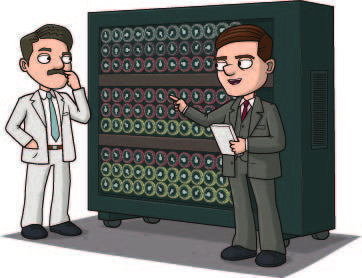 So, Alan and fellow mathematician Gordon Welchman invented an incredible new machine called the Bombe. In total, 211 of these machines were made, and they were vital in helping codebreakers crack the Enigma code.
This gave Britain and its allies a huge advantage! By 1945, they had won the war. It's estimated that the codebreakers' efforts saved many thousands of lives!
Later life.
Alan was awarded an OBE by King George VI for his services to the country in World War II. From then on, he became very busy!
In 1946, he produced a design for the first electronic computer – the Automatic Computing Engine (ACE). Later, in 1950, he also published a scientific paper called Computing Machinery and Intelligence. In this paper, Alan asked the question of whether computers would one day be able to think, and he designed a method for judging artificial intelligence.
Alan referred to this method as the 'imitation game'. It was later named the 'Turing test', and became hugely important to computer science!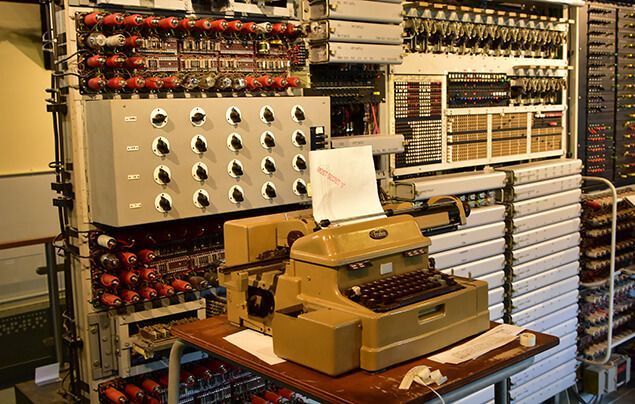 Tragic times.
During Alan's lifetime it was illegal to be gay in the UK, and in 1952 he was convicted for having a relationship with a man. Rather than go to prison for his 'crimes', Alan agreed to have a medical treatment designed to take away his romantic desires. Sadly, his criminal record also meant that Alan lost his job.
As a result, Alan became depressed, and sadly died in 1954. Thankfully, this homophobic law was abolished in 1967, and Alan received a Royal Pardon in 2013.
Face of £50!
Now, to honour this remarkable man, who helped speed up the end of the war and whose work led to the technology we all use today, Alan is shown on the new £50 note.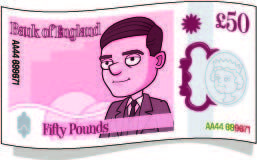 Illustrations by Marek Jagucki.
What do you think of our Alan Turing facts? Let us know in the comments!
More Like General History