Addy's mission to save gorillas!
Meet the 11-year-old girl raising awareness for great apes…
Eleven-year-old Addy is helping to save gorillas — and she needs your help!
After reading a book about endangered mountain gorillas, Addy began launching fundraising events and internet campaigns to raise money and spread the word about the threats facing gorillas.
Addy's latest project – #GorillaHi5 – encourages gorilla lovers from around the world to share a selfie giving an 'air high-five', showing support for these awesome apes!
So far she's collected nearly 30 selfies from 15 different countries — amazing!
Gorillas in trouble!
It's thought that there are only 1,000 mountain gorillas left in the wild, due to habitat loss, poaching, and diseases passed on by humans.
We share a whopping 98% of our DNA with the majestic mountain gorilla, which means that many of the diseases that humans carry can easily pass on to gorillas — who haven't built up the necessary immunity to protect themselves from these illnesses.
Find out more about these awesome apes with our 10 great gorilla facts!
"I want to get other kids as excited about gorillas and conservation as I am," said Addy.
"It's been really cool to connect with other conservationists. I've met other young people trying to make a difference in climate change and animal conservation and it makes me even more confident in what I'm doing."
Fabulous fundraising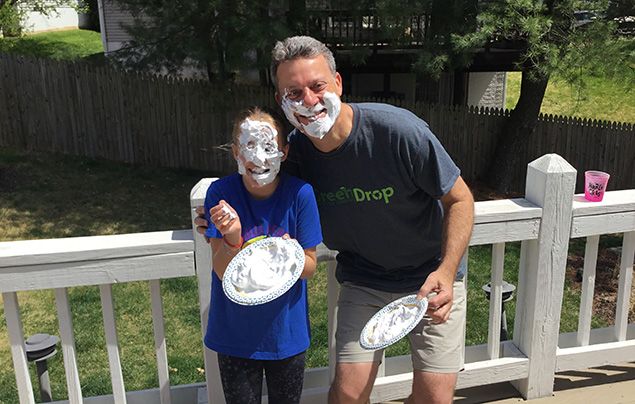 Addy has made posters and t-shirts, sold lemonade and donated all of the funds to gorilla conservation groups. She's even created her own blog, Gorilla Heroes.
Addy also started the '#GorillaPie Challenge' for World Gorilla Day — the idea being that you get nominated, get "pied," make a donation, then nominate others!
She's even hosted a Gorilla Gala with gorilla-themed games, crafts, a raffle, and a gorilla relay race — raising over £700!
Keep up the good work, Addy!
Have you done any fundraising for wildlife? Let us know by leaving a comment below!
More Like General Kids Club