SPONSORED
Have an icy adventure in Sky Song!
Join us as we head into the snowy kingdom of Erkenwald…
Ready for an icy adventure, gang? Wrap up warm as we explore the brrr-illiant new tale, Sky Song, by Abi Elphinstone!
What's Sky Song about?
In the snowy kingdom of Erkenwald, whales glide between icebergs, wolves hunt on the tundra and polar bears roam the glaciers. But the people of this land aren't so easy to find. Because Erkenwald is ruled by the cruel Ice Queen and the tribes must stay hidden; if they are caught in the open they risk capture and imprisonment by the evil sorceress.
Join Eska, a girl who breaks free from a cursed music box, and Flint, a boy whose inventions could change the fate of Erkenwald forever, as they journey to the Never Cliffs and beyond in search of an ancient, almost forgotten, song with the power to force the Ice Queen back. This is a story about an eagle huntress, an inventor and an organ made of icicles. But it is also a story about belonging, even at the very edges of our world…
Awesome author!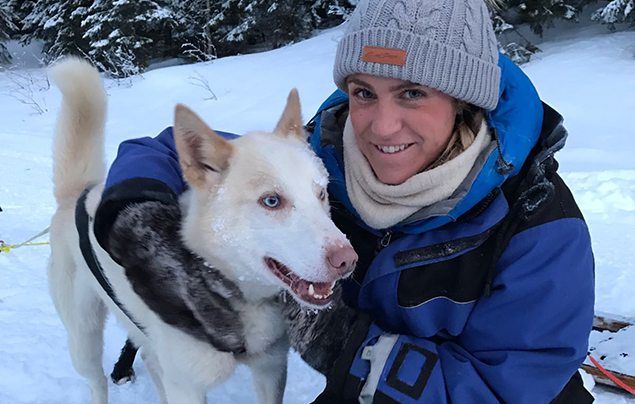 An intrepid explorer, Abi Elphinstone grew up in the wilds of Scotland where she built dens, hid in tree houses, swam in icy rivers and ran wild across highland glens! Her adventurous spirit translates into her thrilling stories. Here she is meeting an Alaskan husky – cool!
Meet the ice-cool characters!
Eska
Locked in a cursed magic box by the evil Ice Queen, Eska was made to dance in her frozen palace and had all of her memories stolen. When she finally breaks free, she hopes to discover who she truly is and where she really belongs.
Flint
Part of the Fur Tribe, Flint has a sled, a pack of huskies and one or two magical inventions up his sleeve! With the help of his Anything Knife and Camouflage Cape can he sneak past the Tusk guards and the Ice Queen's spells to set things right?
Pebble
Pebble is an Arctic fox pup who likes nothing more than to stay curled up inside Flint's hood! The rest of Pebble's time is spent eating (he's very greedy) and burping!
Win!
Can't wait to get your hands on a copy? You're in luck! We're giving away five copies of this brilliant new book. Just follow the link below!
Click here to enter the competition!
Sky Song is out now!
Cover illustration © Daniela Terrazzini