SPONSORED
A RIGHT ROYAL READ!
Hold onto your carrots, the third book in The Royal Rabbits of London series is here, and it's the rabbits' biggest adventure yet!
In The Royal Rabbits of London: The Great Diamond Chase, the biggest, most beautiful diamond in the world is stolen from Buckingham Palace.
Nobody knows how the sneaky thief managed to nab the Siberian Diamond from right under the Queen's nose – but Shylo and the brave Royal Rabbits of London will do whatever it takes to solve the case, and return the jewel to its rightful place.
It turns out Russia's sharp-toothed secret-agent minks are in town, could they have had anything to do with the theft? Or will the Royal Rabbits discover a different culprit?
One thing's for sure – the rabbits soon realise nothing is quite what it seems, and they might need help from an old friend to solve this mystery.
Find out what happens in this brilliant new book by Santa Montefiore and Simon Sebag Montefiore!
Meet the bunnies

Zeno
Zeno is a hopster, a super breed of giant rabbits. the Marshall of the Thumpers (a team of special forces commando rabbits), Zeno is muscly, brave and very fierce.
Shylo
Shylo used to be a weak, feeble country rabbit , but he's learned to become a very brave bunny indeed. He loves reading and is extremely curious about the world.
Nelson
Nelson is the Generalissimo, the head of Royal Rabbits. Old, wise, honest and kind, he lives in the Grand Burrow underneath Buckingham Palace. 
Captain Laser
Captain Laser is a cool rabbit who has an American flag  painted on her arms. Fearless but impatient, she carries a rope,
whip, and bow and arrow.
Belle De Paw
Belle De Paw is a very flamboyant French rabbit. She wears  flinch dresses but has a weakness for gems – often stealing the odd sparkly jewel from the Queen's bedroom.
WIN! Want to scoop a hardback copy of The Great Diamond Chase, along with paperback copies of the first two Royal Rabbits of London books? Then enter the competition here.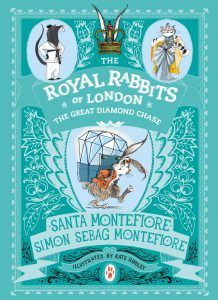 The Royal Rabbits of London: The Great Diamond Chase is out now – available online and from all good bookshops!
Find out more at theroyalrabbitsoflondon.co.uk
Illustrations © Kate Hindley