SPONSORED
Goosebumps 2: Haunted Halloween!
Get set for this season's spookily good halloween adventure movie, Goosebumps 2: Haunted Halloween!
Get ready for a spooky halloween adventure with Goosebumps 2: Haunted Halloween – in cinemas now!

What's Goosebumps 2: Haunted Halloween about?
Based on R.L. Stine's 400-million-selling series of books, Goosebumps 2: Haunted Halloween, follows the Quinn family – Sarah, her younger brother Sonny and their mother Kathy into an entirely new set of spooky, exciting, and funny events.
Sonny and schoolmate Sam are best friends with a side job as the 'Junk Brothers,' collecting discarded stuff other people don't want. But unfortunately it leads them to Slappy – the mischievous ventriloquist dummy from an unpublished Goosebumps book! At first, Slappy seems to want nothing more than to be part of the Quinn family, but eventually he kidnaps Kathy and brings all of his Halloween friends back to life!
Then what?
As Halloween transforms their sleepy town into a full-on monster mash-up, including freaky creatures like giant gummy bears and creepy garden gnomes, Sarah, the boys and neighbour Mr Chu team up to save Kathy and the town from Slappy's wicked plan.
In cinemas now!
Meet the characters!
Sarah: Sarah's very smart and is in the process of applying to Columbia University. As part of the application process, she is writing an essay on overcoming fear… and she's about to get inspired in ways she never expected when the creatures from R.L. Stine's imagination come to life once again.
Sonny: Sonny is brilliant at science and naturally curious. He's particularly interested in Tesla and the experiments he conducted in an abandoned lab in their hometown on Long Island. But curiosity killed the cat… and Sonny's own natural curiosity could do the same for him!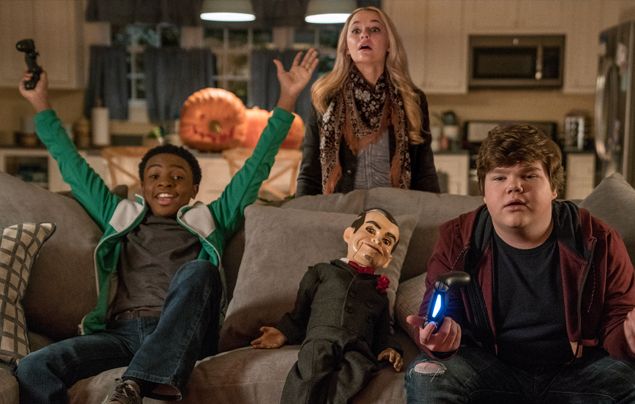 Sam: Sam is Sonny's best friend – he has an entrepreneurial streak, and with Sonny, they spend their free time trying to run a junk clearing business (Junk Brothers) where they remove other people's junk in the hopes of discovering valuable treasure. When they discover the old books in the decrepit Stine mansion, one man's treasure becomes a whole town's nightmare as Halloween comes to life.
Kathy: Kathy is Sarah and Sonny's mum, who at first doesn't understand the very real dangers that Slappy has begun to unleash…
Mr. Chu: Mr. Chu is Sonny and Sam's neighbour – who goes a little overboard with his Halloween decorations.
Tommy Madigan: Tommy is the school bully – quick to get in Sonny and Sam's faces.
Slappy: Slappy is the ventriloquist's dummy from R. L. Stine's imagination. As he comes to life, he orchestrates a plan to bring the mischief of Halloween to life – unless the heroic trio of kids can get him back in the books where he belongs.
Walter: Walter is the handsome manager at the local drugstore. He and Kathy clearly have a thing… and he will be embroiled in Slappy's chaos.
Meet the monsters!

Slappy's Monster Squad includes a Banshee; Goblins with faces painted in bright blues, purples, and greens to make their skin tone look as though it were glowing; the Zombie Pirate; the Skeleton Bride and Groom; the Alien, which is painted in a traditional grey but with a slimy coating; the Grim Reaper; the Trolls; the Hanging Bat; a vampire; the Headless Horseman, who rides into town in a historically accurate costume on an actual horse; the Panther; and the Day of the Dead Ladies, who are first seen as lawn decorations.
Also making eerie appearances alongside the mummies are R.L. Stine's other original creations in his books: the Scarecrows from The Scarecrow Walks at Midnight; the pulse-quickening pumpkin from Attack of the Jack O'Lanterns; the yelp-inducing yeti from The Abominable Snowman of Pasadena, the hairy menace from The Werewolf of Fever Swamp; and those front yard frightsters from The Gnomes from Revenge of the Gnomes.
Watch the trailer!
See Goosebumps 2: Haunted Halloween in cinemas 25 October!
Win!
Ten lucky winners will score a family pass for four to see Goosebumps 2: Haunted Halloween. This competition has now closed.
GOOSEBUMPS ™ Scholastic. Movie ©2018 CPII. All Rights Reserved.