Alexander the Great Primary Resource
Get the lowdown on this legendary ruler…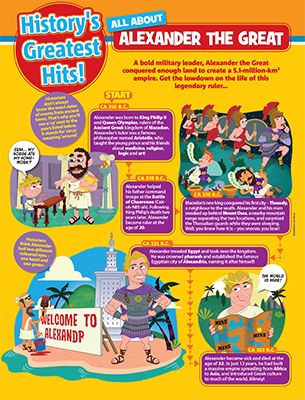 This history primary resource introduces pupils to Alexander the Great. Learn all about the life of this legendary military leader. When was Alexander the Great born? When did he become the king of Macedon? What cities and kingdoms did he conquer?
In our National Geographic Kids primary resource sheet, pupils will discover the significant events that occurred during Alexander the Great's lifetime, and learn about the vast empire he built stretching from Africa to Asia.
Download the resource at the bottom of this page, together with a stimulus sheet featuring ideas for study group tasks and classroom activities!
N.B. The following information for mapping the resource documents to the school curriculum is specifically tailored to the English National Curriculum and Scottish Curriculum for Excellence. We are currently working to bring specifically tailored curriculum resource links for our other territories; including South Africa, Australia and New Zealand. If you have any queries about our upcoming curriculum resource links, please email: schools@ngkids.co.uk

This History primary resource assists with teaching the following History objectives from the National Curriculum:
Know and understand significant aspects of the history of the wider world: the nature of ancient civilisations; the expansion and dissolution of empires; characteristic features of past non-European societies; achievements and follies of mankind. 
National Curriculum Key Stage 2 History objective:
Pupils should be taught about: the achievements of the earliest civilisations – an overview of where and when the first civilisations appeared and a depth study of one of the following: Ancient Sumer; The Indus Valley; Ancient Egypt; The Shang Dynasty of Ancient China
Pupils should be taught about: Ancient Greece – a study of Greek life and achievements and their influence on the western world

This History primary resource assists with teaching the following Social Studies First level objective from the Scottish Curriculum for Excellence:
Having selected a significant individual from the past, I can contribute to a discussion on the influence of their actions, then and since
Scottish Curriculum for Excellence Second level Social Studies objective:
I can discuss why people and events from a particular time in the past were important, placing them within a historical sequence.
I can compare and contrast a society in the past with my own and contribute to a discussion of the similarities and differences
Download primary resource