SPONSORED
AMAZING AUTUMN READS!
Kick your brain into action this autumn with these three awesome National Geographic Kids books!
As the leaves start to fall and the temperature begins to drop, what better way to spend your time than to cosy up with some brain-boggling National Geographic Kids books?
WEIRD BUT TRUE! 2022
Fill your brain with jaw-dropping, eye-popping, brain-bending facts in Weird But True 2022.
The latest issue of this bulging book features all-new facts, plus four brand-new chapters, exploring animals, geography, science, the environment, human achievement and lots more. Wow!
Discover the planet's weirdest facts with the coolest and strangest true stories – from odd rocks and baffling bridges to animal astronauts, ice marathons and awesome avocados. The pages are bursting with bright, bold photography, too, so whether it's weird words, foul food, yucky creatures, or the world's longest mazes, you won't be able to tear yourself away from this fascinating 2022 annual.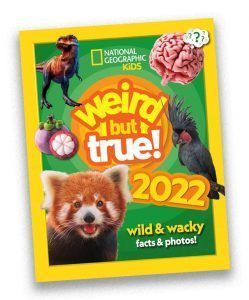 Weird but True! 2022 is available here
ANIMAL RIDDLES BOOK
My fur is black and white. I spray my enemies with a very smelly liquid. What am I? and I'm the world's fastest land animal. I can't climb trees. What am I? – the Animals Riddle Book is packed with over 300 of these brain-teasing riddles that will have all your family and family and friends scratching their heads!
Complete with laugh out loud jokes, tricky teasers and tons of colourful photos too, it's sure to keep animal fans of all ages entertained!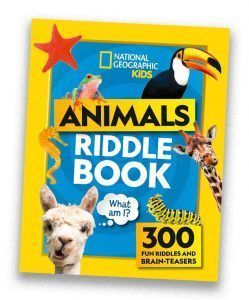 Animals Riddle book is available here
BIG PUZZLE BOOK
Do you think you're a bit of a brainbox? Reckon you know everything there is to know about animals, science, space, the world in general? Well, put your knowledge to the test with this ultimate Big Puzzle Book. It's bursting with fact-packed puzzles to give you hours of fun including more than 250 themed wordsearches, sudokus, crosswords, quizzes, spot the difference and mazes. How cool is that?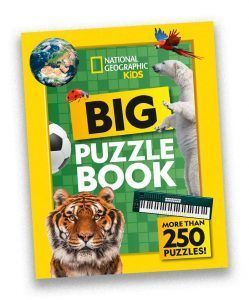 Big Puzzle Book is available here
FIVE FAB FACTS
These three books are packed with brain-boggling facts that'll amaze and astonish your loved ones. Here are five of our favourites…
1. Scientists predict that the wreck of the titanic could disappear by 2030 due to bacteria eating it!
2. Sloths rarely climb down to the forest floor. They'll usually climb down once a week to poop!
3. There are 26 billion chicken in the world. That's three times the amount of humans.
4. The largest living organism ever discovered is a mushroom!
5. It would take 1.4 trillion years to go through every possible combination of a Rubik's Cube if you turned it once a second. If you started at the time of the Big Bang, you still wouldn't be finished!
WIN ALL THREE NAT GEO KIDS BOOKS!
We're giving FIVE winners the chance to get their hands on all three of these fabulous books. Click here to find out how to enter!