SPONSORED
The Girl, the Dog and the Writer in Provence
Get ready for the brilliant new book by Katrina Nannestad…
Provence in France is the location for Freja, Tobias and Finnegan's all-new adventure through the countryside…
When Freja and Tobias arrive in Claviers, Provence, it feels like home. The hilltop village is surrounded by olive groves, lavender fields and drifts of red poppies. The market square hides a world-famous pâtisserie and an antique merry-go-round. Pippin, their precocious young neighbour, and Vivi, the beautiful chef, fill their lives with chatter and laughter and love.
For a moment, the girl, the dog and the writer are happy.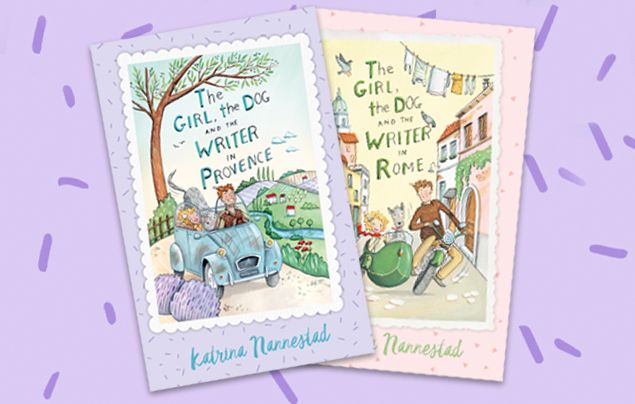 But a spate of criminal activity casts a cloud over the village. Freja is determined to solve the mystery and uncover the villain, but the closer she gets, the more impossible things seem to become…
The Nat Geo Kids team love this book! In particular, we are huge fans of Freja – she is one cool, adventurous and independent character. We also got hooked on the mysteries. They are truly addictive. 
The Girl, the Writer and the Dog in Provence by Katrina Nannestad is OUT NOW!
Fast fun facts about Provence!
Although most inhabitants speak French, Provencal is the traditional language of this Mediterranean region. It is similar to Catalan or Spanish. Many street names and signs are in both French and Provencal.
The three-week annual Festival d'Avignon in Avignon, Provence is one of the world's great performing-arts festivals. Over 40 international works of dance and drama play to 100,000-plus spectators at venues around town.
Famous people of Provence!
Michel de Notredame, better known simply as Nostradamus, was born in St Remy-de-Provence in 1503. A physician, a poet, a royal astrologer, Nostradamus is best known as a predictor of the future!

The famous painter, Paul Cézanne was born 19 January 1839 in Aix-en-Provence and died 22 October 1906 in Aix-en-Provence.
Did you know…?
This is the second book in a series about family, friendship and finding yourself. Don't miss The Girl, the Dog and the Writer in Rome, also by the award-winning Australian author Katrina Nannestad.
Win!
We have THREE copies of The Girl, the Dog and the Writer in Provence up for grabs. Enter the competition HERE!
For more about this top new read, and for more fab children's books, flick over to harpercollins.com.au!