Jaguar facts
They're fierce, fast and fur-ocious…
Check out these magnificent cats in our 10 fab jaguar facts!
Jaguar facts
1. Jaguars are the largest of South America's big cats and the third largest cats in the world.
2. At one time jaguars roamed all the way to the US-Mexico border, but jaguars are now only occasionally sighted in Texas and Arizona. Most jaguars are found in the Amazon river basin.
---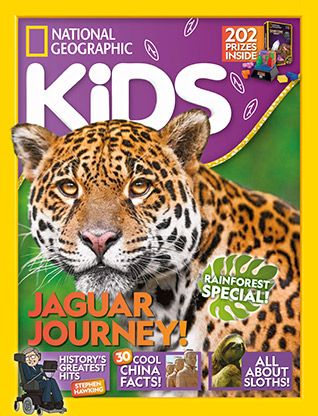 Love animals? You'd love our magazine!
Ask your parents to check out Nat Geo Kids magazine!
(AD)
---
3. The name jaguar comes from the Native American word yaguar, which means 'he who kills with one leap'.
4. Their fur is usually tan or orange with black spots, called "rosettes" because they are shaped like roses.
5. Jaguars live alone and mark their territory with their waste or by clawing trees.
6. The jaguar's scientific name is Panthera onca.
7. Jaguars are mammals. They are carnivores and eat a diet rich in meat and fish.
8. They can live to be 12 to 15 years old in the wild.
9. Adult jaguars weigh between 45 to 113 kilograms.
10. From the tip of their nose to the tip of their tail, a jaguar can be 240cm long.
Want to learn about other roar-some cats? Then take a look at our lion facts, tiger facts, cheetah facts, leopard facts, Eurasian lynx facts and more!
Images: Jaguar closeup, Mikelane45 (Dreamstime). Jaguar on branch, Tom Brakefield.
Love our jaguar facts feature? Let us know by leaving a comment, below!