10 wacky walrus facts!
Discover these massive marine mammals of the Arctic…
There's much more to these big, blubbery beach-hoggers than meets the eye! So come on gang, let's discover some wonderful walrus facts…
Walrus facts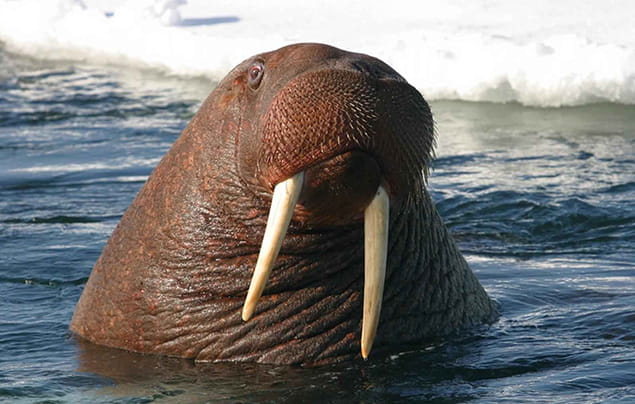 1. There are two sub-species of walrus
Walruses can be found in the far north of our planet. They live in the Arctic – a vast wilderness of snow, ice, and sea.
The Arctic landscape is so large and varied, that walruses that live there have developed slightly different characteristics, in order to adapt to the particular part they live in – these are known as sub-species.
Atlantic walruses live in coastal areas from Canada to Greenland (in the Atlantic Ocean), while Pacific walruses live in the northern seas above Russia and Alaska (in the Pacific Ocean). Cool!
BET YOU DIDN'T KNOW!

The scientific name for a walrus is 'Odobenus rosmarus'. That's Latin for 'tooth-walking sea-horse'!
2. Walrus tusks can be over 90cm long!
Speaking of teeth, walruses have some whopping canines! Both male and female walruses grow long tusks, which help them adapt to Arctic life.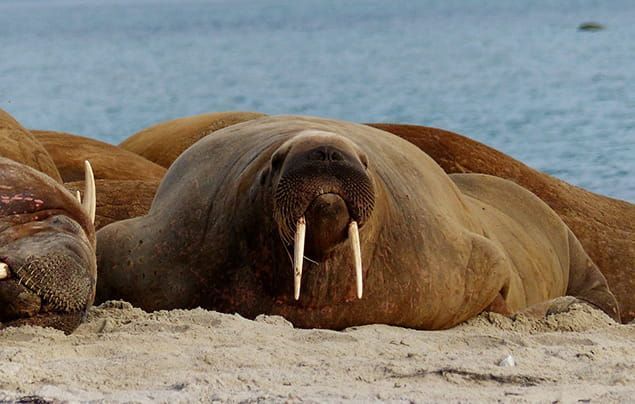 These massive, marine mammals use their tall tusks like ski poles, digging them into sand, snow and ice to help them haul their enormous bodies out of the freezing ocean waters! Plus, they're great for smashing through tough ice from below, creating breathing holes for swimming walruses to catch a breath.
3. Thick layers of blubber protect walruses from the cold
These massive animals don't carry all that weight around for no reason! The thick layers of blubber (fat) stored beneath their skin helps walruses stay insulated, keeping them warm and protected from cold. In fact, thanks to all that brr-illiant blubber, walruses are able to withstand freezing temperatures, as low as -35°C!
4. Walruses weigh up to 1.5 tonnes!
Even baby walruses are huge! These chunky critters, known as calves, can weigh up to 75kg at birth – that's the same weight as some adult humans!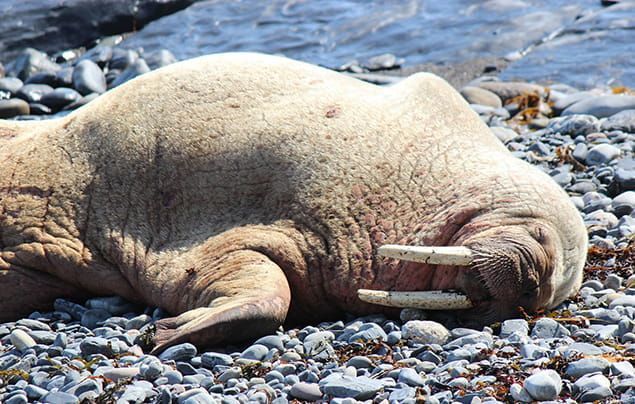 5. Their huge size comes from a steady diet of molluscs, crustaceans, and worms!
Walruses grab shellfish like clams from the sea floor, but they also enjoy sea cucumbers and mussels. Adults will sometimes hunt fish, while some huge adult males have even been recording stalking seals.
AMAZING ADAPTATIONS!

Walruses have super sensitive whiskers, which help them detect food at the bottom of the ocean. Once they've located a tasty snack, walruses can be surprisingly speedy swimmers, reaching speeds of up to 35km/h to chase down their prey!
6. Walruses can sleep in water!
Sometimes, walruses will forage in places where there's no nearby ice or land for them to haul themselves out onto for nap. That's why they have handy 'pharyngeal pouches' – air sacs on their throats that inflate like pillows!
Once their pouches are filled with up to 50 litres of air, walruses can doze off, snoozing in a vertical position and kept safe from drowning by their portable pillow – genius!
7. Walruses can live for up 40 years
Walruses have very few natural predators, and their huge size makes them a challenging opponent! Only an orca or a large polar bear would dare try to take on an adult walrus…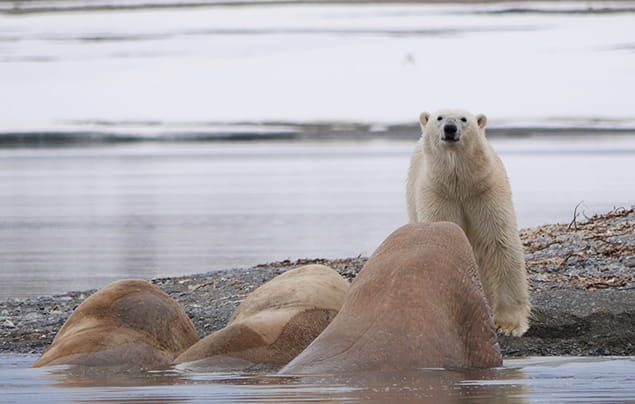 8. These astonishing animals are very sociable, but can be aggressive
A walrus colony is a noisy place! These animals live in large groups, known as herds, which gather together on land. Out of the water, the walruses loudly bellow and snort at one another to communicate!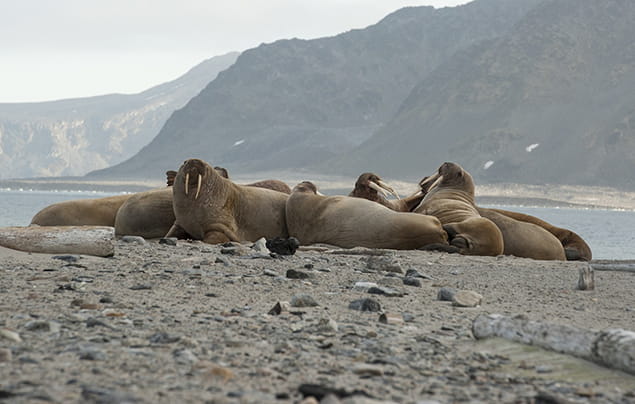 During the mating season, male walruses can become very aggressive as they fight for females using their tall tusks. Yikes!
9. Indigenous Americans are the only people allowed to hunt walruses
Sadly, humans are the biggest predator that the walrus has ever faced. During the 1700-1800s, walruses were almost hunted to extinction, as their meat, tusks, oil, and skin were valuable materials.
Now, walrus hunting is illegal for everyone except for indigenous groups like the Inuit, for whom walruses are still a major life resource.
10. Walruses are very sensitive to changes in their environment
Despite their formidable size, walruses are easily spooked! In walrus herds, any sign of danger can cause stampedes as the animals flee land and head towards the safety of water.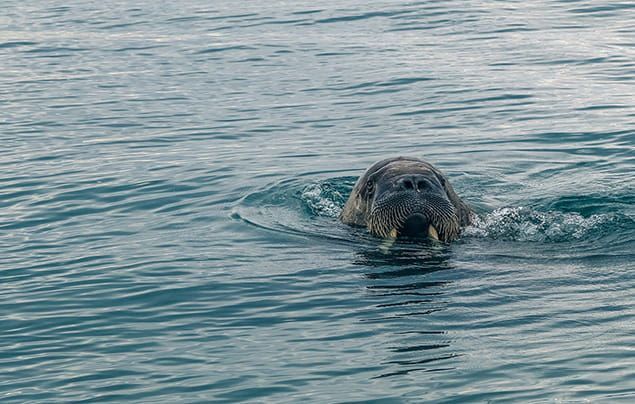 Thanks to Helene Berger; Kira Phạm; Caterina Sanders and Jay Ruzesky for the images used in this article.
Did you enjoy our wonderful walrus facts? Let us know in the comments below!
More Like General Animals