SPONSORED
Middle School: From Hero to Zero
Everyone's favourite troublemaker takes a trip to London
Things at Hills Village Middle School are going surprisingly well for loveable troublemaker Rafe Khatchadorian. What's more, he's super-excited to take a school trip across the pond from America to London with his class. Sightseeing in a foreign country sounds like a blast!
The bad news for Rafe is that he has to buddy up with a less than ideal roommate – school bully Miller the Killer. Yikes…
What's worse, Rafe is forced to work on a class project side-by-side with his crush Jeanne Galletta and her too-perfect boyfriend. Urgh. Something that might be even more torturous than rooming with Miller.
With all this bad luck and his mean-spirited principal keeping a watchful eye on him. Surely this must be the worst school trip EVER?!
Rafe's guide to London
Things haven't exactly worked out perfectly for Rafe on his school trip, but at least he gets to sample some of London's famous sights! Let's take a look at some of the things he'll expect to see in the UK's capital.
Shakespeare's Globe
The Globe Theatre was built around 1599 and many of William Shakespeare's famous plays were performed first there. It was torn down in 1642, but was reconstructed in 1997!

The London Eye
The London Eye is one of the world's tallest Ferris wheels. It stands proudly by the river Thames on London's famous Southbank, overlooking sights like Big Ben across the water.

Skyscrapers

Compared to some other major cities,   London's skyline is relatively small. However, the city has become known  for its crazy, quirky architecture. London's odd shape buildings have become known by their funny nicknames – like The Gherkin, Walkie Talkie and Cheese grater.


Guards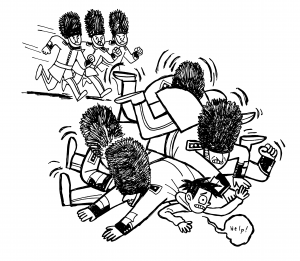 The guards around London's famous landmarks wear some pretty iconic outfits. Probably the most famous are the Beefeaters, who guard the Tower of London, and the Queen's Guard, who guard the royal residencies. These are well known for their tall furry, hats called bearskins.
Competition
We've got a copy of Middle School: From Hero to Zero to give away. Click here to find out how to enter.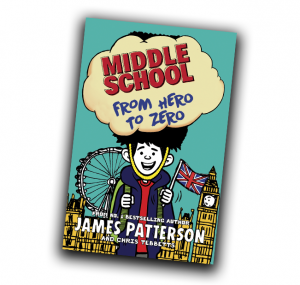 ©James Patterson 2018, Illustrations by Laura Park